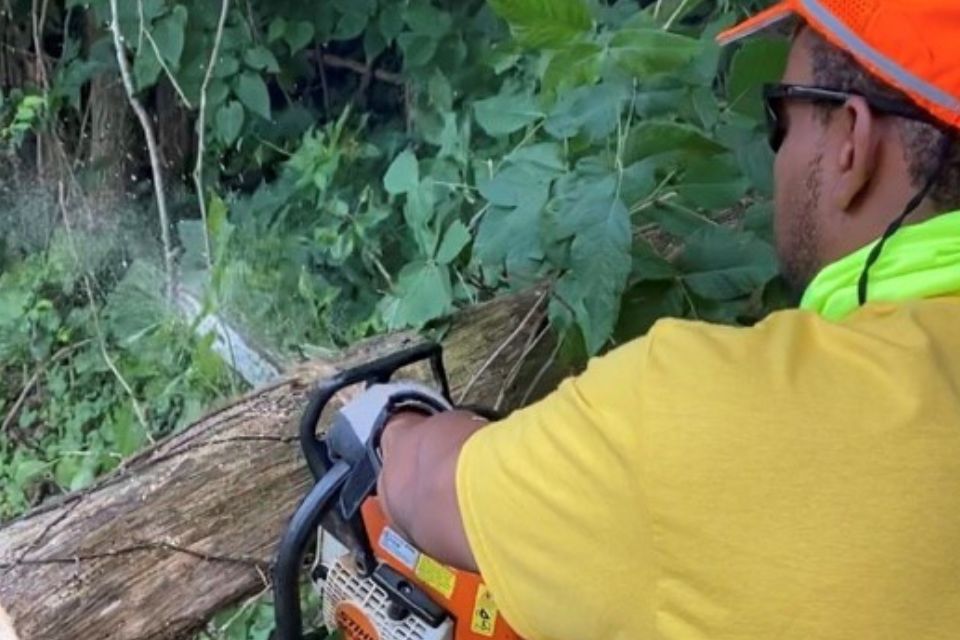 Earning a GED diploma, gaining English skills, or becoming more familiar with computers are only starting points. We want students to leverage these educational accomplishments into jobs that provide a family-sustaining wage and career growth opportunities. We asked James Fagg, our new Director of Workforce Development, to talk about how his department supports students with their career goals.
Literacy Pittsburgh's Workforce Development team provides workplace training opportunities to students as well as employee training services to local businesses. The Workforce Development team looks at student career interests and connects those students with classes, training providers, or local employers to help them achieve their career goals. Workforce Development continually seeks out potential partners to create pathways for students to earn meaningful credentials and certifications. We also look at regional employment data to identify areas of job growth in the region.
Workforce Development is key to bridging the gap between adult education and employment and training opportunities. We have partnered with the Builder's Guild of Western Pennsylvania for several years to provide math instruction for their Introduction to the Construction Trades pre-apprenticeship program. More recently, we created Trade Up, an innovative program model that allows participants to complete the pre-apprenticeship program while studying for their GED diploma. This removes a barrier many students face since a high school diploma or GED credential is usually required to join the Introduction to Construction Trades program. Students who enroll in Trade Up receive stipends from both Literacy Pittsburgh and the Builder's Guild while completing the program. Those who successfully complete the program are guaranteed a place in one of several local apprentice programs, which can lead to a fulfilling career and a family-sustaining wage.
Similarly, we also support the Steamfitters apprentice program by providing math instruction at their site in Beaver County. For those who may be interested in a career in the construction trades, we also offer a 4-week class called Math for the Trades. In this class, students learn specific math content that can help them succeed in apprentice programs and their future careers.
Another successful collaboration is our Early Childhood Education program, which is run in partnership with the Community College of Allegheny County (CCAC), Trying Together, and Partner 4 Work. The program is for individuals interested in a career working with young children. CCAC instructors teach the classes. Literacy Pittsburgh provides tutors to work with students who need any extra help with the classes. Partner 4 Work provides funding for students to complete the program.
In addition to these efforts, the Workforce Development team also designs and delivers custom educational programming to local businesses through our Employee Training Services program. These courses are typically requested by organizations that employ a large number of non-native speakers of English. For example, we are currently working with AHN Jefferson Hospital to provide job-specific English language classes for their environmental services staff as well as digital skills classes for both non-native and native English speakers. We also currently provide English classes for UPMC environmental services staff, and have begun working with Giant Eagle and the City of Pittsburgh. No matter the organization, Literacy Pittsburgh can fully customize instruction to meet the client's specific needs. 
Another element of our Employee Training Services program involves providing workshops in cross-cultural communication and understanding to those who supervise diverse groups of employees. These workshops give supervisors insight into the cultural and linguistic difficulties that non-native English speakers may encounter at work. They also give them practical strategies to enhance communication and provide an environment where workers can excel. These workshops can also be fully tailored to suit any organization's needs and employee populations. As a provider of education and workforce training in the region, Literacy Pittsburgh's Workforce Development team wants to help local employers recruit, retain, and train employees who can improve their own circumstances while contributing to our region's economic strength. We specialize in the fields of hospitality, healthcare, construction, environmental services, and light manufacturing. 
As the Workforce Development team grows, we will continue adding more programs and opportunities. We regularly ask about student career interests because we want to be able to connect students with opportunities that are relevant to them. Career interest information from students also helps us to find partners who can provide the facilities and training that best suits their needs. For example, Literacy Pittsburgh is in discussions with CCAC to provide a CompTIA A+ certificate class for English language learners. This certificate would allow students to begin a career in the IT sector. We are pursuing this partnership because surveys revealed that around 200 Literacy Pittsburgh students are interested in technology careers working. Based on these surveys, Workforce Development will also explore opportunities to provide additional programming related to construction, healthcare, and IT.
Please reach out to me if you have any questions about Literacy Pittsburgh's Workforce Development efforts or are interested in learning more about how we can support your goals – either as a student, employer, or training program.
James Fagg
Director of Workforce Development
jfagg@literacypittsburgh.org
Literacy Pittsburgh (formerly Greater Pittsburgh Literacy Council) helps create better lives through learning. Recognized as a national leader in adult and family literacy, Literacy Pittsburgh is the largest provider of adult basic education in Allegheny and Beaver Counties. Last year, Literacy Pittsburgh helped some 3.700 individuals acquire the skills needed to reach their fullest potential in life and participate productively in their communities. Literacy Pittsburgh provides free, personalized instruction in workforce readiness, high school diploma test preparation, digital literacy, English language learning, math, reading, and family literacy through one-to-one and small class instruction. Founded in 1982, it serves local adults through numerous neighborhood locations and its Downtown Pittsburgh Learning Center.