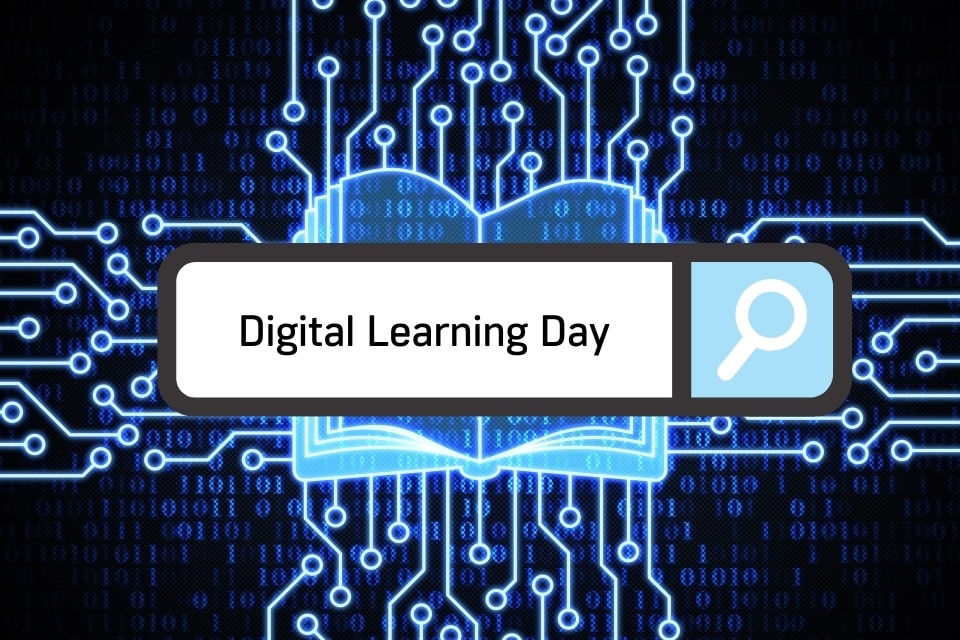 Last year at this time, we could not have imagined the world we are living in today. Zoom meetings fill our workdays. Our children spend their days in virtual classrooms. FaceTime has become a substitute for, well, face time with friends and family. 
Facing a New Reality
Individuals, businesses, schools, and nonprofit organizations alike have grappled with this new reality brought on by the COVID-19 pandemic. We suddenly find ourselves delivering service and communicating with co-workers, students, and clients across a patchwork of digital platforms.  
Today is Digital Learning Day, which recognizes the important role technology plays in classrooms to improve instruction and increase learning opportunities for students. The pandemic has brought the need for digital learning—and digital literacy—into sharp focus.
Embracing Digital Learning
Like many educational programs across the country, Literacy Pittsburgh engaged with technology sparingly prior to the pandemic. Knowing that most of our adult learners have limited experience—as well as limited access—we were slowly introducing computer-based learning to complement our classroom instruction and tutoring.
The pandemic accelerated our plans, and staff moved quickly to implement new instructional approaches to keep students learning. We launched YouTube channels, Google Classrooms, instructional videos for volunteer tutors, and live Zoom classes. We are inspired by the tenacity and commitment of the adult learners we serve. They have gained confidence using an unfamiliar platform and have demonstrated gratitude and a willingness to learn at every step of the way.
Addressing Barriers
Adults who study with Literacy Pittsburgh face many barriers to digital learning. The National Skills Coalition notes that most workers with digital skill gaps have a high school education or less. In addition, individuals of color are overrepresented among workers with limited digital skills. Households without broadband access are also more likely to be comprised of people of color.  Recent research from Carnegie Mellon University confirmed that race, income, and English Language proficiency are predictors of lack of access in Allegheny County. Many Literacy Pittsburgh students also do not own a computer and often rely on a smartphone to participate in classes and complete assignments, creating a less than optimal learning situation.
We knew that access to technology and broadband was a significant hurdle to overcome. Thanks to a generous investment from the BNY Mellon Foundation of Southwestern Pennsylvania, Literacy Pittsburgh launched a tech lending program, which has given our adult learners access to Chromebooks, laptops, and iPads. We have provided tutorials to help these students get started with their new technology and helped them access hotspot lending and broadband. Literacy Pittsburgh has also invested in growing the capacity of our instructors and volunteer tutors to teach digital skills for the long haul, with those efforts led by the organization's first full-time digital literacy fellow.
Preparing for Economic Recovery
The pandemic is requiring workers to utilize technology in unprecedented ways. While professionals are adapting to endless virtual meetings, frontline workers are engaging in new technology too. From food service to healthcare to retail and beyond, those who require considerable contact with the public are shifting their service models to ensure safety and remain competitive. For the one-third of workers who lack proficiency in digital literacy, this shift has been difficult, if not impossible.
Even prior to 2020, technology use in the workplace had been accelerating at a dramatic pace. According to a Brookings Institution report, nearly two-thirds of new jobs created since 2010 required either high- or medium-level digital skills. Significantly, between 2002 and 2016, employment in occupations with low digital requirements declined precipitously, from 55.7 to 29.5 percent.
In other words, traditionally low-tech jobs now require some form of digital literacy. For example, environmental service workers in hospitals use company-provided smartphones to clock in and out of their shifts, track their work, and communicate with their supervisor and colleagues. Supply chain and logistics workers rely on a tablet to manage deliveries. Frontline retail employees use digital apps for processing inventory. Almost every job now requires an online job application. 
To compete for available jobs as our economy recovers, it is vital that all working-age adults, especially those who study with Literacy Pittsburgh, gain not only English language, math, and reading skills, but also develop proficiency in digital literacy. We have embedded digital literacy standards into our new curriculum. Digital literacy skills are taught in separate lessons and woven into everyday instruction. These vital skills are transferable to the workplace of today and tomorrow, giving our adult learners an edge in their job search.
Advancing Digital Literacy
All businesses can play a role in ensuring that workers have the skills necessary to meet the technology demands of their day-to-day responsibilities. Investing in digital literacy skills boosts productivity, job performance, and retention. Literacy Pittsburgh can help your company address skill gaps through its Employer Services program. We can assess competencies and design a customized curriculum to address your specific needs. Learn more about the courses we offer—from digital literacy to workplace English to cultural competency—at www.literacypittsburgh.org/employers.
Literacy Pittsburgh (formerly Greater Pittsburgh Literacy Council) helps create better lives through learning. Recognized as a national leader in adult and family literacy, Literacy Pittsburgh is the largest provider of adult basic education in Allegheny and Beaver Counties. Last year, Literacy Pittsburgh helped some 3.700 individuals acquire the skills needed to reach their fullest potential in life and participate productively in their communities. Literacy Pittsburgh provides free, personalized instruction in workforce readiness, high school diploma test preparation, digital literacy, English language learning, math, reading, and family literacy through one-to-one and small class instruction. Founded in 1982, it serves local adults through numerous neighborhood locations and its Downtown Pittsburgh Learning Center.