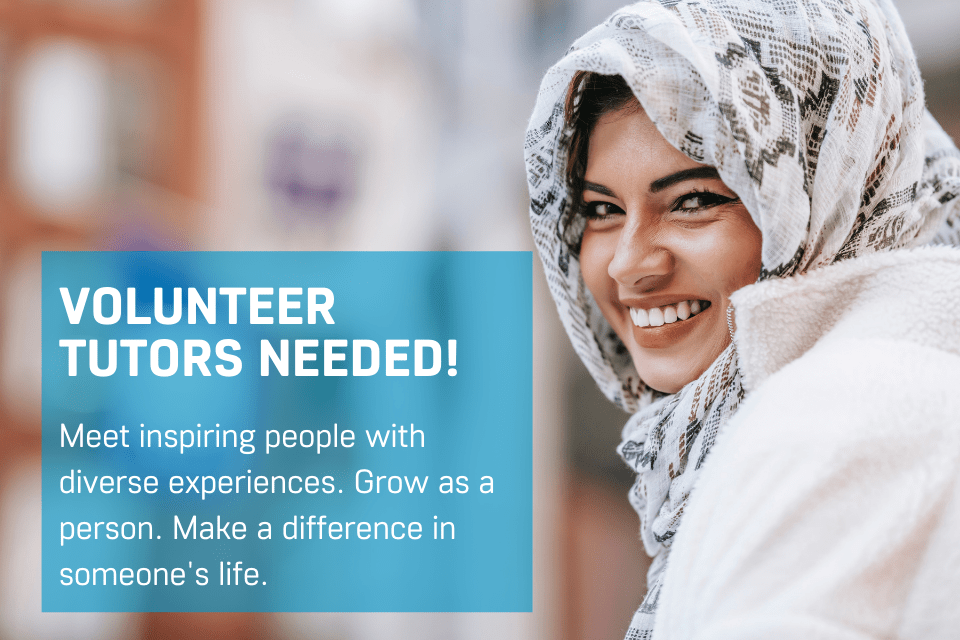 After a two-year hiatus, Literacy Pittsburgh's Introductory Tutor Trainings returned to local libraries with a March workshop at the Northside Allegheny Branch Carnegie Library. Tutor Trainer Roberta Hatcher was delighted to meet the new volunteers in person!  
Our next in-person workshop will be held at Mt. Lebanon Library on Saturday, April 30th. Our May workshop is slated for May 14 at our Downtown Center.
Weeknight Introductory Trainings will continue to be offered once a month via Zoom. Saturday morning workshops, also offered once a month, will take place at various sites throughout the area as long as safety allows.  
In-person trainings allow participants to meet their fellow volunteers while learning about working with adult learners. Keep an eye on our website for upcoming workshops, and please help spread the word that volunteers are always needed!  
Volunteering as an adult literacy tutor gives you the chance to see firsthand the impact of your actions. Every day, an average of 200 students are waiting for someone just like you. You don't need to have teaching experience and you don't need to speak a foreign language. Your enthusiasm, patience, and compassion are far more important.
As a Literacy Pittsburgh tutor, you will:
Teach an adult reading, writing, and math, or English language skills, one-to-one or in a small group.
Attend a free two-part training prior to volunteering
Commit to working with your student for at least six months
Teach twice a week for one to two hours each time
Have a four-year degree*
Meet your student at times and in places convenient to both of you**
Receive full support from a staff member assigned to you
Have opportunities for coaching and additional training
Make a difference in someone's life!
* This requirement is mandated by the Pennsylvania Department of Education effective July 1, 2011. A copy of the degree or transcript will be required before a tutor can be matched with a student(s). Classroom aides do not require a four-year degree.
** Most tutoring is still taking place virtually due to COVID-19. Tutors and students are free to meet in person if agreeable to both and if current CDC and County protocols are followed.
Literacy Pittsburgh (formerly Greater Pittsburgh Literacy Council) helps create better lives through learning. Recognized as a national leader in adult and family literacy, Literacy Pittsburgh is the largest provider of adult basic education in Allegheny and Beaver Counties. Last year, Literacy Pittsburgh helped some 3.700 individuals acquire the skills needed to reach their fullest potential in life and participate productively in their communities. Literacy Pittsburgh provides free, personalized instruction in workforce readiness, high school diploma test preparation, digital literacy, English language learning, math, reading, and family literacy through one-to-one and small class instruction. Founded in 1982, it serves local adults through numerous neighborhood locations and its Downtown Pittsburgh Learning Center.