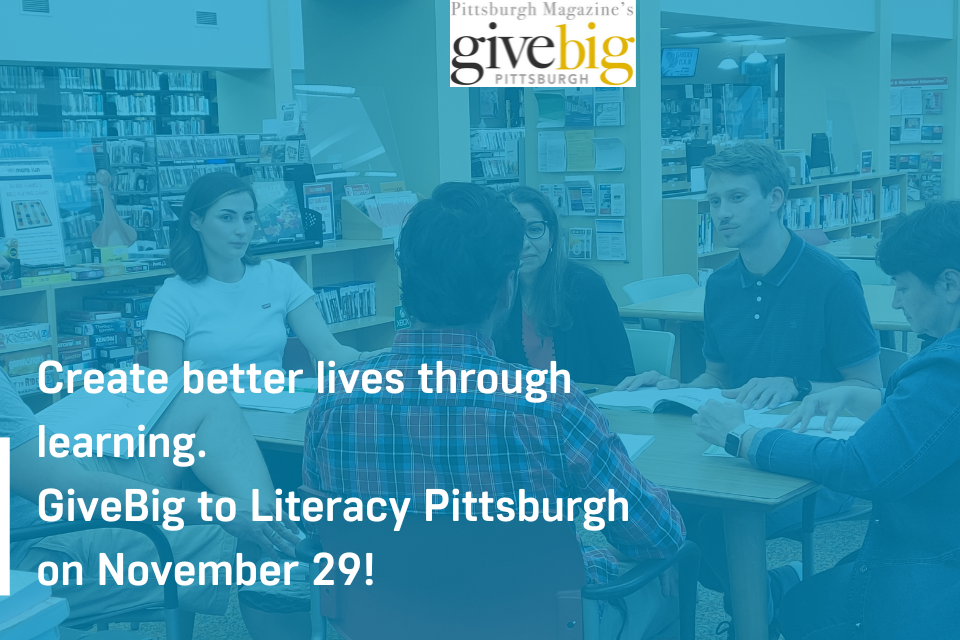 On November 29, you can celebrate Literacy Pittsburgh's 40th birthday by taking part in Pittsburgh's "Day of Giving" through the annual Give Big Pittsburgh charitable donation event. Help us reach our goal of $40,000! Tell your friends and family members about the important work we do and ask them to join us in helping to make a difference.
Make a donation at Literacy Pittsburgh's Give Big Pittsburgh profile page on November 29 between 12:00 AM and 11:59 PM.
Spread the word! Text a friend. Post on Facebook, Twitter, and Instagram using the hashtag #GiveBigPittsburgh. Or you can just tell someone in person – that works, too!
Increase the impact of your gift by 50%! Thanks to a generous matching gift from the Buncher Family Foundation, all gifts to Literacy Pittsburgh made on Tuesday, November 29 will be matched at 50 cents on the dollar up to $20,000. A gift of $20 becomes $30, $50 becomes $75 and $200 becomes $300.
Literacy Pittsburgh (formerly Greater Pittsburgh Literacy Council) helps create better lives through learning. Recognized as a national leader in adult and family literacy, Literacy Pittsburgh is the largest provider of adult basic education in Allegheny and Beaver Counties. Last year, Literacy Pittsburgh helped some 5,000 individuals acquire the skills needed to reach their fullest potential in life and participate productively in their communities. Literacy Pittsburgh provides free, personalized instruction in workforce readiness, high school diploma test preparation, digital literacy, English language learning, math, reading, and family literacy through one-to-one and small class instruction. Founded in 1982, it serves local adults through numerous neighborhood locations and its Downtown Pittsburgh Learning Center.