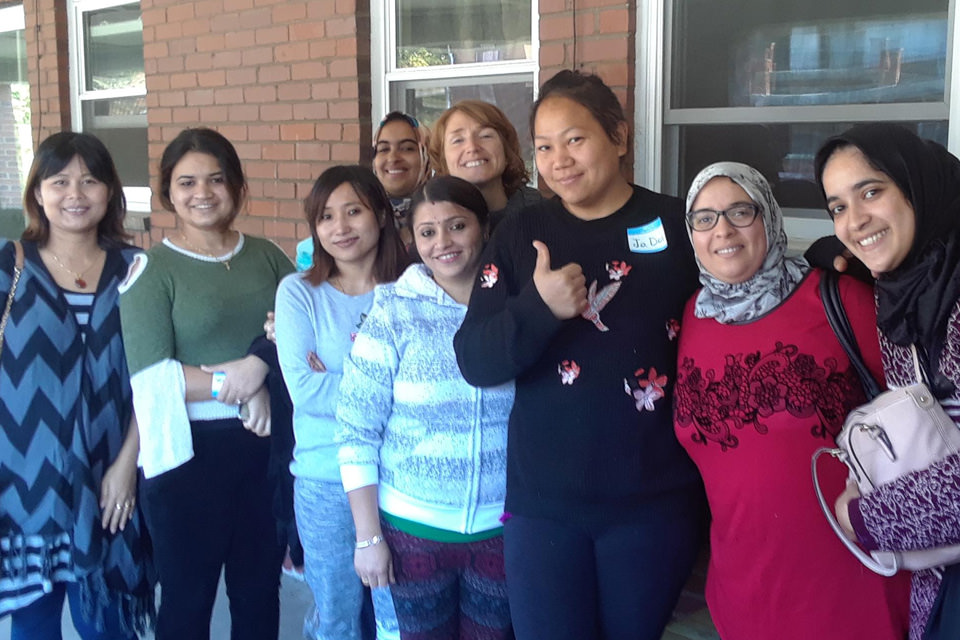 While we usually profile an individual student in this section, Family Literacy is such a close-knit community of learners, is it seems only appropriate to focus on an entire class. Program Manager Beth Kocsis offers us a glimpse into her Advanced English class.
Four mornings a week a group of women gather at Whitehall Place for Advanced English class. Some walk from their apartments, while others (as first-time homeowners!) drive. If kids are in tow, they drop them off in our children's room. There's sometimes wailing and tears!  Though it's hard, the moms give their little ones a kiss, gently extricate themselves, and walk two doors down to another apartment. It's time to learn English.  
Since this is an advanced class, we talk about idioms, current events and grammar. Recently, we've been brushing up on ratios, fractions and integers in order to tackle more difficult math concepts.  The students have Google accounts and use computers and iPads frequently.  We decode prefixes and suffixes, often using context clues to understand unfamiliar words. For students who had formal education in their home countries, this is their first Literacy Pittsburgh class. Students with more limited education built up their English skills in our Beginning and Intermediate classes first.
Many lessons are family focused. Parents are their children's first teachers, and students learn how they can excel at this every day. We talk about parenting questions as well as successes and frustrations that impact our families. For example: unexcused absences are bad, it's important to read with your kids in any language, a school's fundraiser is not mandatory, you should check your family for ticks after being outside, and you must create a family plan in case of a fire emergency.  And, thanks to the parent of a new Kindergartener, the class learned that, yeah, other kids bring Lunchables to school!
The class is such a uniquely warm, welcoming, and collaborative space. When one of the students seemed flummoxed about adding anything to plain yogurt, another student whipped out her phone and showed her a picture of a colorful yummy yogurt parfait. (Taking food pics must be universal!) Two students nodded understandingly when a classmate lamented that, because it wasn't part of her diet for 29 years, she has no idea what to do with cheese. Another student needed to know the addresses of the best flea markets in Pittsburgh after learning that, yes, you are allowed to negotiate prices there (but don't try it at Wal-Mart). The students in this class have become like family to one another. They make silly faces at a classmate's baby to distract them or simply grab them for a cuddle. 
There are so many rock stars in this class! A student from Burma is actively taking steps toward opening a small Asian grocery store in the South Hills. (Location…check! Loan…check!). Another student from Burma opened 529 Education Savings Accounts for her two daughters, setting the expectation that her kids will further their education in the United States. A student from Benin is taking time off from the class to attend the Pittsburgh Multicultural Cosmetology Academy to obtain a license in natural hair braiding. There are also students from Bhutan, Nepal, Iraq, Morocco, and Russia. 
Every student celebrates milestones and successes, both big and small. When a classmate reaches a goal or has exciting news to share, the whole class rejoices with her!  
Literacy Pittsburgh (formerly Greater Pittsburgh Literacy Council) helps create better lives through learning. Recognized as a national leader in adult and family literacy, Literacy Pittsburgh is the largest provider of adult basic education in Allegheny and Beaver Counties. Last year, Literacy Pittsburgh helped some 3.700 individuals acquire the skills needed to reach their fullest potential in life and participate productively in their communities. Literacy Pittsburgh provides free, personalized instruction in workforce readiness, high school diploma test preparation, digital literacy, English language learning, math, reading, and family literacy through one-to-one and small class instruction. Founded in 1982, it serves local adults through numerous neighborhood locations and its Downtown Pittsburgh Learning Center.