The pandemic has opened up new opportunities for volunteer involvement. Geographic boundaries become less important when digital learning becomes the standard. This summer, we received a volunteer inquiry from a resident of New York City, who is now enjoying getting to know her student and helping her prepare for U.S. citizenship.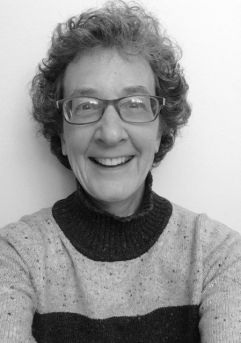 Dore Hollander retired at the beginning of 2019 from her job as an editor and immediately starting looking for ways to "reinvent" herself. For her, that meant giving back to her community as a volunteer. She got involved in a lot of activities, but with the pandemic, those evaporated, and Dore needed to reinvent herself yet again.
"In the summer of 2020, I started looking for virtual volunteer opportunities, and volunteermatch.org had a listing for Literacy Pittsburgh," Dore explains. "I sent off a query, quickly got a response, went through the training, and was first assigned a student in August."
Dore is currently working with a student who is an immigrant who has been in the United States for a few years. Her student is eager to take the citizenship test, so that is the focus of their sessions. "I am getting QUITE the education about the naturalization process!" Dore explains.
She finds it rewarding when her student grasps a new piece of information. "It's always great when a student says something like 'Wow, I've seen that before but never knew what it meant until now,'" she explains. "Much of the credit, of course, goes to the student, but it feels fantastic to know that something about the way I presented the material has worked for her."
Their first lesson went smoothly, and Dore and her student spent the time learning about each other and getting a feel for how they would work together. A funny moment gave them a chance to bond:
"I wrote a short paragraph describing my neighborhood and had my student read it aloud," Dore recalls. "I then asked her to describe her neighborhood. She kind of rolled her eyes and said something along the lines of 'I live in the middle of nowhere and there's nothing to do here.' We had a good laugh—but then she elaborated for the sake of the exercise."
One struggle Dore has encountered is helping her student improve her writing skills. It is difficult to address those through Zoom, so Dore has had to incorporate more ways for her student to practice writing. She is planning on using voice recordings, so her student can practice transcribing what she hears.
Overall, Dore has been pleased with her experience with Literacy Pittsburgh and the support she has received. She encourages others who are thinking about becoming a tutor to "Go for it!"
Literacy Pittsburgh (formerly Greater Pittsburgh Literacy Council) helps create better lives through learning. Recognized as a national leader in adult and family literacy, Literacy Pittsburgh is the largest provider of adult basic education in Allegheny and Beaver Counties. Last year, Literacy Pittsburgh helped some 3.700 individuals acquire the skills needed to reach their fullest potential in life and participate productively in their communities. Literacy Pittsburgh provides free, personalized instruction in workforce readiness, high school diploma test preparation, digital literacy, English language learning, math, reading, and family literacy through one-to-one and small class instruction. Founded in 1982, it serves local adults through numerous neighborhood locations and its Downtown Pittsburgh Learning Center.