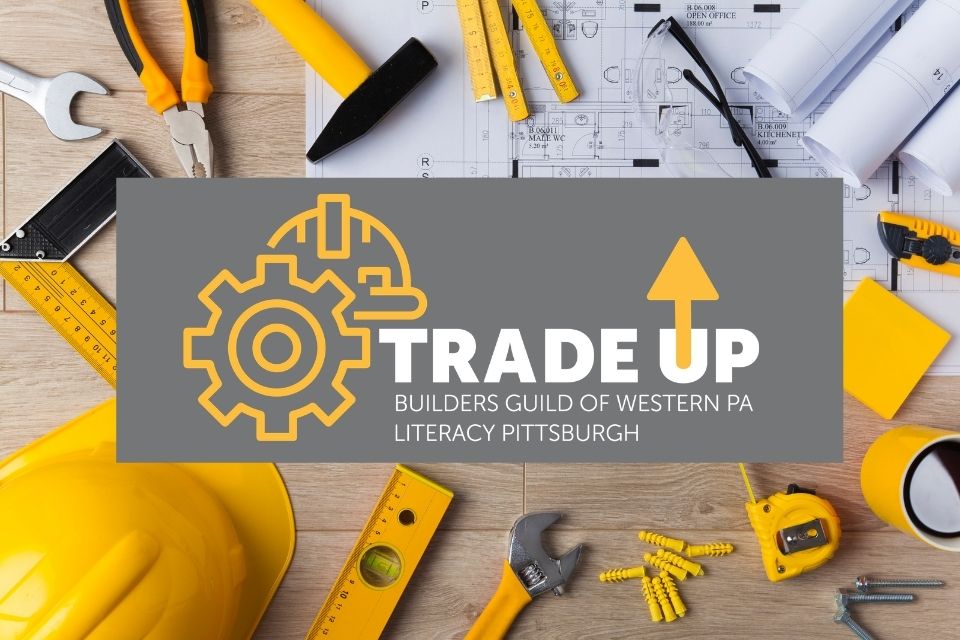 Literacy Pittsburgh recently launched a new partnership with Builders Guild of Western Pennsylvania that integrates GED® preparation and pre-apprenticeship training for the construction trades. Students who successfully complete the Trade Up program will be guaranteed placement in union apprenticeships, full-time employment as journey worker laborers, or construction-related employment. Trade Up will diversify the talent pipeline to meet the needs of the construction industry as well as launching some of the region's most disadvantaged job seekers on the pathway to a sustainable career.
Trade Up seeks to broaden the pool of potential building trades workers to include those who have an interest in the building trades but lack the required high school diploma. Pandemic recession notwithstanding, the construction industry in the Pittsburgh region is facing an unprecedented labor market shortage. In this region, there are more than 72,000 construction jobs with projected growth of 11.8% over the next 10 years. Construction workers in this metro area can expect average industry wages of $78,757, greater than both the state and national average. Yet, nearly half of Pittsburgh's existing construction workforce is reaching retirement age with an insufficient pipeline of new workers to replace them.
Trade Up's design is based on best practices in adult education, high school equivalency attainment, and career development as well as program models in other cities. Participants will attend GED preparation and pre-apprenticeship classes to keep them engaged and focused on career goals. All participants in this 12-week program will receive a small stipend to support self-sufficiency during training and increase the likelihood of program completion. Barriers to student success will be assessed during the enrollment and orientation process. Literacy Pittsburgh and the Builders Guild will work closely together to identify and address these barriers, tapping into the expertise of partner agencies such as Urban League of Greater Pittsburgh, Greater Pittsburgh Community Food Bank, and Jewish Family & Community Services.
Trade Up targets youth and adults age 18 and older with an interest in the skilled construction trades. Applicants should test at roughly a ninth-grade education level as determined by adult education standardized tests. Additionally, applicants must have a valid Pennsylvania driver's license, be legally eligible for employment in the U.S., complete a background check and drug screening, and successfully complete a program interview.
The GED Preparation portion of the program will prepare students to pass the four subjects covered in the GED test – Social Studies, Science, Math Reasoning, and Reasoning Through Language Arts. In addition to test practice, students will develop critical thinking and communications skills vital to workplace and daily life situations. Practice tests will be used to ensure students are ready for the actual GED exams.
The Introduction to the Construction Trades Pre-Apprenticeship Program, delivered by the Builders Guild, features a nationally recognized curriculum that provides students with a foundational knowledge of the industry and a portable credential that can be applied across all building trades. Participants will receive career exposure through field trips to state-of-the-art union training facilities, hands-on activities, and meetings with expert craftspeople representing 18 local trade unions. By expanding their awareness of each of the different trades, these activities enable students to graduate with a clear vision of career pathways and opportunities.
Introduction to the Construction Trades Pre-Apprenticeship Program incorporates established formal articulation agreements that enable successful graduates to enter registered apprenticeships with advanced standing. With these agreements in place, the pre-apprenticeship program provides them with a portable, industry-endorsed credential.
Trade Up aligns with Literacy Pittsburgh's 2020-23 strategic plan that prioritizes establishing programs that accelerate the pathway to family-sustaining wages with coordinated education, support services, career counseling, job training, and employment. Specifically, our plan calls for developing three tracks of programming that include education, job training, and employment aligned to three high-priority industries. TradeUp represents the best of what our new plan hopes to achieve for adult learners.
For more information about this program, please contact Dan Lampmann, Career Pathways Development Manager, at 412-350-9920 or dlampmann@literacypittsburgh.org.
Literacy Pittsburgh (formerly Greater Pittsburgh Literacy Council) helps create better lives through learning. Recognized as a national leader in adult and family literacy, Literacy Pittsburgh is the largest provider of adult basic education in Allegheny and Beaver Counties. Last year, Literacy Pittsburgh helped some 3.700 individuals acquire the skills needed to reach their fullest potential in life and participate productively in their communities. Literacy Pittsburgh provides free, personalized instruction in workforce readiness, high school diploma test preparation, digital literacy, English language learning, math, reading, and family literacy through one-to-one and small class instruction. Founded in 1982, it serves local adults through numerous neighborhood locations and its Downtown Pittsburgh Learning Center.