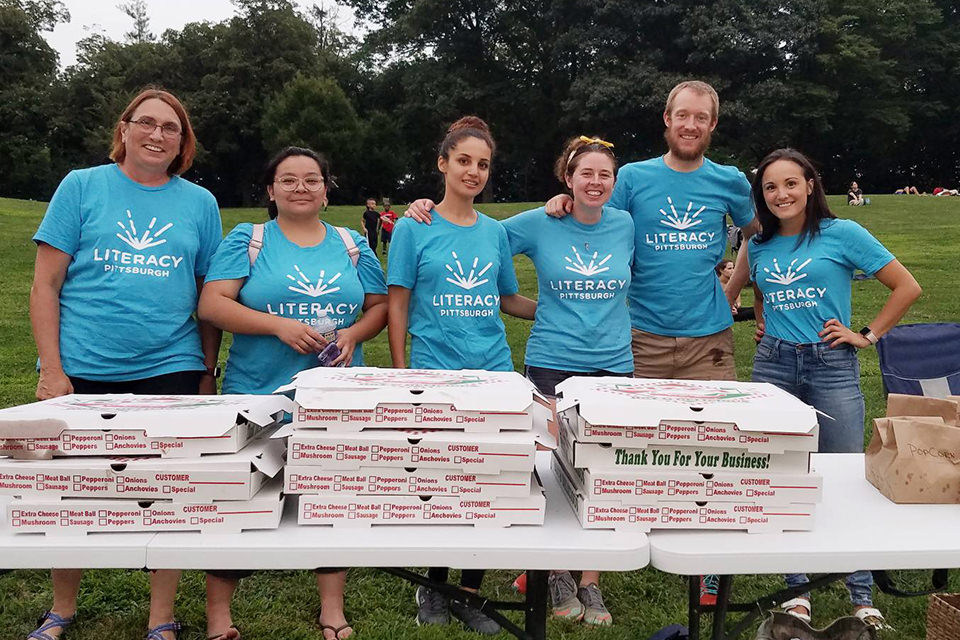 Meet Thrive, Pittsburgh's new generation of adult literacy advocates! 
Craft beer, gingerbread houses, and millennial activism – Thrive isn't your typical advocacy group, but it's on a mission to introduce Literacy Pittsburgh to a new generation of Pittsburgh leaders.
 Thrive, the young professionals advisory board to Literacy Pittsburgh, began in 2014 when a small group of education advocates and young professionals wanted to help Literacy Pittsburgh spread its mission to a younger demographic. Though backing among long-time supporters was strong, there was a lack of awareness about the organization amid post-college professionals; traditional outreach tactics weren't working. Thrive's purpose was clear: design new methods of outreach and fundraising that would create an invitation for Pittsburgh's up-and-coming professionals to engage with Literacy Pittsburgh and support adult literacy.
 Leveraging social media and youth culture became one of Thrive's dominant strategies, as seen with fundraisers like Search & Sip. This event is a scavenger hunt through Pittsburgh that capitalizes on the current hipster appeal of trivia, food trucks and craft brewing while also threading Pittsburgh history and literacy factoids into the clues. Since its incarnation, the Search & Sip has had massive appeal among college kids and younger professionals and has helped raise thousands of dollars for Literacy Pittsburgh. 
"Thrive has brought a fresh outlook to Literacy Pittsburgh's mission.  They are helping make the organization accessible to all ages and creating outreach endeavors we had never considered," explains Gary Singery, Literacy Pittsburgh Board President. "Having Thrive in our corner has been a huge help."
 Outreach to Literacy Pittsburgh's students is another Thrive priority. Every December, the group organizes a holiday party for the family literacy learning center in Whitehall Place, a facility that works with English as a Second Language students and their families to help them acclimate to the United States. Thrive provides food, music, and activities for the families to enjoy. This past year, Thrive led the students in gingerbread house building, a novel activity that most of the students had never experienced. "The holiday party is always one of our most rewarding events," says Allison O'Donovan, Thrive's President. "The kids have a blast and the parents get to experience something new with their children, like building gingerbread houses. We work all year advocating for adult literacy and adult education programs, and at the holiday party you see why it's worth it."
"The name Thrive is no accident," explains Literacy Pittsburgh CEO Carey Harris.  "The founding board of changemakers chose it because they wanted to not only help students "thrive" but to help the members themselves "thrive" by offering opportunities to create and lead projects, developing leadership skills that will benefit them in future endeavors."
Now in its fifth year, Thrive is comprised of 19 professionals that include lawyers, software developers, writers, financial advisors, and more. The group has introduced fresh ideas to Literacy Pittsburgh and become key advocates of its mission to create "better lives through learning." It has also become a networking avenue for activist-minded professionals and a means for them to develop their leadership potential. "Thrive has given me an opportunity to really flex my organizing muscles," says Maggie Fantaski, current Thrive member and the 2019 Chair of the One Big Table Raffle Committee. "We're a tiny committee trying to make big change, so we have this David vs. Goliath mentality. And when you think like that, it's surprising how many out-of-the-box strategies you come up with."
Members note that their work with Thrive helps them feel like they are making a difference. "It's great that I'm meeting new people and, as a by-product of that, discovering new opportunities," says Morgan Price, current member of Thrive. "But what's best is that I know I'm helping people in my community. Literacy Pittsburgh has become an invaluable resource to so many people in Pittsburgh. As a member of Thrive, I know I'm part of the reason it continues to grow."
Thrive meets every other month at 6 p.m. at Literacy Pittsburgh's Downtown headquarters. The group is currently taking applications for the 2019-2021 term. To become a member, you must be between the ages of 21 and 40, commit to serving a two-year term and have a passion for promoting literacy and learning in Pittsburgh. The deadline to apply for the 2019-2021 term is April 30, 2019.
2019 Thrive Advisory Board Members
President
Allison O'Donovan
Highmark
Vice President
Cynthia Miley-Vrabel
Ernst & Young
Secretary
Marcie Lord
Self-Employed - Digital Marketing
Justin Casella
Ernst & Young 
Tuhin Das
City of Asylum 
Lindsey Dietz
KPMG 
Maggie Fantaski
Underwriters Brokerage Service, Inc.
Claire McCue
PSI Services LLC 
Terrence O'Donovan
Oncology Nursing Society 
Morgan Price
PNC 
Alyssa Quiray
Squirrel Hill Health Center 
Abby Seeley
Big Brothers Big Sisters 
Jonathan Skowron
Schnader Harridon Segal & Lewis LLP 
Ashley Steckel
Pittsburgh Technology Council 
Erin Stiling Sloan
University of Pittsburgh 
Kelly Waldman
Creehan & Company 
Lorin Wisniewski
UPS 
Mina Zarban
Civic Volunteer 
Mark Zheng
Vorys, Sater, Seymour & Pease LLP
Literacy Pittsburgh (formerly Greater Pittsburgh Literacy Council) helps create better lives through learning. Recognized as a national leader in adult and family literacy, Literacy Pittsburgh is the largest provider of adult basic education in Allegheny and Beaver Counties. Last year, Literacy Pittsburgh helped some 3.700 individuals acquire the skills needed to reach their fullest potential in life and participate productively in their communities. Literacy Pittsburgh provides free, personalized instruction in workforce readiness, high school diploma test preparation, digital literacy, English language learning, math, reading, and family literacy through one-to-one and small class instruction. Founded in 1982, it serves local adults through numerous neighborhood locations and its Downtown Pittsburgh Learning Center.