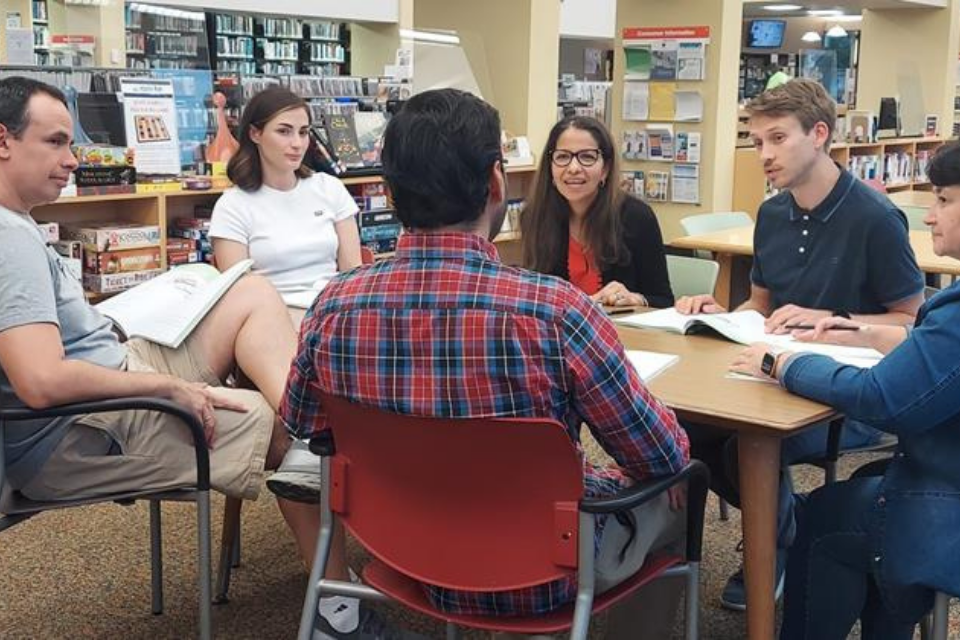 The international organization ProLiteracy recently reached out to Literacy Pittsburgh with a unique invitation: to feature a student on the cover of a New Readers Press textbook. Ben Barley and his group of English language learners graciously volunteered to help. ProLiteracy recently sent a photographer to the Mt. Lebanon Library a couple of weeks ago to attend their tutoring session. Ben and five of his six students – Enriqueta, Lina, Elena, Carlos, and Luis – focused on the evening's lesson while the photographer clicked away. 
Ben became a tutor for Literacy Pittsburgh four years ago at his sister's suggestion. He is a K-12 English as a second language teacher, so his tutoring sessions are familiar territory.
Some students in his current group go back to the very first class four years ago, while others are just a few months in. They are from Brazil, Colombia, Mexico, Russia, and Kyrgyzstan. Former students come from China, Spain, Turkey, Peru, Japan, and India. They all share the same goal of becoming more confident and comfortable in their English language skills. 
He appreciates the connections he makes with his students and says, "Thank you for being so incredibly kind and also for teaching me so many interesting things about your unique cultures."  Ben suggests that new tutors "Find out what your students are passionate about and then include that in your planning and teaching." "Everyone is extremely supportive at Literacy Pittsburgh," he adds. "The extra training and support are there if you need it." 
The textbook will also include a brief bio about the group. It is expected to be published in the fall. 
Are you a tutor or student at Literacy Pittsburgh? We would love to feature you on our website, social media, or newsletters. Please reach out to our Director of Marketing and Communications, Maria Polinsky, for details at mpolinsky@literacypittsburgh.org or 412-393-7631.
Literacy Pittsburgh (formerly Greater Pittsburgh Literacy Council) helps create better lives through learning. Recognized as a national leader in adult and family literacy, Literacy Pittsburgh is the largest provider of adult basic education in Allegheny and Beaver Counties. Last year, Literacy Pittsburgh helped some 3.700 individuals acquire the skills needed to reach their fullest potential in life and participate productively in their communities. Literacy Pittsburgh provides free, personalized instruction in workforce readiness, high school diploma test preparation, digital literacy, English language learning, math, reading, and family literacy through one-to-one and small class instruction. Founded in 1982, it serves local adults through numerous neighborhood locations and its Downtown Pittsburgh Learning Center.