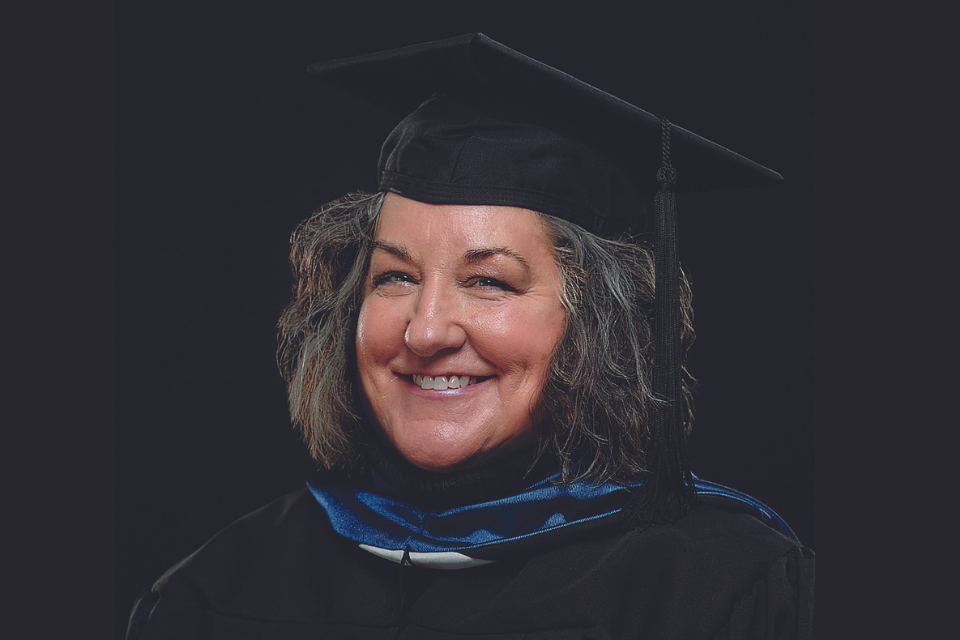 One thing stood between Teresa Phipps and her college degree: a math requirement.
"I had never before passed math," she said. "I always dropped out or failed."
Yet, after 32 years of starts and stops, she was determined to keep trying and felt that it was now or never.
"I promised my dad before he died in 2010 that I would finish," she said. "My family knew how much that promise meant to me." 
A referral from PA Women Work led her to contact Literacy Pittsburgh for help getting through two math courses, college algebra and logic, in the summer of 2021.
Teresa enrolled in our College and Career Readiness Program, and chose to attend online classes with one of our professional instructors.
"My teacher, Emily Laughlin, really knows how to teach. She enabled me to realize that I am capable of doing math, which did so much for my self-esteem."
"I didn't think I was capable of learning math, but after working with Emily I soon realized that I was learning." 
Teresa increased her math test scores by 65 points after just two months of instruction.
"I had tons and tons of homework," she said. "I lived and breathed math all summer."
The hard work paid off and Teresa graduated with a Bachelor of Arts in Social Sciences from the University of Pittsburgh in August. She now enjoys her new job as a resource navigator with the United Way.
"There is no way I would have passed my Pitt classes without Literacy Pittsburgh," she said.
Now that the math is out of the way, Teresa has a new goal in mind.
"I would like to hike the Appalachian Trail," she said. "My teacher made me realize that I can do anything." 
Teresa said there aren't enough words for her to express her gratitude for Literacy Pittsburgh. She hopes more people will follow her example and get the help they need.
"I wish more people knew about these kinds of classes. There are a lot of people that can't graduate (from college) because of math."
Teresa said she wants to encourage people to never give up, to keep trying when it comes to their education.
"I'm a regular person. If I can do it, they can do it, too."
Literacy Pittsburgh (formerly Greater Pittsburgh Literacy Council) helps create better lives through learning. Recognized as a national leader in adult and family literacy, Literacy Pittsburgh is the largest provider of adult basic education in Allegheny and Beaver Counties. Last year, Literacy Pittsburgh helped some 3.700 individuals acquire the skills needed to reach their fullest potential in life and participate productively in their communities. Literacy Pittsburgh provides free, personalized instruction in workforce readiness, high school diploma test preparation, digital literacy, English language learning, math, reading, and family literacy through one-to-one and small class instruction. Founded in 1982, it serves local adults through numerous neighborhood locations and its Downtown Pittsburgh Learning Center.