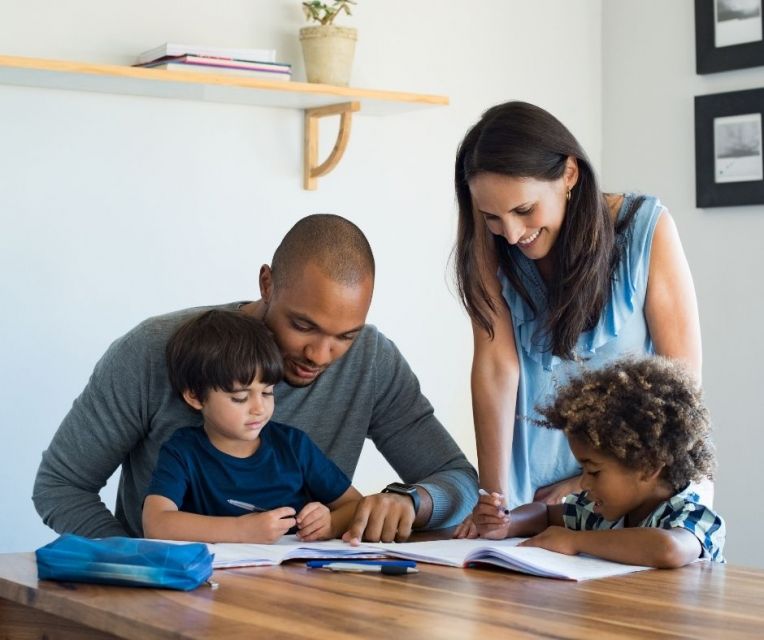 We are all aware of the many changes that have occurred to our lives over the past year. From the beginning of the pandemic, Literacy Pittsburgh has strived to understand our students' challenges and meet them where they are. Our Family Literacy teachers are keenly aware of how parents, in particular, are struggling. They are balancing the at-home schooling of their children with their own education. We recently asked parents about the difficulties they face now that their children are attending school in a virtual space and how Literacy Pittsburgh has helped their families.
My kids are always on mute, and they can't say what they think. The teachers can't pay attention to all the kids on Zoom.
My daughter does not like to sit in one place. She wants to talk to her friends in Zoom, but she is mute, and they don't hear her. She wants to play with her friend. It does not work on Zoom.
We can't sit together always. They go and play a game or watch YouTube during their Zoom class. Sometimes they don't understand, but they don't ask their teacher about that. Sometimes connections are bad, and they cannot connect with their teacher.
 Using the computer and helping with my kids' homework is very difficult for me.
None of these responses are surprising. Some adult students struggle with digital literacy skills, and many are English language learners. They don't always understand the work their children need to do or how to help them do it.
Initially, our Family Literacy program struggled to figure out how to serve parents with young children virtually. We knew it was critical to help them gain the skills and confidence needed to support their kids. Program Manager Caitlin Griffiths and her team persevered with creativity and determination.
Classes have shifted to evening hours when children have completed their school day. We recently began offering homework help for school-age children. Young children are engaged at their own level during Early Childhood classes. Families enjoy books and crafts during virtual storytime. As parents improve their English and digital literacy skills, they are empowered to help their children learn. 
Responding to the needs of students is first and foremost on the minds of the Family Literacy team. Thanks to a generous grant from the BNY Mellon Foundation, parents can borrow Chromebooks and iPads for classes. The Family Literacy team loans additional iPads for children in Early Childhood Education classes so that parents and children can each have their own device. This really allows families to learn together.
When asked what Literacy Pittsburgh had done to help them manage this stressful time, students responded:
During pandemic time, we are just sitting at home, and I forgot all of my English. But when I joined Literacy Pittsburgh, it helped me find work and learn a lot of vocabulary words and how to speak English clearly. We are learning Google Docs. That helps me a lot because my kids' teachers sent some homework in Google Docs. I could help my kids do their Homework and even print it. Thank you so much Literacy Pittsburgh.
I learned many things, for example, how to talk to my child's teacher and how to send emails to my child's school. In bedtime stories, my daughter learns more and she likes to draw pictures while the teacher reads the story. The group is small, so she can talk to her friend every time.
We can share how we feel in class with our teacher and they give advice and help a lot. The teacher explains everything patiently, whatever we want to know about. We learn a lot of vocabulary and the teacher shares a lot of important information. I can help my kids with their Homework because we learned how to use Google Docs.
Literacy Pittsburgh helps me communicate with the school administration. They help my kids with entertainment with bedtime stories. My little son learns more and more English with teacher Hakima.
English class helps me a lot with pronunciation and reading. It helps me learn how to use a computer, write emails, and learn how to fill out forms on the computer. If we have a question about our kids' school or Homework, our teacher helps us.
 Family Literacy parents and children form a special bond with their teachers. Caitlin, Julia, Jessica, and Hakima have significantly impacted these families during a time when they need all the support and encouragement they can get.
Literacy Pittsburgh (formerly Greater Pittsburgh Literacy Council) helps create better lives through learning. Recognized as a national leader in adult and family literacy, Literacy Pittsburgh is the largest provider of adult basic education in Allegheny and Beaver Counties. Last year, Literacy Pittsburgh helped some 3.700 individuals acquire the skills needed to reach their fullest potential in life and participate productively in their communities. Literacy Pittsburgh provides free, personalized instruction in workforce readiness, high school diploma test preparation, digital literacy, English language learning, math, reading, and family literacy through one-to-one and small class instruction. Founded in 1982, it serves local adults through numerous neighborhood locations and its Downtown Pittsburgh Learning Center.