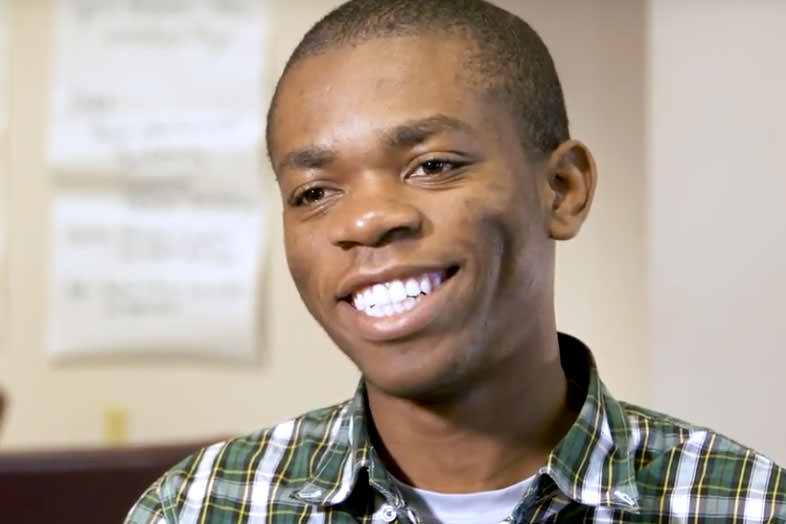 Emmanuel resettled in the United States after fleeing violence in his home country of the Congo. His immediate goal upon coming to Pittsburgh was to attend college, but he lacked a high school diploma.
He started at Literacy Pittsburgh first as an English as a second language student to brush up on his English skills, but quickly advanced to our high school equivalency diploma program. Emmanuel excelled in each of his classes and credits his teachers for his success. "The love, commitment, and support of the whole staff supported me on my journey," he explains. With the help of our on-staff transitions manager, Emmanuel applied for and won the Terri Gould Foundation Scholarship and attends Community College of Allegheny County.
He finds the college writing class he took at the Literacy Pittsburgh to be especially invaluable. His goal is to earn his associate's degree and then transfer to a four-year university where he can eventually pursue a master's degree in mechanical engineering. One of his favorite things about his Literacy Pittsburgh classes? "The different people of various races and cultures, all in one class, with a goal to succeed."
Literacy Pittsburgh (formerly Greater Pittsburgh Literacy Council) helps create better lives through learning. Recognized as a national leader in adult and family literacy, Literacy Pittsburgh is the largest provider of adult basic education in Allegheny and Beaver Counties. Last year, Literacy Pittsburgh helped some 3.700 individuals acquire the skills needed to reach their fullest potential in life and participate productively in their communities. Literacy Pittsburgh provides free, personalized instruction in workforce readiness, high school diploma test preparation, digital literacy, English language learning, math, reading, and family literacy through one-to-one and small class instruction. Founded in 1982, it serves local adults through numerous neighborhood locations and its Downtown Pittsburgh Learning Center.