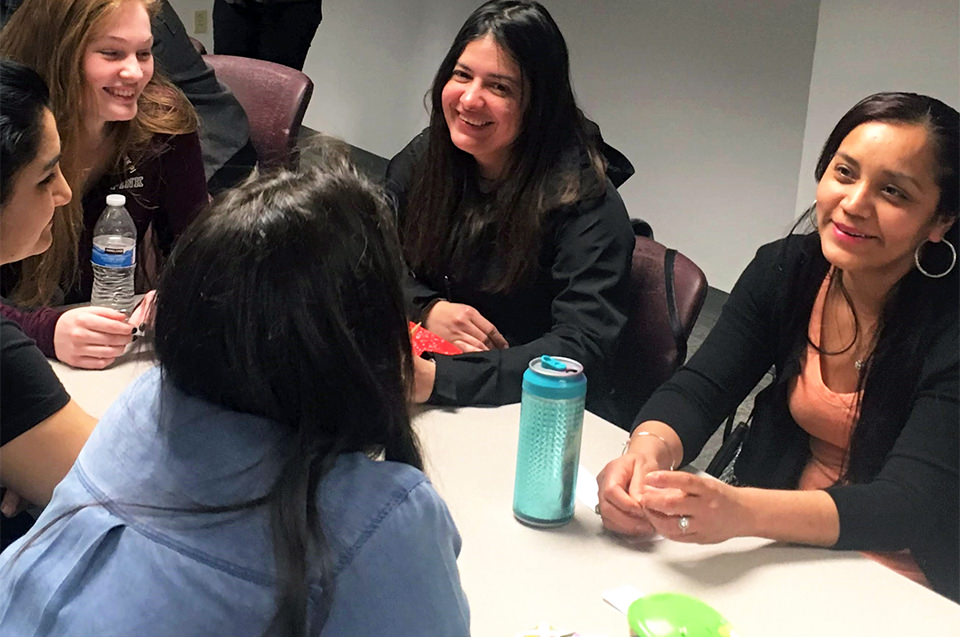 This week, 150 educators from a dozen countries arrived in Pittsburgh to share research and practical approaches to teaching adult learners with little or no education who are working to read and write for the first time in a new language. Literacy Pittsburgh was proud to host the 15th annual Literacy Education and Second Language Learning for Adults (LESLLA) Annual Symposium August 28-30, 2019, at the Westin Convention Center Hotel. 
While approximately half of Literacy Pittsburgh's students are English Language Learners, the other half are individuals who are seeking to improve their reading, writing and math skills or prepare for the high school equivalency exams. These Adult Basic Education students took the LESLLA Symposium as an opportunity to practice their writing skills while learning more about Pittsburgh's immigrant and refugee communities. They each chose a specific cultural group and did independent research online, using a list of possible questions and a few website suggestions from their teacher. Once they had gathered their notes, students planned out their essays with some help from graphic organizers and a writing checklist. Between drafts, classroom discussions about writing emphasized organization, clear focus, and transitions. Three of the essays were finished in time to be shared with LESLLA attendees.
Arab-American Immigrants
By L.A. Tucker
Some Arab-Americans have made Pennsylvania their home. Some areas that they have nestled in are Aliquippa, New Castle, New Kensington, Homestead and of course "the city of Pittsburgh". Since 1965 they made careers as miners, factory workers and other hard labor jobs. As they started to learn more about American customs and the meaning of their citizenship, they wanted better for themselves and their children. Each generation did better than the last, pushing to become doctors, science researchers and professors. They are starting to get into criminal law such as attorneys, lawyers, judges, and upholders for the law. Ever since immigration to the U.S., Arab-Americans had always owned and operated neighborhood stores.
As Arab-Americans nestled in their new home, many did not let go of their religion or beliefs. Some places that accommodate religious gatherings are St. John the Baptist Maronite Church and the Muslim Center of Pittsburgh (Mosque). One community group is the Pittsburgh Palestine Solidarity Committee.
They have also played prominent roles in government. The first Arab-American elected into the U.S. Senate was James Abourezk of South Dakota. Abourezk earned a reputation as a fighter for Native American and other minority rights while in Congress. Donna Shalala, an Arab-American, was appointed Secretary of Health and Human Services for the Clinton Administration. Although politically out-numbered, and fighting for ground, Arab-Americans have attempted to gain a voice in U.S. foreign policy since the late 1960's. The first national organization dedicated to such a purpose was the Association of Arab University Graduates Inc. (AAUG), founded in the aftermath of the devastating Arab defeat by Israel (the war of June 1967). The AAUG sought to educate Americans about the Arab, especially the Palestinian side of the conflict.
One Arab-American group that recently began growing in the U.S. is Syrian refugees. Starting in 2010-2014, the Syrian population grew, largely because of the Syrian Civil War, which started in 2011.
Syria is a country in western Asia, bordering Lebanon to the southwest, the Mediterranean Sea to the west, Turkey to the North, Iraq to the East, and Jordan to the south. Syria's capital is Damascus and Bashar al-Assad is the President. Syria is a country of fertile plains, high mountains and deserts. This country has opened its doors to many ethnic and religious cultures. Some that live here are: Circassians, Assyrians, Kurds, Mandeans and Turkemens. Some of the religions are Sunnis, Scalars of Yahweh, Alawites, Isma'ili's and Salafis. Syria operates under one supreme government and all other branches work as one, consisting of 14 governments. Syria is a member of United Nations (U.N.) and the non-Aligned movement. They were suspended from the Arab League on November 2011, an Organization of Islamic cooperation. They also self-suspended themselves from the Union of the Mediterranean.
Syrian and other Arab-Americans began coming over to the United States after the Immigration Act of 1965. They came here seeking safety from war and persecution. They also came here for educational and employment opportunities. They're adjusting and becoming a part of a multicultural society in Pittsburgh.
The Chinatown Community of Pittsburgh
By Lamar Cottrell
A great number of the people of the culture came into downtown Pittsburgh located on Grant street. They started off with authentic Chinese and Asian restaurant.  They called this place Chinatown. Chinatown was located at the intersection of Grant Street and the Boulevard of the Allies. It spread from Grant to Water Street, also to Second and Third Avenue. Chinatown grew from multiple waves of Chinese immigrants from Canton. Second Avenue consisted of merchant shops,  such as Wing Hong Chinese Company. Chinatown was a beautiful diverse place and brought more life to the scene of downtown. For the most part it was great, but during a period in time it was a dangerous place. It was because the two groups were at war, which was called the Tong wars between the 1920s and 30s.
Many early residents of Pittsburgh's Chinatown operated laundries and restaurants, creating a busy hustling neighborhood. An estimated five hundred people lived in Chinatown in the height of the early 1920s. Willam Hyung Yot came to Pittsburgh when he was fifteen years old & was the mayor of Chinatown for about fifty years before his untimely demise. He played a great part in the Chinatown area, helping the less fortunate, feeding people who didn't have it and also sheltering the homeless, not just in Pittsburgh but also multiple other locations.  By 1959, only three Chinese families remained. Today, the only physical trace left of this community is the Chinatown Inn restaurant. The Inn is located in the former On Leong Labor and Merchants Association building and the ornate red pagodas trimmed with pale green carvings are the only remnants of its former function. Construction on the Boulevard of the Allies led to the disappearance of Chinatown, causing residents to spread out and leave the area. The last mayor of chinatown, Yuen Yee, passed away in 2008.
There are multiple Asian groups that came to Pittsburgh and made the area more diverse. They started to migrate from California after the Gold Rush in 1849. The first Asians to settle in Pittsburgh came about 1872 as strikebreakers. There was a cutlery factory in Beaver Falls and they replaced all of the laborers as a result of a labor dispute. Many Asian immigrants came to flourish in the business world.
At the Heinz History Center they came together and celebrated Chinese New Year in 2019. Dozens of brightly clad dancers, musicians and martial artists participated in the Year of the Golden Pig Kickoff Celebration. The Lunar New Year is a Chinese holiday that lasts for about two weeks. Marian Lien, the President of Pittsburgh's chapter of the Organization  of Chinese Americans, helped organize the event and said the celebration and others like it help young people of Asian and Pacific Islander descent express their identities. It helps them realize they are not alone and accepted as part of the community.
Bhutanese Refugee Community in Pittsburgh
By Roshi Lama
From 2008 they start coming to U.S. First they came to Nepal after they were victims of ethnic-cleansing and political vendetta in Bhutan in 1990s. After spending 17 and 18 years in refugee camps, UNHCR started third country resettlement for the refugees. The older people had their own different experiences about their homeland. They don't have any choice except to leave their home country. Still, some family are in Bhutan, some in refugee camps, and some in U.S.
Refugee life was so difficult and very hard to survive. After spending a tough life in refugee camps, they came to USA. More than 60,000 Bhutanese refugee from Nepal have been resettled in U.S. as part of third-country resettlement. Once they arrived in the U.S., they did not pick our state or city of resettlement. It was all decided at the Office of Refugee Resettlement. But, being lucky to be in this country, our folks began to move all around, choosing the place of their need of being together for family reasons as well as reasons of employment. Most of the Bhutanese community members in Pittsburgh are now secondary migrants from other states and cities who like to live in Pittsburgh for various reasons. The Bhutanese Americans are now on their way to adapting well and carrying out various activities.
They are in business, medical, education and engineering, and now the new generation of high school graduates are entering into professional career line. 90% of girls and some boys want to become RNs. And they work at hospital, hotel, company, restaurant, and store. Some run their own businesses. Some people have bought their house, opened their stores and shops, restaurants, jewelry shops, clothes shops, hair salons, and setting up their community centers.
One such community based organization in Pittsburgh is BCAP, Bhutanese Community Association of Pittsburgh. It is totally manned by volunteers and carries out a lot of cultural and other activities in Pittsburgh by networking with other local communities. We are so lucky to live in a great country and land of opportunity. Proud to be a U.S. citizen. God bless America and God bless all of us.
Literacy Pittsburgh (formerly Greater Pittsburgh Literacy Council) helps create better lives through learning. Recognized as a national leader in adult and family literacy, Literacy Pittsburgh is the largest provider of adult basic education in Allegheny and Beaver Counties. Last year, Literacy Pittsburgh helped some 3.700 individuals acquire the skills needed to reach their fullest potential in life and participate productively in their communities. Literacy Pittsburgh provides free, personalized instruction in workforce readiness, high school diploma test preparation, digital literacy, English language learning, math, reading, and family literacy through one-to-one and small class instruction. Founded in 1982, it serves local adults through numerous neighborhood locations and its Downtown Pittsburgh Learning Center.