We need your help reaching out to state legislators about the importance of our work making lives better through learning, especially now with so many adults out of work.
Please take a few minutes to email your State elected leaders urging them to fully fund the Adult and Family Literacy line item and allocate additional stimulus dollars to support our ability to meet increased demand for service.  Instructions and a sample message are attached/below. An email from your student(s) using the same platform would be great if they are willing and able.
You can learn more about the Adult and Family Literacy budget line item here.
Thank you for all you do to support your student(s) and Literacy Pittsburgh. Thank you in advance for your help and support in advocating for Adult and Family literacy funds as well. 
INSTRUCTIONS
Go To this website
Enter your personal contact information, and click "Submit"
On the left side of the next page, your State Representative and Senator will be listed, along with the Governor's office.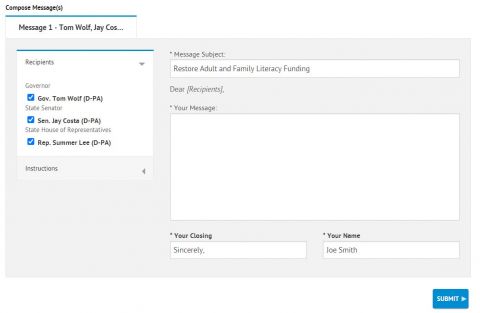 The Message Subject will be filled out for you.
Add Your Message next. A template is below.
MESSAGE TEMPLATE:
I am writing as a volunteer adult literacy tutor to urge you to fully fund the Adult and Family Literacy line item in the State Budget and to allocate additional dollars from the Stimulus to help programs like Literacy Pittsburgh meet increased demand for service.  This line item funds adult basic education services for the Commonwealth's working-age adults who need basic skills to attain family-sustaining jobs – 18% of Pennsylvania adults meet these criteria.   
As a volunteer tutor, I rely on these resources for materials and instructional support as I tutor my student(s).  ADD SOMETHING ABOUT YOUR EXPERIENCE AND THE DIFFERENCE IT MAKES FOR YOUR STUDENT(s).
Now more than ever, adult basic education is an essential investment for Pennsylvania's economic recovery. This economic recession is hitting low-wage workers the hardest, with 21.2% of jobs lost.  The economic recovery will take significantly longer for those that make up the low-wage workforce, especially more than 100,000 adults in our region without a high school credential, adequate basic skills, or English language.
I urge you to invest in students like mine and tutors like me; we are willing, ready, and able partners in Pennsylvania's economic future
Sincerely,
YOUR NAME
Literacy Pittsburgh (formerly Greater Pittsburgh Literacy Council) helps create better lives through learning. Recognized as a national leader in adult and family literacy, Literacy Pittsburgh is the largest provider of adult basic education in Allegheny and Beaver Counties. Last year, Literacy Pittsburgh helped some 3.700 individuals acquire the skills needed to reach their fullest potential in life and participate productively in their communities. Literacy Pittsburgh provides free, personalized instruction in workforce readiness, high school diploma test preparation, digital literacy, English language learning, math, reading, and family literacy through one-to-one and small class instruction. Founded in 1982, it serves local adults through numerous neighborhood locations and its Downtown Pittsburgh Learning Center.