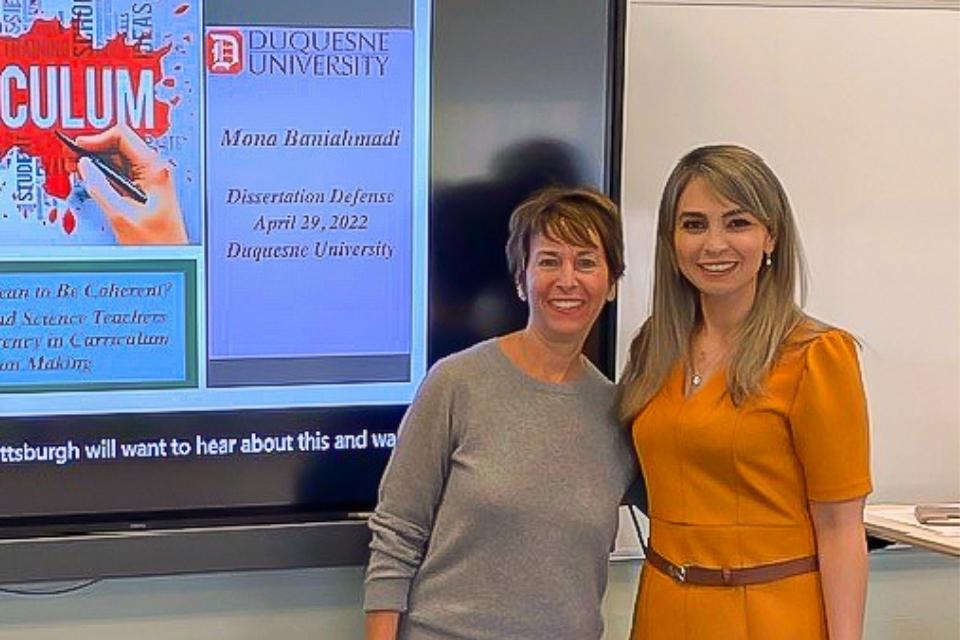 Literacy Pittsburgh's tutors get to witness exciting milestones in the lives of their students. Recently, longtime tutor Susan Netzer had the honor of watching her former student earn a doctorate from Duquesne University.
"When I first met Mona in January 2017, she wanted to improve her English skills," Susan explains. "We later started to prep for the TOEFL exam because she had her eye on applying for graduate school."
Mona and her husband, Sajad, moved to the United States from Iran in August 2016. He husband had earned his doctorate at Pitt, and after they got married in 2015, they decided to move to the United States to further their education and build a better life together.
"The hardest parts were being separated from our family and leaving the career that we built up over there behind," Mona explains. "But we believed a better life is waiting for us, and it is never too late to start a new chapter in our life."
Mona worked in various educational settings as a teacher, mentor, author, researcher, and educational director in her native country of Iran. 
"It was my goal to further my education so that I might be a strong leader within the education community. I have always been passionate about children and education. I have spent the past years in the U.S. working within several educational environments so that I might learn about the strengths and challenges within the field of education in the U.S.," Mona explains.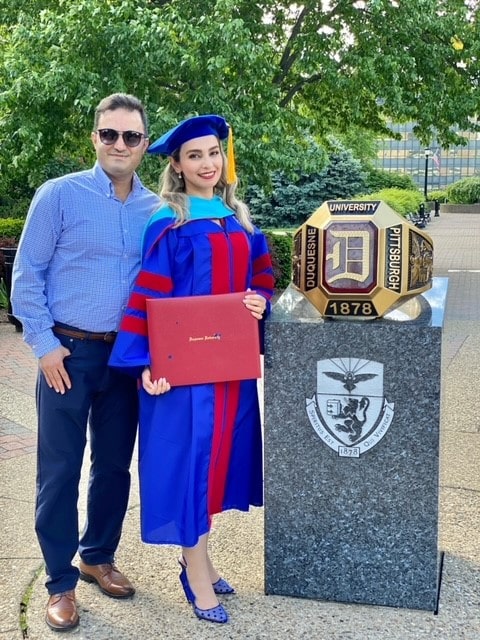 Mona started her doctorate studies in 2019 at Duquesne University. In May 2022, she defended her dissertation and earned a Doctorate of Education. Susan, her "American mother," was there to cheer her on.
"To hear Mona defend her dissertation in beautiful English at an advanced level was so gratifying and overwhelming," Susan explains. "It was just beautiful to see her in that arena with her colleagues."
Susan began tutoring at Literacy Pittsburgh in 2008 because she always loved meeting people from other cultures.
The French and economics major explains that she has always been intrigued by languages. "I have a good feel for understanding people for whom English is not their first language." Susan earned a graduate degree in Business and built a career working in the energy industry for the government and consulting firms.
The mother of three began volunteering for Literacy Pittsburgh when her children were in middle and high school. Susan said she "had no idea what skills it would take to teach English to someone who is not a native speaker."
She knows that it is common to think you need to know the student's language, but that isn't the case. Literacy Pittsburgh trains volunteers in teaching techniques that focus on real-life situations and goals. Susan embraces this approach. "I teach my students a lot of life skills. For example, what is happening in Pittsburgh and things to do on the weekend, how to navigate our neighborhoods, and where to find hair salons and grocery stores."
It is this care and concern for her students that wins Susan warm praise from Mona.
"I would like to say special thanks to my English tutor, Mrs. Susan Netzer, who helped me to advance my English, become familiar with American culture, and start my doctoral program. Her kindness and unconditional support are unforgettable in my life."
Literacy Pittsburgh (formerly Greater Pittsburgh Literacy Council) helps create better lives through learning. Recognized as a national leader in adult and family literacy, Literacy Pittsburgh is the largest provider of adult basic education in Allegheny and Beaver Counties. Last year, Literacy Pittsburgh helped some 3.700 individuals acquire the skills needed to reach their fullest potential in life and participate productively in their communities. Literacy Pittsburgh provides free, personalized instruction in workforce readiness, high school diploma test preparation, digital literacy, English language learning, math, reading, and family literacy through one-to-one and small class instruction. Founded in 1982, it serves local adults through numerous neighborhood locations and its Downtown Pittsburgh Learning Center.