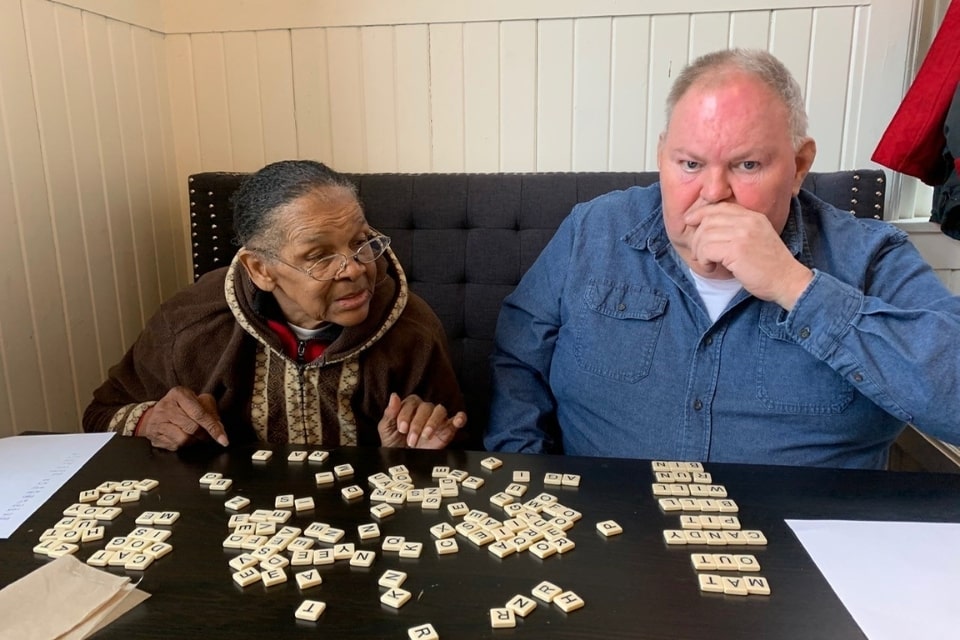 At Literacy Pittsburgh, we think of all of our students as determined. They and make time in their lives to work with our teachers and tutors so that they can further their education, get better jobs, learn to communicate, help their own children, and so much more. We have especially seen their determination this past year as they have managed to continue their studies during a pandemic. Our students, in many cases, have faced a wide variety of obstacles. Still, the story Frank and Flossie and their tutor, Sheila, remains quite unique.  
Frank grew up in Pittsburgh and graduated from high school through the Pathfinders program. Nevertheless, he had trouble with basic reading in his everyday life. In his 50s, he sought to improve his reading skills through Literacy Pittsburgh. Flossie grew up on a plantation in Virginia and was never sent to school. She said "I had epilepsy. I walked in a trance, so they didn't want me in school." In her mid 70s, she became a Literacy Pittsburgh student and is still a student today at age 82. Despite a number of setbacks, and not being familiar with the technology necessary to take classes online, they remain dedicated to continuing their studies.  
"I went through all of my life with people calling me dumb, but I didn't let that get me down," Flossie says. "My husband died, and I had to go to work, but I couldn't do that because I couldn't read or write. They said to me, 'I don't think you're going to make it.' Thank God that I made it and I worked for the state for 25 years. I scrubbed floors, toilets, and walls. I washed windows. I did all that. I found a way." 
Frank and Flossie's tutor for the past four and a half years has been Sheila Unico, who works as a nurse here. Before the pandemic, the trio met for lessons at the Chartiers Valley Salvation Army in Carnegie, with many thanks to the Director there, R. Mike Miller. They don't just work on reading skills—they are like family. They had a party for Flossie's 82nd birthday (right before the pandemic). She was especially happy to be able to read aloud the birthday card from her tutor. Frank and Flossie are more like siblings than classmates, teasing each other and laughing about something every couple of minutes during their tutoring sessions. 
Sheila says, "These last four and a half years as a volunteer tutor for Literacy Pittsburgh have been fun and fulfilling because of my two delightful students. They are kind, compassionate, dedicated, and smart! Their enthusiasm for and commitment to learning is remarkable. Observing their progress in literacy has been very rewarding for me."  
Flossie loves the way that Sheila motivates them in class. "You know, sometimes, you can't say the word. She'll just say, 'I know you can say it.' She's just a nice person, I hope I never lose her. So much nice things about her that I can't put them into words. I'm going to be 83 and I'm still wanting to get out there and do that reading." 
Frank brings a satchel with him to class that has attached to it laminated comics and bits from newspapers attached to it. He says that he likes to remind himself of the things he's been able to read thanks to his tutoring sessions. That alone speaks volumes about the value he places on his education. 
Last summer, when the weather was warm enough, they met in a park in Carnegie under a big oak tree. Sheila gave them individual lessons at that time. She said, "We wore masks and stayed socially distant, but teaching phonics through a mask was a challenge!" Their attendance was always consistent, though, and they persisted. 
Frank and Flossie have since purchased tablets, and they are incorporating technology into the lessons. Sheila says that her students have made great strides in their ability to read text in everyday life situations. They have also gained independence in written language skills. These achievements have enabled Frank and Flossie to be more confident in handling more complex problems. In addition, they can enjoy their hobbies, worship services, and other outside interests more fully. One of Flossie's goals was to be able to read her favorite passages from the Bible, and she can now do that. 
It only takes one conversation with them to see how much they all value each other. Sheila concluded, "Not to brag, but I am convinced that I have been blessed with two of the nicest students in all of Literacy Pittsburgh!" Flossie added, "I couldn't have a better teacher than her. It hurts me too when I talk about it. I just love her." 
We're are proud of this great team for not only persevering with their studies, but for continuing to make exciting strides. 
Literacy Pittsburgh (formerly Greater Pittsburgh Literacy Council) helps create better lives through learning. Recognized as a national leader in adult and family literacy, Literacy Pittsburgh is the largest provider of adult basic education in Allegheny and Beaver Counties. Last year, Literacy Pittsburgh helped some 3.700 individuals acquire the skills needed to reach their fullest potential in life and participate productively in their communities. Literacy Pittsburgh provides free, personalized instruction in workforce readiness, high school diploma test preparation, digital literacy, English language learning, math, reading, and family literacy through one-to-one and small class instruction. Founded in 1982, it serves local adults through numerous neighborhood locations and its Downtown Pittsburgh Learning Center.