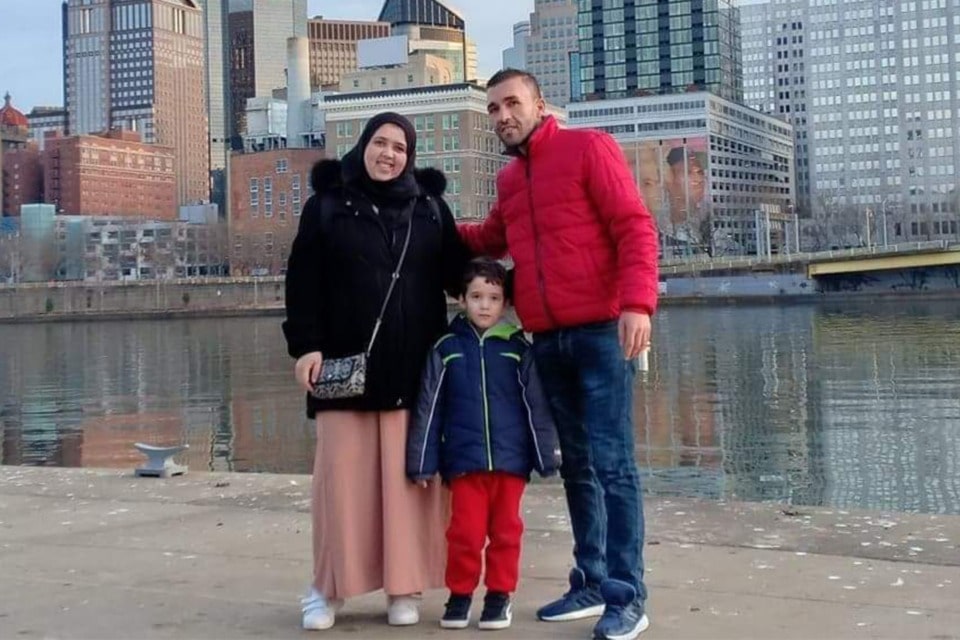 Dalila came to the U.S. last October from Algeria, a country with little private industry and a pre-pandemic unemployment rate of 12%. Dalila and her husband knew that the U.S. offered greater job opportunities, so they made the difficult decision to leave their homeland. She began learning English at Literacy Pittsburgh in July of this year. She and 5-year-old Haroun attend classes in our Family Literacy program. Leaving her homeland behind was not easy, but Dalila is grateful for the support she's received in Pittsburgh. We interviewed Dalila recently about her experiences.
Why did you come to the United States? What was the hardest thing about your journey?
I came to the U.S. because there are more opportunities than in my country. In Algeria, I would wait a long time to find a good-paying job.
When I got on the airplane to Pittsburgh I cried, because I was leaving the place I lived all my life. I feel like there is a relationship between me and the ground in Algeria. It is like uprooting a tree and planting it somewhere else.
What is life like for you in Pittsburgh?
The best thing about Pittsburgh is the people—how they smile, how they are helpful and kind. Even though I don't know a lot of people in my neighborhood when I see people they smile and that makes me feel happy. When the pandemic happened, my husband and I both lost our jobs. We didn't know how we would pay rent but thank God there is unemployment. I go to the food pantry in my neighborhood and people welcome me with a smile. I feel valued. 
The language is the most difficult thing for me. Sometimes when I talk with people, they don't understand me. I want to have a lot of friends and know a lot about my new country, but the language is a barrier between me and these things. 
What was your first impression of Literacy Pittsburgh?
I was very happy because there is somewhere to go to learn English that was free. I was happy to learn that someone could help me improve my English. I was excited to be in class. 
What are you working on right now with your teacher?
We are talking about work, like writing a resume, answering interview questions, talking about my skills. We also do parent education classes each week. We learn about how to use a computer. Also, [Workplace Skills Manager] Andrea has helped me with job applications and improving my computer skills. 
What is the best thing to happen since you started attending classes?
Meeting my teacher, Julia, because she is very polite and kind and I have never felt bad when I make a mistake. She encourages us every time. She gives all her time for us, to understand us well. She answers any question we ask and smiles every time. She is like a flower. 
What are your goals? 
My first goal is to improve my English. I also want a diploma so that I can get a better job. I want to go to college. I know my son will grow up and one day his English will be better than me. I want to learn English well so I can help him with his schoolwork. I think it is important for parents to be involved with their children's education. 
In Algeria, I was an elementary teacher. I would like to be a teacher again someday. I like to mix learning and playing. I'd like to work in a school. I also like drawing. In the future, I'd like to take a drawing class. I'd also like to try photography—I love taking pictures of nature.
How have your studies helped your family?
I can help my husband pay bills, read mail, and email. If my son is sick, I can call the doctor and schedule an appointment. My husband can work, and I can manage everything else. Maybe in the future, I will get a better job with good pay to support my family. Maybe we can save to buy a home or travel. 
What do you wish other people knew about Literacy Pittsburgh?
Don't lose time! Just come. It will be an extraordinary experience. They will learn a lot. They will meet people like them. They will feel better. I know this feeling. When you don't speak English and you are new, you feel like you are lost in a desert. The best place to learn English, feel better, and meet friends is Literacy Pittsburgh. 
What do you like to do when you aren't in class?
I like visiting my friends, going to the park, taking my son to the playground, and cooking. I also like running. When I buy a house, I will plant a garden. I like gardening. 
Anything else you'd like to say?
I want to say thank you to Literacy Pittsburgh, especially to my teacher Julia. 
Literacy Pittsburgh (formerly Greater Pittsburgh Literacy Council) helps create better lives through learning. Recognized as a national leader in adult and family literacy, Literacy Pittsburgh is the largest provider of adult basic education in Allegheny and Beaver Counties. Last year, Literacy Pittsburgh helped some 3.700 individuals acquire the skills needed to reach their fullest potential in life and participate productively in their communities. Literacy Pittsburgh provides free, personalized instruction in workforce readiness, high school diploma test preparation, digital literacy, English language learning, math, reading, and family literacy through one-to-one and small class instruction. Founded in 1982, it serves local adults through numerous neighborhood locations and its Downtown Pittsburgh Learning Center.