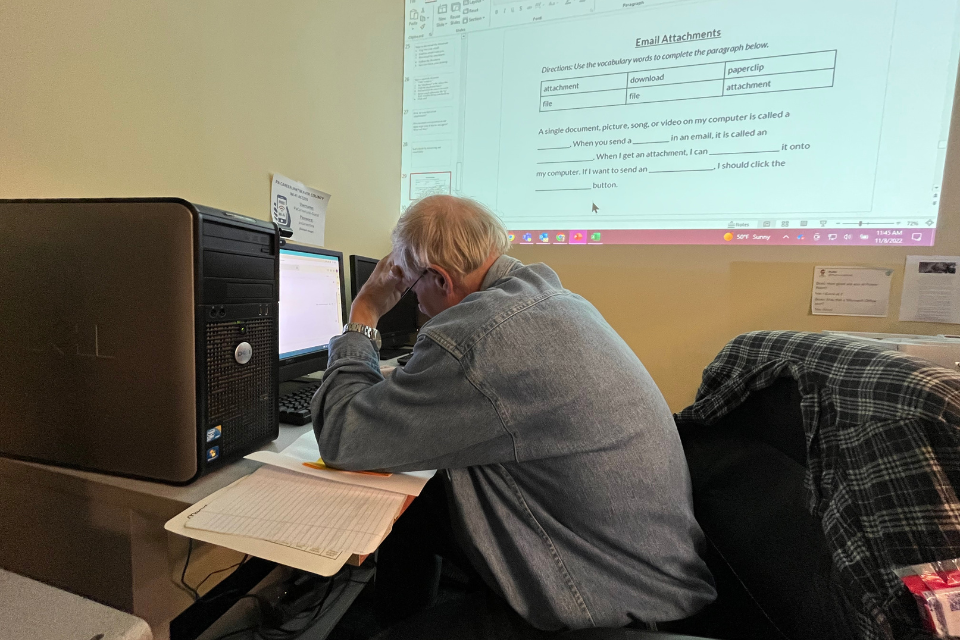 Ron joined a Literacy Pittsburgh computer skills class at the suggestion of PA CareerLink's Career Resource Center (CRC).  At his previous job, he struggled to work efficiently and effectively due to his limited tech abilities. In addition, he desperately needed to learn how to use email to communicate with future employers.
Ron took advantage of our Open Computer Lab and completed the Using Email course, completing coursework through Literacy Pittsburgh's NorthStar online training portal and in-class instruction. Ron does not have a computer or internet access at home, so he worked at his local library and visited the CRC to practice outside of class.
After working hard on his skills, Ron successfully sent out his resume via email on his own. He received a response from three employers, which he accessed through email and responded to without assistance from an instructor. Due to his diligence, he gained the needed skills to succeed in a workplace environment. Ron accepted one of those three job offers and will be working for FedEx. He is excited for this new opportunity!
Literacy Pittsburgh (formerly Greater Pittsburgh Literacy Council) helps create better lives through learning. Recognized as a national leader in adult and family literacy, Literacy Pittsburgh is the largest provider of adult basic education in Allegheny and Beaver Counties. Last year, Literacy Pittsburgh helped some 3.700 individuals acquire the skills needed to reach their fullest potential in life and participate productively in their communities. Literacy Pittsburgh provides free, personalized instruction in workforce readiness, high school diploma test preparation, digital literacy, English language learning, math, reading, and family literacy through one-to-one and small class instruction. Founded in 1982, it serves local adults through numerous neighborhood locations and its Downtown Pittsburgh Learning Center.