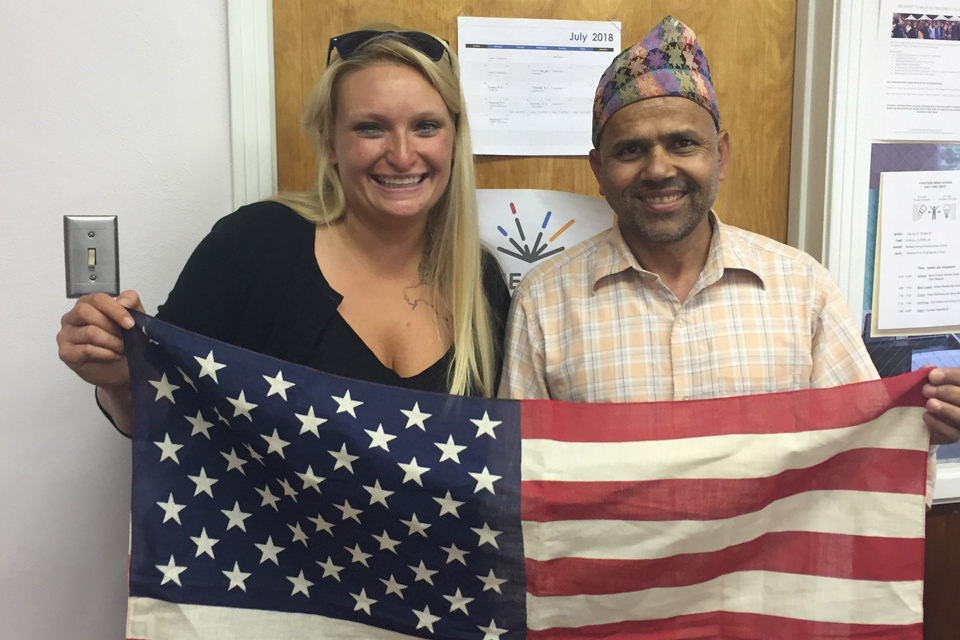 Gaining U.S. citizenship does not happen overnight and not every permanent resident can become a citizen. What is the process like for our students? We invite you to "sit with our students" for a moment!
The journey to U.S. citizenship begins the moment you arrive in Pittsburgh. As a potential U.S. citizen, you must have a good command of the English language. So, your first step will be English class at Literacy Pittsburgh. Later, you will transition to a class that focuses on U.S. government and history.
When you have lived in the U.S. for at least five consecutive years, you are able to apply to become a citizen. You will pay a $725 fee and be fingerprinted. Next, you wait for your naturalization interview. At the interview, you will be asked questions that determine your eligibility to become a citizen. You will respond orally so the naturalization officer can evaluate your proficiency in English. You will also read one sentence in English and write one sentence in English. Finally, you will be asked questions about U.S. government and civics. There are 100 possible questions; 10 are asked during the test.
The last step is the naturalization ceremony at which you will be given the oath of citizenship and swear loyalty to the United States. Ceremonies are often held at the City-County building but special ceremonies have taken place at PNC Park and in Market Square.
How would you do on the U.S. citizenship test?
Meet Deu - New U.S. Citizen
Deu Pokhrel fled Bhutan due to ethnic discrimination. He spent years in a refugee camp in Nepal. Although he was a farmer in Bhutan, Deu was not permitted to work in Nepal and had no future there. Deu had limited education, so he struggled when he arrived in the U.S. with his family in 2009. At Literacy Pittsburgh, he learned to read, write and speak English. On July 6th, 2018, he passed the U.S. citizenship test and will attend his naturalization ceremony in a few weeks. Deu's teacher Caitlin, pictured with him above, has a celebration of her own when her students pass the test.
"Deu is a student who is always ready to learn and lights up the classroom," Caitlin says. "I have watched him overcome difficulties in learning. Deu's hard work inspires both his teachers and his fellow students."
Literacy Pittsburgh (formerly Greater Pittsburgh Literacy Council) helps create better lives through learning. Recognized as a national leader in adult and family literacy, Literacy Pittsburgh is the largest provider of adult basic education in Allegheny and Beaver Counties. Last year, Literacy Pittsburgh helped some 3.700 individuals acquire the skills needed to reach their fullest potential in life and participate productively in their communities. Literacy Pittsburgh provides free, personalized instruction in workforce readiness, high school diploma test preparation, digital literacy, English language learning, math, reading, and family literacy through one-to-one and small class instruction. Founded in 1982, it serves local adults through numerous neighborhood locations and its Downtown Pittsburgh Learning Center.