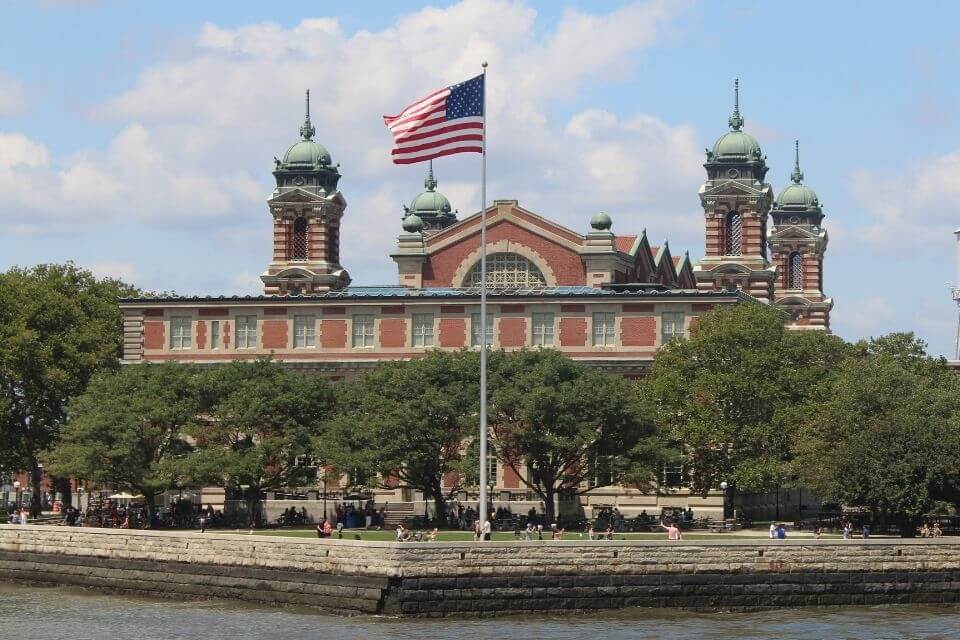 In July, we celebrate our country's founding. Immigration is a significant part of our history, and it has changed over the years. Trisha, a Family Literacy instructor, is using the book What Was Ellis Island? by Patricia Brennan Demuth to teach about this part of America's history. Students have been learning about how Ellis Island started, its purpose, and what it has transformed into.  
 
From 1892 to 1954, Ellis Island was the gateway to a new life in the United States for millions of immigrants. Many Family Literacy students are immigrants themselves, and some were unaware of how drastically the process had changed over time. Trisha explains that one thing that really stuck out to students is the medical tests that were required upon arriving at Ellis Island. Students discovered that it is not like today, where immigrants have to present paperwork from a doctor and proof of vaccination. Instead, immigrants went through tests on-site and, as issues were discovered, their clothing was labeled based on their ailment. For example, if they had heart issues, an "H" was drawn onto their clothes or if they had an issue with their eyes, a letter "E" was drawn. This was likely their way of dealing with a massive influx of people who couldn't understand English.  
 
As part of lessons, students have an opportunity to hear the immigrants' experiences in their own words through audio clips. They especially enjoyed hearing immigrants talk about the first time they tried "American" foods like tomatoes and sandwiches as they came through Ellis Island. One memorable story was about an Irish woman who was given a pizza and spit it out because it was "dreadful stuff," according to her. The stories go on to talk about how the immigrants learned to love it. These experiences resonate because a lot of our students remember having similar feelings when they tried American foods that were very different from what they were used to. They also read about the immigrants' staple foods, such as potatoes were for the Irish. The story explains how many Irish left Ireland due to a blight on the potato crops and the resulting famine. Students shared what their home countries' staple foods are and whether they still eat a lot of those foods now that they live in America. If your curiosity is piqued, click here to listen to some of these short oral histories yourself.   
 
Students learned that women could not immigrate to the United States by themselves through Ellis Island. A male representative was required. If that representative had died, been lost, or could no longer be contacted, these women would be returned to their original countries. As women, many students found this shocking since several came here on their own or know a woman that came to the United States alone with her children.  
 
The class has also been practicing their new digital literacy skills to explore Ellis Island through the virtual field trips on the Scholastic website and the National Parks Service Ellis Island website. Students have been comparing and contrasting their experiences to those of immigrants who arrived through Ellis Island. Students worked on writing and sharing new facts they learned as well as writing down questions they had. When a question arose, the class worked together to find the answer on the web. 
  
Sometime in August, the class will take a virtual field trip to New York City's Tenement Museum. This museum is in New York's Lower East Side, in some of the exact buildings where the immigrants of the late 1800s and early 1900s used to live. The apartments are decorated just as they would have looked at that time. Students will hear the story of a particular family's experience and walk in their footsteps.
Literacy Pittsburgh (formerly Greater Pittsburgh Literacy Council) helps create better lives through learning. Recognized as a national leader in adult and family literacy, Literacy Pittsburgh is the largest provider of adult basic education in Allegheny and Beaver Counties. Last year, Literacy Pittsburgh helped some 3.700 individuals acquire the skills needed to reach their fullest potential in life and participate productively in their communities. Literacy Pittsburgh provides free, personalized instruction in workforce readiness, high school diploma test preparation, digital literacy, English language learning, math, reading, and family literacy through one-to-one and small class instruction. Founded in 1982, it serves local adults through numerous neighborhood locations and its Downtown Pittsburgh Learning Center.