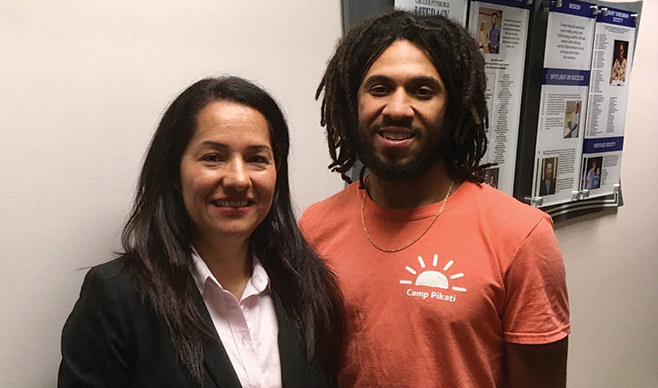 Two years ago, Ivonne Casas-Martinez arrived in Pittsburgh from her native Colombia, ready to make a new life in the U.S. She spoke little or no English. Thanks to your support of GPLC, Ivonne now has an associate's degree in chemistry and a path to success.
Ivonne was an engineer in Colombia, but her limited English restricted her job options in Pittsburgh. As a result, her first job here was sorting inventory at a home furnishings store.
Wanting a better career, Ivonne came to GPLC's English classes, although her work schedule sometimes interfered. She supplemented the classes with a GPLC tutor.
While attending a GPLC Job and Education Fair, Ivonne learned about the associate's degree program at Bidwell Training Center. "The classes were free, but they were eight hours a day, Monday through Friday, and all in English. To graduate, you had to pass several timed tests, again in English," she explained. Thanks to her perseverance, she succeeded and graduated from the program.
Today Ivonne is in an externship program with Ardex America, a company based in Beaver County. She has the possibility of a job there.
"I suffered a lot this year," she says. "No time to spend with my family, staying up studying until 1 or 2 a.m. But every time I wanted to quit, GPLC and my family encouraged me to continue." We are proud of you, Ivonne!
Literacy Pittsburgh (formerly Greater Pittsburgh Literacy Council) helps create better lives through learning. Recognized as a national leader in adult and family literacy, Literacy Pittsburgh is the largest provider of adult basic education in Allegheny and Beaver Counties. Last year, Literacy Pittsburgh helped some 3.700 individuals acquire the skills needed to reach their fullest potential in life and participate productively in their communities. Literacy Pittsburgh provides free, personalized instruction in workforce readiness, high school diploma test preparation, digital literacy, English language learning, math, reading, and family literacy through one-to-one and small class instruction. Founded in 1982, it serves local adults through numerous neighborhood locations and its Downtown Pittsburgh Learning Center.