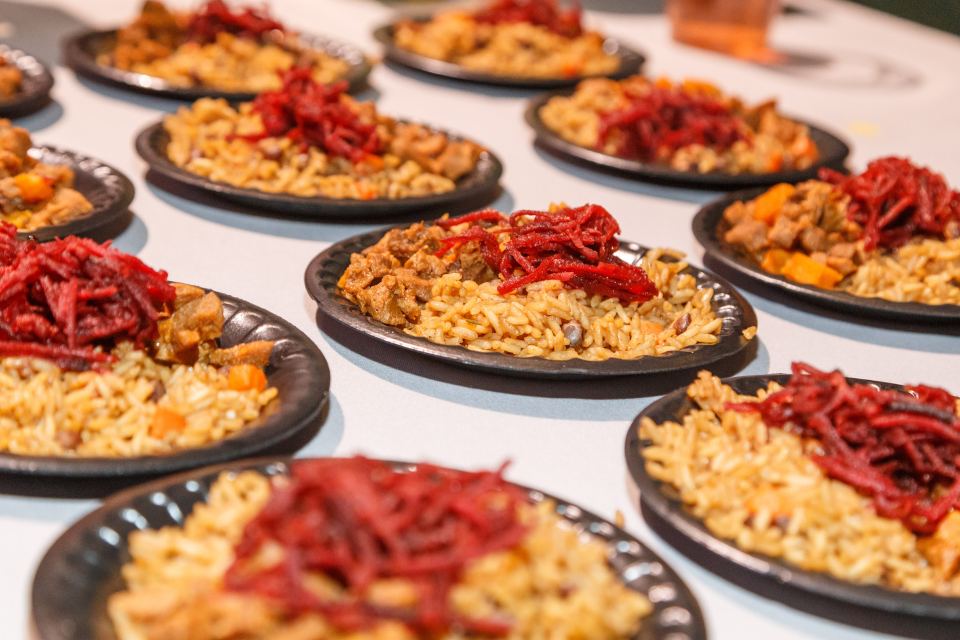 On March 13, more than 350 Literacy Pittsburgh friends gathered at Stage AE, helping us to raise more than $83,000 so our students can improve their reading, writing, math, English language, digital literacy, and workplace skills. One Big Table: An International Tasting celebrates the diversity of our region through food, art, and entertainment.
DJ Arie Cole kept the party going with his global sounds, and Urban Africans, Zang TKD, and Organization of Chinese Americans entertained guests with special performances. Guests sampled food from around the world and shopped at the global artisan market. More than 20 restaurants joined us showcasing Middle Eastern, Mexican, Soul, Greek, Turkish, Peruvian, Thai, and Indian cuisines and more! Go to the One Big Table page on our website to view the restaurant list and visit them on your next night out.
We are grateful for the generous support of our sponsors, especially Universal Ally, Highmark Wholecare, and all of our guests and volunteers. Congratulations to our 50/50 raffle winner who took home $4,200.
Check out the great press coverage the event received from Pittsburgh Post-Gazette and Tribune-Review.
Save the Date for One Big Table 2024: March 4 At Stage AE!
What Is Your Big Table? Celebrating Traditions
We asked our students, volunteers, and staff to tell us about the various traditions of their families and cultures. Their responses surpassed all our expectations!  Check out our traditions flipbook and learn about Ukrainian Easter Eggs, Cimarrao, Game Nights, Wedding Celebrations, and much more!
Click the image to view the traditions flipbook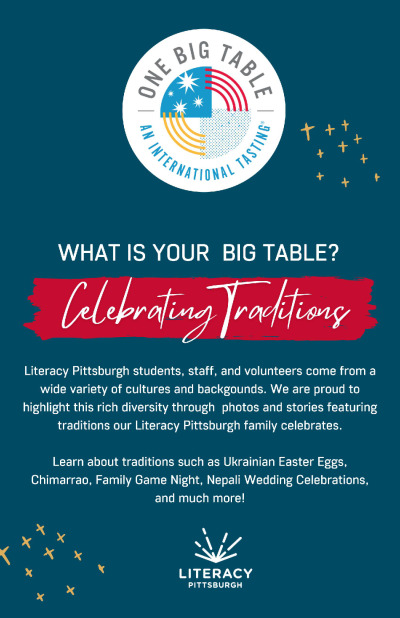 Literacy Pittsburgh (formerly Greater Pittsburgh Literacy Council) helps create better lives through learning. Recognized as a national leader in adult and family literacy, Literacy Pittsburgh is the largest provider of adult basic education in Allegheny and Beaver Counties. Last year, Literacy Pittsburgh helped some 3.700 individuals acquire the skills needed to reach their fullest potential in life and participate productively in their communities. Literacy Pittsburgh provides free, personalized instruction in workforce readiness, high school diploma test preparation, digital literacy, English language learning, math, reading, and family literacy through one-to-one and small class instruction. Founded in 1982, it serves local adults through numerous neighborhood locations and its Downtown Pittsburgh Learning Center.