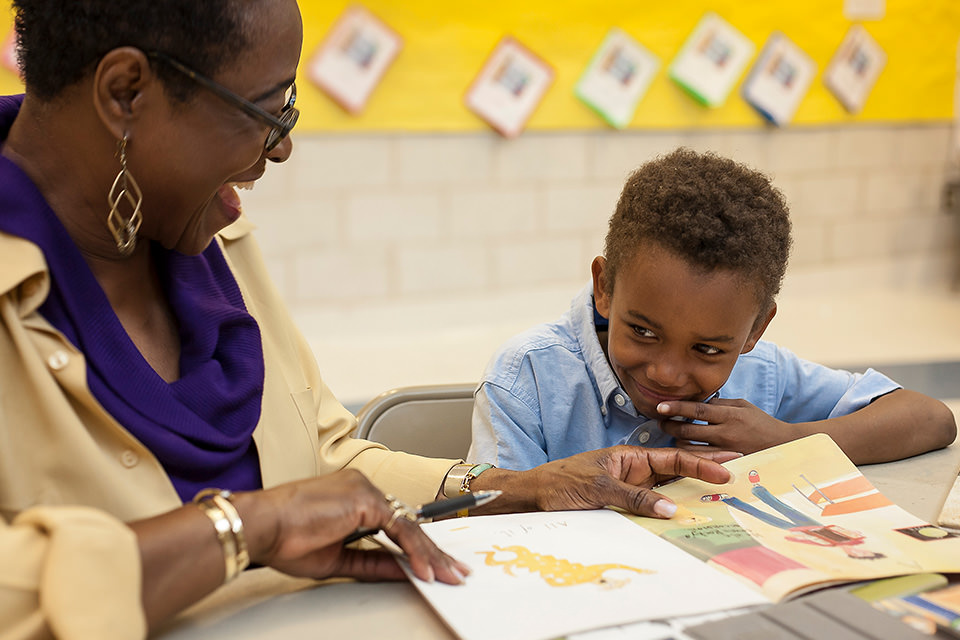 Duquesne City School District and McKeesport Area School District recently approved implementation of the Oasis Intergenerational Tutoring program in the districts. This program, which is offered locally by Literacy Pittsburgh, pairs tutors age 50 and over with students needing extra support in grades kindergarten through fourth grade for weekly sessions during the school day. Volunteer tutors, school district personnel and the Oasis program director work together to help children build reading skills, self-esteem and a positive attitude toward learning.
"We are eager to expand our tutoring offerings with the help of Oasis Tutoring.  We believe that by adding this additional service for our students, only growth can be expected.  We are excited about what the future holds for this partnership," said McKeesport Area School District Assistant Superintendent Dr. Tia Wanzo.
When considering expansion, Literacy Pittsburgh approaches districts with an identified need. In both Duquesne City and McKeesport districts, test scores indicate that a significant number of students lack proficiency in reading. The primary grades are a critical time for literacy acquisition and build a foundation for future learning. By pairing high-need children with volunteers for one-to-one support, we can help students gain skills and self-confidence while influencing attitudes about learning. Children must be referred to the program by their teachers.
"We are excited to have Oasis Tutoring become an extension of our Duquesne family and we can't wait to see the positive outcome this will have on our kiddos," said Duquesne City Principal Eric Harper.
Recruitment of volunteer tutors is underway. Because the Oasis program is dedicated to successful aging, tutors must be age 50 or older. Training sessions begin in November at multiple locations. Interested volunteers should call 412-393-7648 for details and to register. In addition, office volunteers are needed to help support tutors and students behind the scenes.
"We look forward to bringing this vital program to the Duquesne City and McKeesport districts so that more children can thrive academically," said Carey Harris, Literacy Pittsburgh Chief Executive Officer. "Literacy Pittsburgh believes strongly in lifelong learning. The Oasis Intergenerational Tutoring program supports not only the children enrolled but also the individuals who volunteer."
Oasis Intergenerational Tutoring is a national program sponsored by the The Oasis Institute, which promotes healthy aging through lifelong learning, active lifestyles and volunteer engagement. Oasis Intergenerational Tutoring was created more than two decades ago, and Literacy Pittsburgh has overseen the program in Allegheny County since 2013. Tutoring is also offered in the Woodland Hills, Wilkinsburg and Pittsburgh Public School Districts. Last year, 166 volunteers tutored 359 children in 34 schools.
"I look forward to working with the Duquesne and McKeesport communities to make a difference in the lives of children and adults," said John D. Spehar, Director of the Oasis Intergenerational Tutoring program in Pittsburgh.
The Oasis Intergenerational Tutoring program emphasizes reading and writing skills essential to improving academic performance. Volunteers receive 12 hours of training that emphasizes techniques to draw upon a child's own experience to create simple stories that form the basis for reading activities. The program taps the tremendous potential of committed volunteers age 50+ who have the time, patience, and life experience to make a profound difference in the lives of children.
Literacy Pittsburgh (formerly Greater Pittsburgh Literacy Council) helps create better lives through learning. Recognized as a national leader in adult and family literacy, Literacy Pittsburgh is the largest provider of adult basic education in Allegheny and Beaver Counties. Last year, Literacy Pittsburgh helped some 3.700 individuals acquire the skills needed to reach their fullest potential in life and participate productively in their communities. Literacy Pittsburgh provides free, personalized instruction in workforce readiness, high school diploma test preparation, digital literacy, English language learning, math, reading, and family literacy through one-to-one and small class instruction. Founded in 1982, it serves local adults through numerous neighborhood locations and its Downtown Pittsburgh Learning Center.