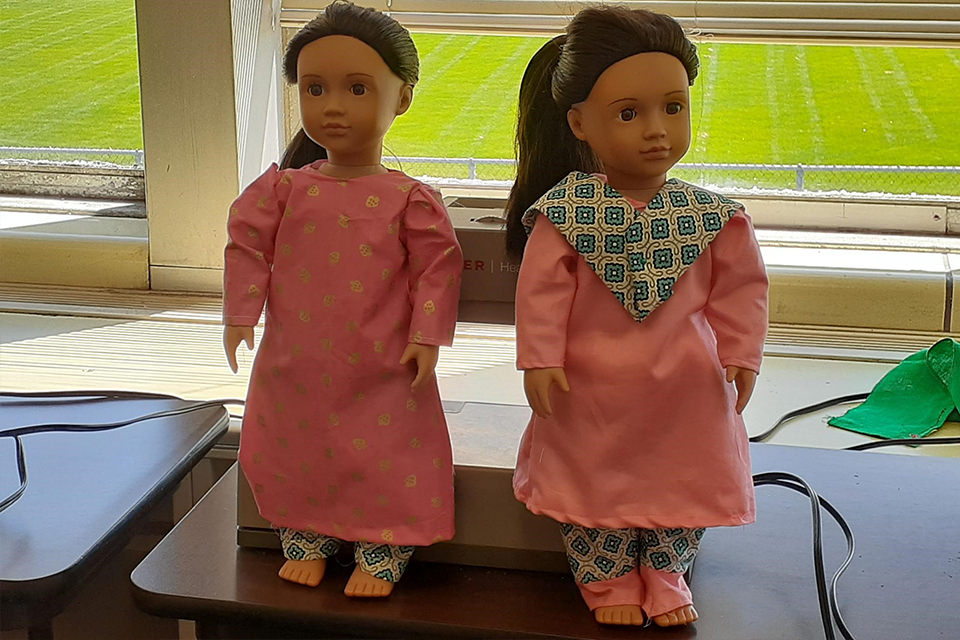 Whitehall Public Library and Literacy Pittsburgh have partnered on an effort to create a more inclusive and welcoming environment for immigrant and refugee children. While many Allegheny County libraries lend out dolls for children, Library Director Paula Kelly noticed that these dolls did not reflect the diversity of their community.
Ms. Kelly reached out to longtime partner Literacy Pittsburgh for help. Literacy Pittsburgh's Family Literacy program, based at Wallace School in the Baldwin-Whitehall School District, serves primarily immigrant and refugee families. The program helps adults gain English language skills and knowledge of American culture while helping preschool children gain the early literacy skills needed to succeed in school. Over the years, the library has engaged students in the Family Literacy program through a variety of initiatives.
"The 'We're All Neighbors Collection' grew from an article I read in an online professional journal about a project at the South Fayette Township Library," Whitehall Library Director Paula Kelly explains.  "They created a doll reflective of their large Indian community for children to borrow. The moment I read about it, I knew that a similar and broader initiative would be a perfect fit for our community and an ideal partnering opportunity with our colleagues at Literacy Pittsburgh."
Since April, Literacy Pittsburgh students have been designing a total of 12 dolls representing six of their native countries: Nepal, Morocco, South Sudan, Afghanistan, Turkey and the Karen State of Myanmar.
First, the students wrote stories that depict the culture and daily life of a typical young girl in each of their home countries. Next, they designed outfits for each doll. With the help of Literacy Pittsburgh's Office of Public Art artist-in-residence Mary Tremonte, students sewed outfits for the dolls throughout the summer.
"Paula brought this project to Literacy Pittsburgh to help the community learn more about the other cultures in Whitehall. However, for our students it has really allowed them to see that they are not that different from everyone else," explains Literacy Pittsburgh's Family Literacy Manager Caitlin Griffiths.
When complete, the dolls will be introduced to the Whitehall community at a children's tea party program. Six of the dolls will be available for checkout at Whitehall Library, along with the stories Literacy Pittsburgh students crafted for them. The remaining six will be in Family Literacy's Early Childcare Education room for the children to play with while their parents are in class.
The We're All Neighbors Collection is underwritten by a grant from the Jefferson Regional Foundation to the Allegheny County Library Association.
Literacy Pittsburgh (formerly Greater Pittsburgh Literacy Council) helps create better lives through learning. Recognized as a national leader in adult and family literacy, Literacy Pittsburgh is the largest provider of adult basic education in Allegheny and Beaver Counties. Last year, Literacy Pittsburgh helped some 3.700 individuals acquire the skills needed to reach their fullest potential in life and participate productively in their communities. Literacy Pittsburgh provides free, personalized instruction in workforce readiness, high school diploma test preparation, digital literacy, English language learning, math, reading, and family literacy through one-to-one and small class instruction. Founded in 1982, it serves local adults through numerous neighborhood locations and its Downtown Pittsburgh Learning Center.