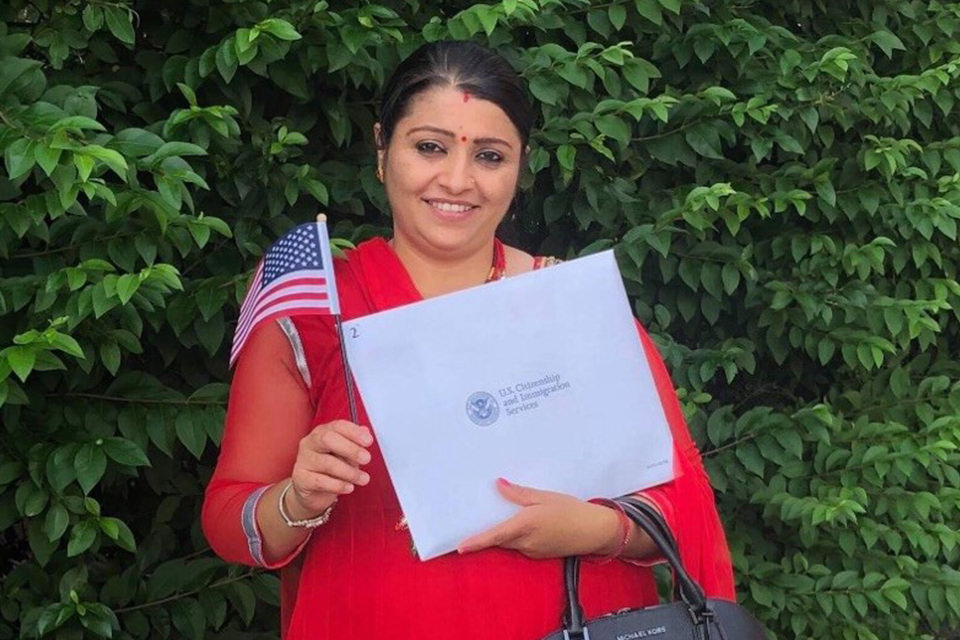 Five years ago, Mala immigrated to the United States with her family. She met her husband, Chooda, while he was living at a refugee camp in Nepal, having been displaced from his native Bhutan. When Chooda was resettled in the United States as a refugee, Mala and their young son came with him.
Mala has been attending Family Literacy classes for the last year and a half with her 3-year-old daughter, Safalta. Mala has been learning a lot of vocabulary, cities, places, and conversational aspects of the English language. Her daughter has made new friends and is learning foundational skills that will benefit her in kindergarten. Mala thinks that Literacy Pittsburgh is a great place and especially likes her teachers, Melissa and Jessica. Soon Mala will be working with Literacy Pittsburgh's Workplace Skills Manager to create a resume and practice for interviews. She hopes to acquire work as a housekeeper or at a hospital.
"Mala is very dedicated to her learning and spends time reading and practicing at home," explains Melissa. "She has a very optimistic perspective about her future and looks forward to the new opportunities that she will have as a U.S. citizen."
During the past five years, Mala has come a very long way and has especially excelled in her writing classes. She shined in the writing portion of her U.S. citizenship test and was used as an example in her preparation classes to write sentences on the board for other students. Mala is very proud of this accomplishment.
In addition to her time spent at Literacy Pittsburgh, Mala enjoys shopping and exploring the city of Pittsburgh. She also dedicates herself to her family, caring for her son and daughter. Mala, her husband, and children will be traveling back to Nepal for the first time to visit family and friends for a month and they are all very excited to reconnect with their loved ones.
Mala is very excited about achieving her U.S. citizenship and looks forward to what is next on her journey.
Literacy Pittsburgh (formerly Greater Pittsburgh Literacy Council) helps create better lives through learning. Recognized as a national leader in adult and family literacy, Literacy Pittsburgh is the largest provider of adult basic education in Allegheny and Beaver Counties. Last year, Literacy Pittsburgh helped some 3.700 individuals acquire the skills needed to reach their fullest potential in life and participate productively in their communities. Literacy Pittsburgh provides free, personalized instruction in workforce readiness, high school diploma test preparation, digital literacy, English language learning, math, reading, and family literacy through one-to-one and small class instruction. Founded in 1982, it serves local adults through numerous neighborhood locations and its Downtown Pittsburgh Learning Center.