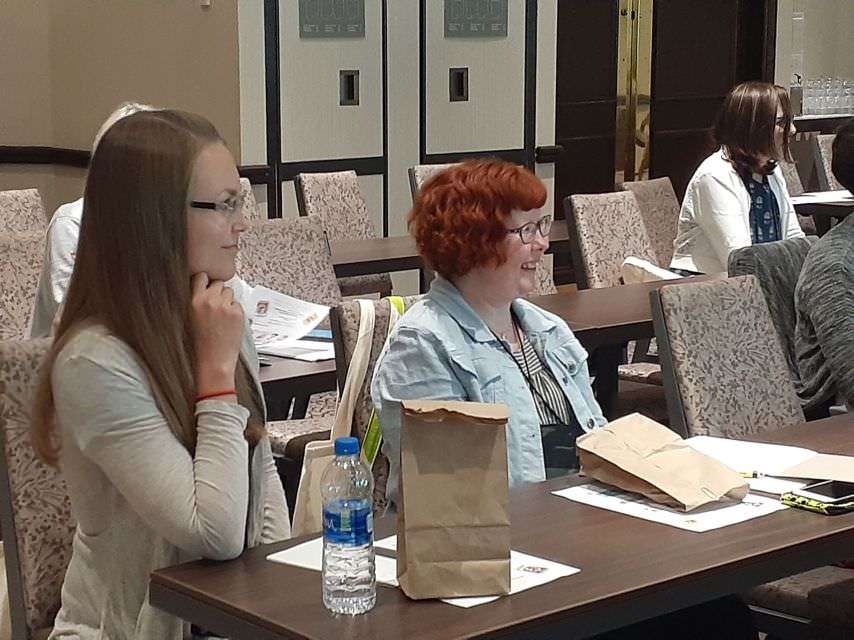 Nearly 150 educators from a dozen countries convened in Pittsburgh this week to share research and practical approaches to teaching adult learners with little or no education who are working to read and write for the first time in a new language. Literacy Pittsburgh proudly hosted the 15th annual Literacy Education and Second Language Learning for Adults (LESLLA) Annual Symposium August 28-30 at the Westin Convention Center Hotel. 
The region's longstanding commitment to welcoming immigrants and refugees was a highlight. The Opening Plenary session on August 28th featured a panel discussion entitled LESLLA Learners in the Pittsburgh Region: Bridging Language and Culture. 
 "Pittsburgh is a 'welcoming city' that promotes inclusive policies, programs, and practices across all sectors," explains Allegra Elson, Literacy Pittsburgh Director of English Language Learning and chairperson of the 15th annual LESLLA Symposium. "Our opening plenary panel introduced symposium attendees to the resources available to English language learners with little or no prior education. Pittsburgh's supportive structure allows these men and women to not only learn but thrive. They go on to become valued employees, entrepreneurs, and active members of our community."
Moderated by Elson, the panel included Jenna Baron, Executive Director of Alliance for Refugee Youth Support and Education (ARYSE); Dr. Xia Chao, Faculty of Language and Literacy Education in the School of Education at Duquesne; Nancy Krygowski, English Language Learning Instructor at Literacy Pittsburgh; and Khara Timsina, Executive Director of the Bhutanese Community Association of Pittsburgh (BCAP).
Symposium attendees had an opportunity to attend 30 breakout sessions during the three-day conference. Pittsburgh's thriving immigrant and refugee community was featured through educational sessions taught by local experts and special programming such as All for All's Immigrant Artisan Market and an informal conversation and sharing session with Literacy Pittsburgh's students.
Literacy Education and Second Language Learning for Adults (LESLLA) is an international forum of researchers and practitioners who share an interest in research on the development of second language skills by immigrant and refugee-background adults who experienced little or no formal schooling prior to settling in a new country. The goal of LESLLA is to share empirical research and information to help inform research and pedagogical practices in support of second language acquisition by a specific adult population. The findings of ongoing research additionally provide guidance for education policy development in countries where immigrant and refugee-background adults settle and most need educational support. Previous LESLLA conferences have been held in Palermo, Italy; Portland, Oregon; Granada, Spain; and Nijmegen, Netherlands.
Literacy Pittsburgh (formerly Greater Pittsburgh Literacy Council) helps create better lives through learning. Recognized as a national leader in adult and family literacy, Literacy Pittsburgh is the largest provider of adult basic education in Allegheny and Beaver Counties. Last year, Literacy Pittsburgh helped some 3.700 individuals acquire the skills needed to reach their fullest potential in life and participate productively in their communities. Literacy Pittsburgh provides free, personalized instruction in workforce readiness, high school diploma test preparation, digital literacy, English language learning, math, reading, and family literacy through one-to-one and small class instruction. Founded in 1982, it serves local adults through numerous neighborhood locations and its Downtown Pittsburgh Learning Center.