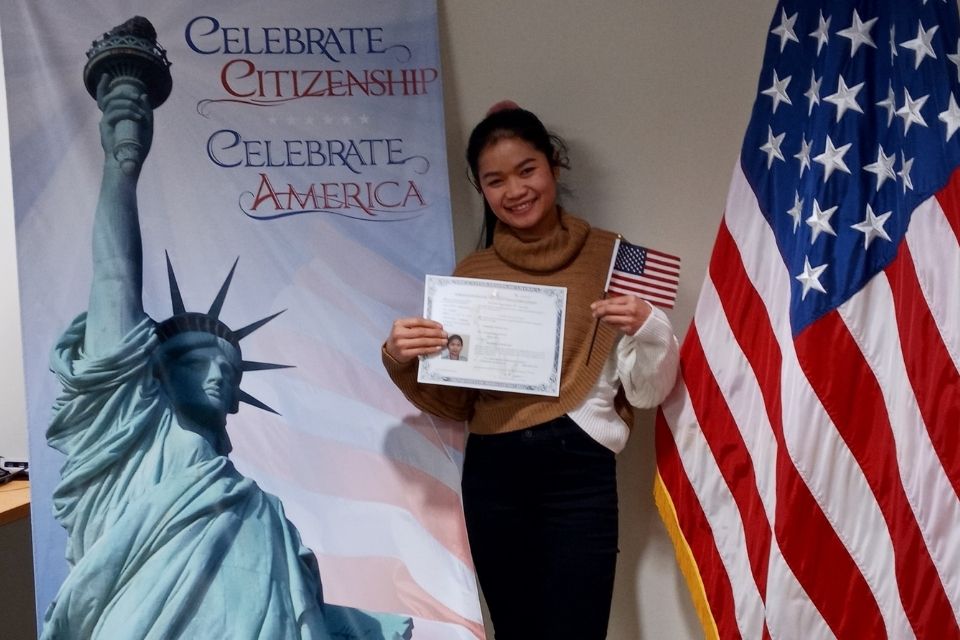 Holly became a tutor at Literacy Pittsburgh in May 2019 because she was aware that a small contribution on her part could make a real, tangible difference in someone else's life.  "I also love meeting people who have had different life experiences from my own. It's been so enriching for me, not just for the students."  
Her most recent student match is Juree who was preparing for her United States citizenship test. Juree is from Thailand and came to the United States in 2017. "My husband works here and I wanted my child to study in the United States," she explains.  
The pair created an amazing bond while working together. "Juree is so hardworking and mastered the information so we usually spent our time together reviewing and preparing for the test since she had no idea when the actual date would be," Holly explains. "I was so impressed with her determination to squeeze our sessions in between her many hours at work and her young daughter and husband." 
Juree appreciated that Literacy Pittsburgh helped her understand the requirements from the first to the final step. "I learned how to read, write, and speak the English language, and learned about the United States history and government," she explains.  Juree says of Holly, "You are an excellent teacher who is kind and friendly. I felt very happy every time that I studied with you." 
After years of hard work, Juree became a United States citizen on February 10, 2022! Holly is so proud of her student. "Congratulations to Juree because she is now an official US citizen! Juree, you worked hard and you are so capable. The sky is the limit for you. I have truly enjoyed getting to know all about you and your family." 
To Holly, the most meaningful part of being a tutor is "that gratifying feeling you get when you have made some kind of small contribution of time to help another person achieve major goals in life!" 
Thank you, Holly, for giving so generously of your time. Congratulations, Juree, on your exciting accomplishment! 
Literacy Pittsburgh (formerly Greater Pittsburgh Literacy Council) helps create better lives through learning. Recognized as a national leader in adult and family literacy, Literacy Pittsburgh is the largest provider of adult basic education in Allegheny and Beaver Counties. Last year, Literacy Pittsburgh helped some 3.700 individuals acquire the skills needed to reach their fullest potential in life and participate productively in their communities. Literacy Pittsburgh provides free, personalized instruction in workforce readiness, high school diploma test preparation, digital literacy, English language learning, math, reading, and family literacy through one-to-one and small class instruction. Founded in 1982, it serves local adults through numerous neighborhood locations and its Downtown Pittsburgh Learning Center.