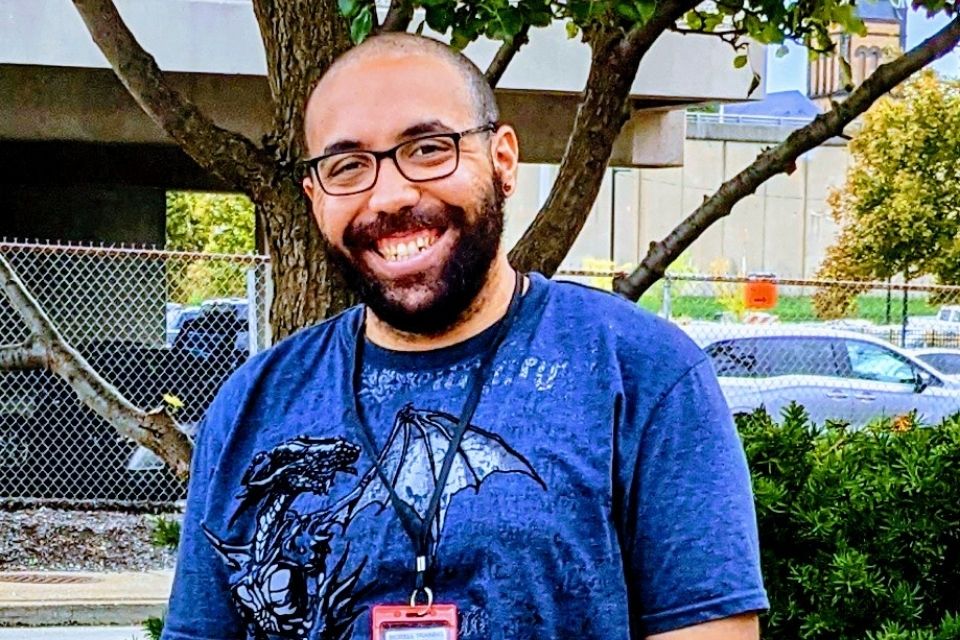 Jeremy was first introduced to Literacy Pittsburgh when Bidwell Training Center referred him for help to increase his math assessment scores through Literacy Pittsburgh's on-site brush-up classes. When the program coordinator reached out to explain the 4-week program to Jeremy, his reaction was, "Sign me up!"
During the four-week classes, students meet two days a week with a professional instructor. Students are given the Test of Adult Basic Education to evaluate their skills upon entry. They are then post-tested with this same test and retake Bidwell's entrance assessment to determine if they have increased their scores enough to enter their chosen training program.
Jeremy started math class July 12 with College and Career Readiness Instructor Emily Laughlin.
"It helped me remember some things and put others in a new perspective I hadn't considered before," Jeremy explains. "I enjoyed the experience. It helped me get over a little of my mathematical trepidation, but I'm certainly over it now." 
Jeremy was accepted into the chemical laboratory technician program and started training on September 6. While Jeremy had many interests, he chose this program because he didn't think he would get bored. He also felt it is something that he is good at, making classes easier to complete.
His advice to other students is: "Just do it!  As a person with an immense amount of pride, I understand that it's hard to admit when you need help, but the first step of doing anything is to admit you have a problem and the second is to fix it, so just come and do it! You be grateful after the fact that you did because I definitely am."
Jeremy is currently working but will transition into a new career upon completion of the program. "I really would like to do quality control because I'm more of a take something and make it better instead of creating my own thing," Jeremy explains.
Jeremy's family are very supportive of his education and have been pushing him to go for a while, but finances were a concern. Jeremy's fiancé also is a student at Bidwell, and they are looking forward to the future with enthusiasm and excitement.  Jeremy is expected to graduate from his program in October 2022.
When asked what he would say to the companies and people that donated to make Literacy Pittsburgh programs free of charge, Jeremy said, "I would have to thank them profusely. It means a lot to me because it has helped me move forward with life goals, instead of just being." 
Literacy Pittsburgh (formerly Greater Pittsburgh Literacy Council) helps create better lives through learning. Recognized as a national leader in adult and family literacy, Literacy Pittsburgh is the largest provider of adult basic education in Allegheny and Beaver Counties. Last year, Literacy Pittsburgh helped some 3.700 individuals acquire the skills needed to reach their fullest potential in life and participate productively in their communities. Literacy Pittsburgh provides free, personalized instruction in workforce readiness, high school diploma test preparation, digital literacy, English language learning, math, reading, and family literacy through one-to-one and small class instruction. Founded in 1982, it serves local adults through numerous neighborhood locations and its Downtown Pittsburgh Learning Center.