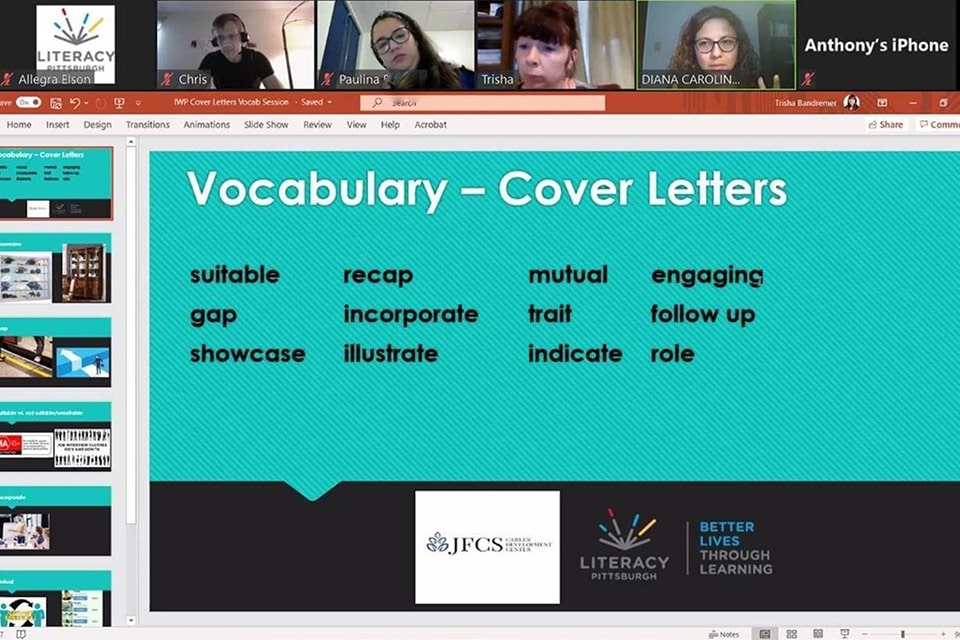 On March 9th, Literacy Pittsburgh and Jewish Family and Community Services Career Development Center launched the third cohort of the Immigrant Workforce Program. This 10-week session aims to prepare highly skilled immigrants for a successful job search here in Pittsburgh.
The first iteration of the program was in 2017, and it has gotten more popular each year. The staff from the Career Development Center helps the roughly 15 participants with formatting their resumes, writing cover letters, preparing for interviews, working on their elevator pitches, and more! Literacy Pittsburgh provides English language support for participants helping students master workplace vocabulary related to each session and providing feedback on students' writing.
 Scarcely a week after the first session, both Literacy Pittsburgh and JFCS had to close their offices to help mitigate the spread of COVID-19. Like organizations and schools all over the country, we found a way to convert the program to an online format using Zoom web conferencing. The program is in week six and going strong!
Program participants are Pittsburghers from all over the world: Venezuela, the Dominican Republic, Nicaragua, Turkey, Iran, Libya, India, Russia, Ecuador, and more. They have a wide range of professional backgrounds such as engineering, marketing, pharmacy, data analysis, business administration, physical therapy, and child psychology. Although they all have professional work experience, the job search and interview process can be quite different from what they have experienced in their home countries.
Paulina, a native of Ecuador, worked as a child psychologist before coming to Pittsburgh. She currently volunteers as a childcare provider at a local community institution and is looking for a position in childcare or early childhood education where she can apply her previous experience.
"The Immigrant Workforce Program is perfect for me in order to learn all about my job search," says Paulina. "This program is more than I expected. I could meet new awesome people, learn many things about job interviews, resumes, networking, and the job search as well as practice my English."
Paulina has been a student at Literacy Pittsburgh for quite some time and has improved her English significantly. She recently got her work authorization, so this program came at a perfect time for her.
Vanessa, a Venezuelan immigrant who has a mathematics degree and worked as a business analyst for several companies in Venezuela, Panama, and now, the United States, is another participant in the program. Learning more about the job search process here drew her to the Immigrant Workforce Program. In her country, it is common to visit a place where you'd like to work and leave a copy of your resume, but she's found that's not the same here. Vanessa also wanted to work on her business English so that she could be more at ease in job interviews and on the job.
"The program has helped me to understand the procedures for looking for a job and I feel more comfortable. In the city of Pittsburgh, I have always met very kind and very receptive people," says Vanessa.
The switch to the online platform hasn't been an issue for either of these participants. Paulina says, "I think isn't challenging for me. We can get all the knowledge this way."
Vanessa says that she would have liked the program to be face-to-face, but given the circumstances, she says she has more time to devote to this program while working on it at home. 
The program has had great attendance online, and in some ways it has advantages—students and presenters can use the chat feature on Zoom to ask questions privately or to the whole group, or to write out something that someone is having trouble understanding. The Career Development Center has also taken advantage of Zoom's breakout room feature to give participants more focused attention to their resumes, cover letters, elevator pitches, and more. 
Both students say that while it still makes them a little nervous to speak English in public, thanks to the Immigrant Workforce Program, they are more prepared to write their cover letters and resumes, make connections with people, and feel more calm and prepared for job interviews.
Paulina, Vanessa and their classmates will be prepared to make a good first impression and hit the ground running at the conclusion of the program.
Literacy Pittsburgh (formerly Greater Pittsburgh Literacy Council) helps create better lives through learning. Recognized as a national leader in adult and family literacy, Literacy Pittsburgh is the largest provider of adult basic education in Allegheny and Beaver Counties. Last year, Literacy Pittsburgh helped some 3.700 individuals acquire the skills needed to reach their fullest potential in life and participate productively in their communities. Literacy Pittsburgh provides free, personalized instruction in workforce readiness, high school diploma test preparation, digital literacy, English language learning, math, reading, and family literacy through one-to-one and small class instruction. Founded in 1982, it serves local adults through numerous neighborhood locations and its Downtown Pittsburgh Learning Center.