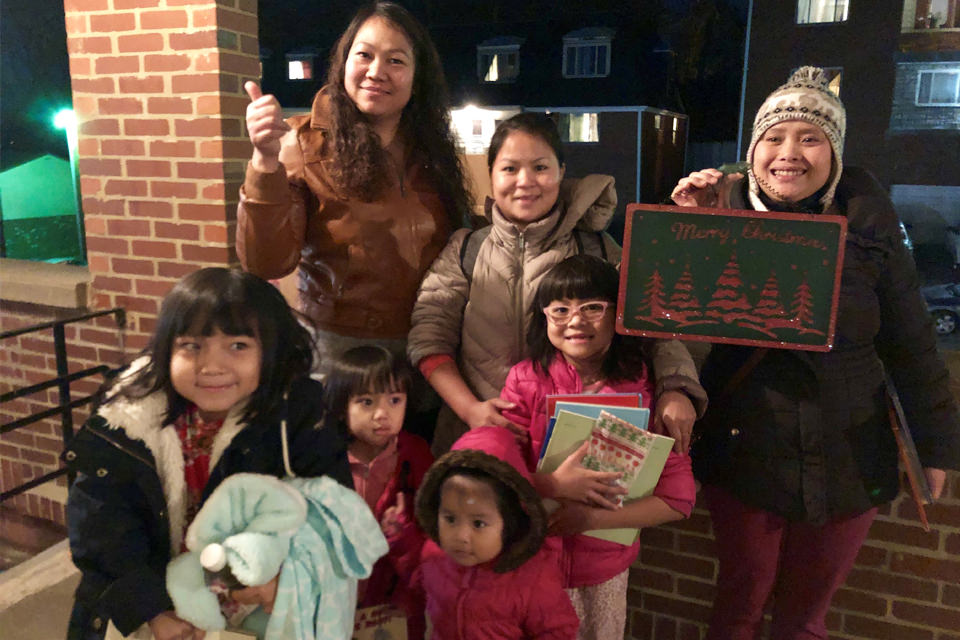 We wish you and your loved ones a joyful holiday season! Literacy Pittsburgh's students come from 90 different countries and have many special and unique holidays. We asked some of our students to share their favorite traditions from their home countries.
Carnaval
Antreia, Brazil
Carnaval is a big festival in my county with dancing and music. At some festivals, they receive a trophy for the best clothing and dance.
Roberta, Brazil
Carnaval is a five-day party in February where the whole country stops to sing and dance to celebrate life. A Brazilian's joke says that the New Year only starts when the carnival ends!
Christmas
Blanca, Colombia
Christmas has an emphasis on Catholic traditions. People decorate their houses with a big Nativity and we sing songs and pray the Rosary for the nine days before baby Jesus was born.
Melly, Indonesia
Since it is a long holiday for Christmas, people who work in the central city usually come to their parents' homes to celebrate together. For the New Year, we stay up late watching a live New Year's program or go out to a shopping mall that has concerts and fireworks shows.
Nan Nway, Burma
During the day my family would go to races and give gifts to each other. In the evening we go to concerts where performers would sing, dance, and tell stories and jokes. At the concerts we eat a special dessert of sticky rice wrapped in bamboo.
Deepawali
Susan, Nepal
During Deepawali in November, families gather together, eat traditional Nepali food, and dance. They give gifts to each other and buy new clothes to wear during the holiday.
Diwali
Manjuia, India
Diwali is our big festival holiday. It is held in November. On that day we wear new clothes, and make sweets and snacks. Friends and relatives come together and set off firecrackers. In the evening, we do a prayer.
Eid al-Fitr
Marwa, Iraq
This holiday changes depending on the moon. It comes after Ramadan. The first thing we do is go to the Mosque for prayer and then we visit our families for a special lunch.
Htamanae Festival
Mi Chan, Burma
In February, we celebrate the Hta Ma Nae festival, named after a traditional dessert made of sticky rice, coconut, sesame seeds and peanuts. Everyone makes this food to give to friends and donate to the temple.
Independence Day
Lissy, Dominican Republic
On February 27th my country celebrates with special food. They close the street and we put out tables with food, drinks and desserts. Everybody dances. Sometimes, people wear costumes and kids do pantomimes.
Lunar New Year
Hyung, Korea
All family comes to visit the first son's house to eat and play games. All sons and daughters bow to their parents on New Year's Day. A special food is rice cake soup.
Karen, China
We come together with other family members. We wear new clothes, eat dumplings and touch off firecrackers or fireworks. Kids can get a red envelope containing money and wishes for the New Year.
Shab e Chelleh
Simin, Iran
We celebrate the first night of winter. All of the family gets together and we eat pomegranates, nuts and watermelon. After that, we read a poem from our famous poet Hafez.
Tazaungdaing
Mhra, Burma
To celebrate the full moon day in November, my family goes to the Buddhist temple to donate food and money to the monks. We light candles all around the house and invite friends for dinner. We eat seafood, noodles, and a special soup.
Water Festival
Sara, Thailand
We call it "Song-kran day" and it starts in April of every year. On this festival people will pour water over their parents' hands to honor and respect them.
Literacy Pittsburgh (formerly Greater Pittsburgh Literacy Council) helps create better lives through learning. Recognized as a national leader in adult and family literacy, Literacy Pittsburgh is the largest provider of adult basic education in Allegheny and Beaver Counties. Last year, Literacy Pittsburgh helped some 3.700 individuals acquire the skills needed to reach their fullest potential in life and participate productively in their communities. Literacy Pittsburgh provides free, personalized instruction in workforce readiness, high school diploma test preparation, digital literacy, English language learning, math, reading, and family literacy through one-to-one and small class instruction. Founded in 1982, it serves local adults through numerous neighborhood locations and its Downtown Pittsburgh Learning Center.