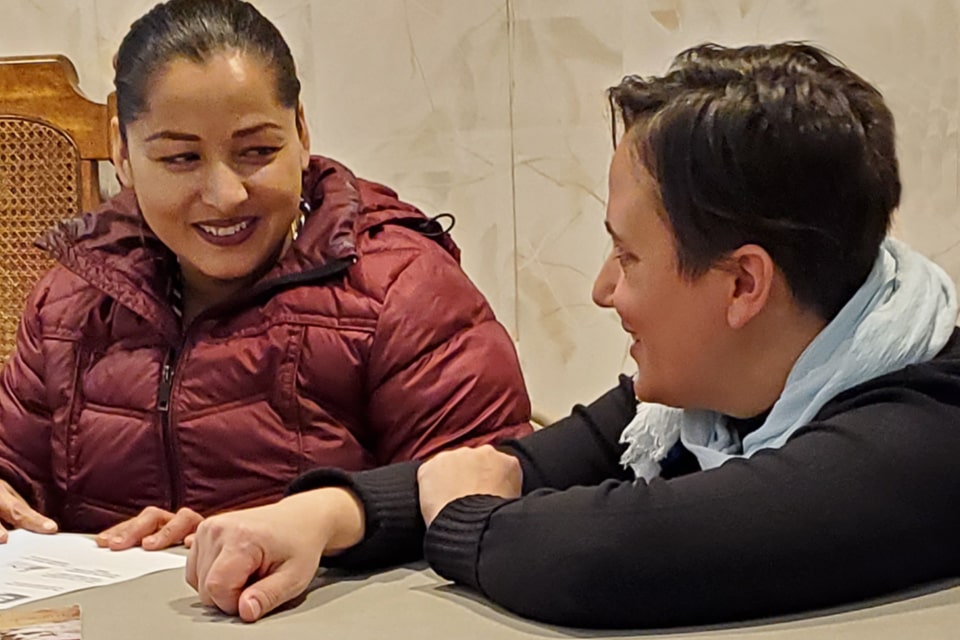 Freedom. The right to vote. A better life. These are some of the reasons shared by Literacy Pittsburgh students at the Bhutanese Community Association of Pittsburgh (BCAP) when asked recently why they wanted to become U.S. citizens. Thanks in part to Literacy Pittsburgh's classes, the students have a space to learn, share experiences, and come one step closer to achieving their dream of citizenship.
In July 2019, Literacy Pittsburgh started a reading and communication class to help BCAP students prepare for the U.S. Citizenship and Immigration Services (USCIS) naturalization test. All of the students are originally from Bhutan and most have low to no English language literacy proficiency, which is a major challenge for those taking the exam.
"Most of our BCAP students are beginners at speaking or writing in English, which is the language the test preparation materials are provided in," says Nicole Johnson, English Language Learning instructor at Literacy Pittsburgh, and designer and instructor of the BCAP class. "USCIS materials are geared toward people who are literate in English, so the students at BCAP have difficulty understanding what is in store for them on the exam."
Nicole incorporates both the USCIS materials and customized materials into the class, where 15 Bhutanese students spend approximately 15 weeks together to become stronger in English speaking, writing, and listening skills. Lessons involving picture/word matching association and oral repetition allow BCAP students to learn more effectively.
According to Khara Timsina, BCAP executive director, Literacy Pittsburgh has increased the general literacy of the association's community members, easing their acclimation in the greater Pittsburgh area.
"In addition to citizenship classes at BCAP, Literacy Pittsburgh provides tutoring using their English-speaking volunteers and staff," explains Khara. "These tutorials help our students learn English better. Some people in the Bhutanese community cannot take advantage of Literacy Pittsburgh's classes in other locations, so having citizenship class at BCAP helps to reach those people."
Nicole indicates that five BCAP/Literacy Pittsburgh students have passed the USCIS exam so far, and has noticed that the students' collective strength is in remembering an immense amount of information.
"They are wonderful with one another, and extremely diligent about coming to class," says Nicole. "Many were forced to leave Bhutan for one reason or another, leaving their own families behind. But at BCAP, they truly support each other and have become like a family right here."
Budhi Biswa, 33, came to Pittsburgh from Bhutan seven years ago, and already took the USCIS test once, but, struggled with the interview portion. She has found that what she has learned at the Literacy Pittsburgh class helped her to pass the reading and writing portions of the exam, and encourages her to do better on the interview next time.
"I understand many of the words on the test, but sometimes during the interview part, it's hard to understand bigger words," says Budhi.
At BCAP, Budhi and her classmates learn the deeper meaning of what they're expected to know to pass the exam—and together, have found a support system that they may not otherwise have.
"Having taken the exam once already, I know that there are lots of questions asked in the interview that are harder than expected," says Budhi. "But Nicole is very good and we understand what she is teaching. And, I love learning with friends."
Literacy Pittsburgh (formerly Greater Pittsburgh Literacy Council) helps create better lives through learning. Recognized as a national leader in adult and family literacy, Literacy Pittsburgh is the largest provider of adult basic education in Allegheny and Beaver Counties. Last year, Literacy Pittsburgh helped some 3.700 individuals acquire the skills needed to reach their fullest potential in life and participate productively in their communities. Literacy Pittsburgh provides free, personalized instruction in workforce readiness, high school diploma test preparation, digital literacy, English language learning, math, reading, and family literacy through one-to-one and small class instruction. Founded in 1982, it serves local adults through numerous neighborhood locations and its Downtown Pittsburgh Learning Center.