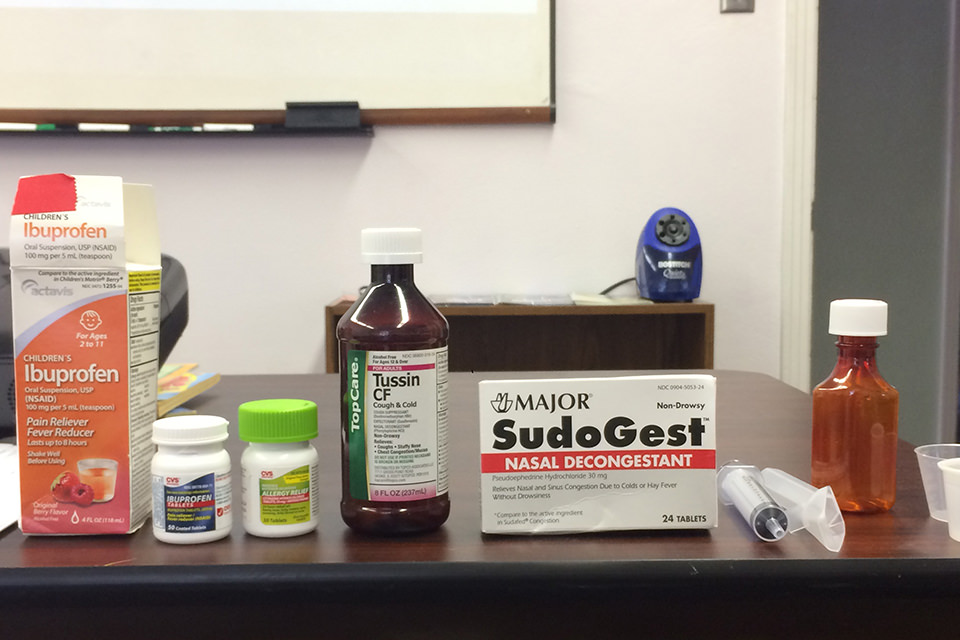 Immigrants often struggle with managing their health and adapting to the United States healthcare system. Over the past year Literacy Pittsburgh students from the Jefferson Area had the opportunity to learn from two pharmacy students from the University of Pittsburgh through the Pittsburgh Schweitzer Fellows program.
Health literacy is the ability to understand and communicate health information, such as reading a prescription label or getting a flu shot. Limited reading skills can hinder health literacy and immigrants face additional challenges due to language barriers and cultural differences.
The fellows gave students the skills they need to flourish in tasks we may deem simple, such as picking up a prescription at the pharmacy or calling the doctor. They also learned how to handle more difficult situations, such as recognizing the signs and symptoms of a stroke or a heart attack, and being able to call 911 and accurately describe an emergency. 
Many students who attended these health literacy classes do not have experience with a healthcare system like we have in the United States. This often leaves our students confused, and they may miss out on important services they could use to lead healthy lives. The Schweitzer Fellows spent the past year teaching students about pharmacies, flu prevention, common illnesses, health insurance, and other life skills students need for day-to-day life in the United States.
During the first 13 weeks of classes, students were introduced to a variety of topics. They learned new vocabulary and asked many questions about healthy habits and healthcare in this country. They had the opportunity to take a field trip to the local library where they met a pharmacist and received a flu vaccine. They also learned tips for preventing the flu.
 
Topics were repeated in a second 13-week session that allowed students to gain more in-depth knowledge and actively participate in the lessons. Students practiced medication dosing by learning how to properly pour out liquid medication into different dispensers. They received personal blood pressure cuffs so that they could keep track of their blood pressure. Students also learned how to call a doctor if they notice unusual numbers in their blood pressure.  Acting skills came into play during a lesson where students pretended to have different symptoms while a partner determined whether they needed to call 911 or handle the symptoms another way. Students learned proper hand-washing, teeth brushing and flossing techniques, and even had an opportunity to practice at the classroom site.
In the last week of class, the students took a field trip to their local pharmacy. They were able to see the drop-off and pick-up counters that they had identified many times before in photos. Students interacted with pharmacists and employees in the store. They visited the blood pressure machine at the pharmacy and learned how to use it correctly. Students also had the chance to locate over-the-counter medicines to treat different symptoms. For example, students identified medications that would be used for pain, allergies and heartburn. 
Interest in healthy habits continued even after the fellowship ended in May. Students were given the opportunity to participate in a class about health insurance. They learned why we have health insurance and how it is used.
We are grateful for the University of Pittsburgh School of Pharmacy for this opportunity and look forward to hosting Pittsburgh Schweitzer Fellows in the future.
Health Literacy topics taught by the fellows included:
1. Introduction to a U.S. Pharmacy
2. Prescription Bottles
3. Health Insurance
4. OTC vs. Rx Medications
5. Medication Adherence
6. Acute Infections
7. Blood Pressure
8. Diabetes
9. Voicemails and Calling the Doctor
10. Heart Attack and Stroke
11. Calling 911
12. Dental Health
Literacy Pittsburgh (formerly Greater Pittsburgh Literacy Council) helps create better lives through learning. Recognized as a national leader in adult and family literacy, Literacy Pittsburgh is the largest provider of adult basic education in Allegheny and Beaver Counties. Last year, Literacy Pittsburgh helped some 3.700 individuals acquire the skills needed to reach their fullest potential in life and participate productively in their communities. Literacy Pittsburgh provides free, personalized instruction in workforce readiness, high school diploma test preparation, digital literacy, English language learning, math, reading, and family literacy through one-to-one and small class instruction. Founded in 1982, it serves local adults through numerous neighborhood locations and its Downtown Pittsburgh Learning Center.