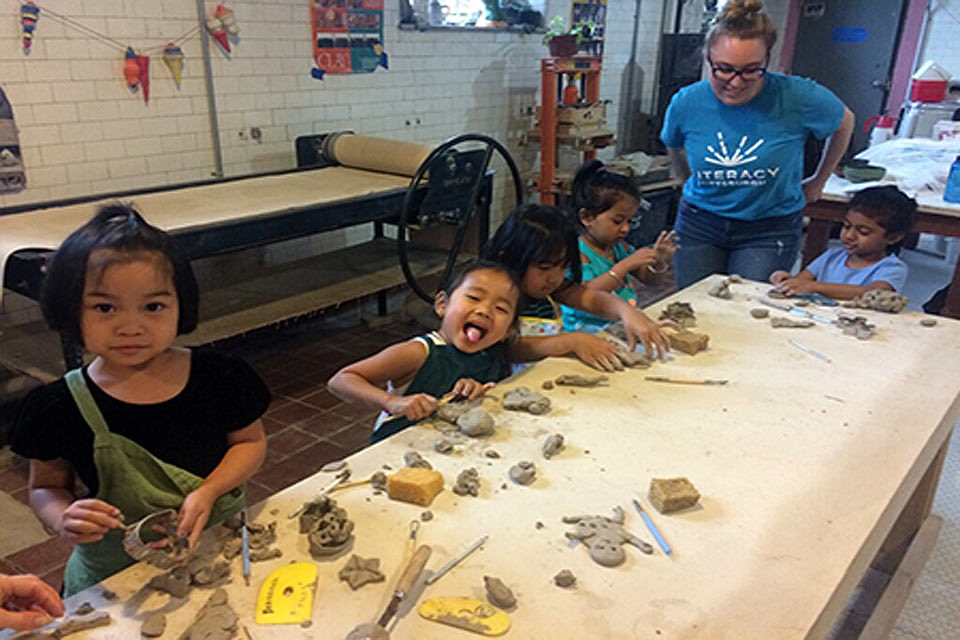 Located in Whitehall Place in the South Hills, Literacy Pittsburgh's Family Literacy program helps refugee families learn English, discover American culture, study U.S. citizenship and, most importantly, adapt to life in a new community. Students come from many countries, including Syria, Iraq, Myanmar, Morocco, Russia, and Bhutan. Some families come from trauma-filled backgrounds and have spent years in refugee camps. Students have varying degrees of education. In fact, some are not literate in their first language.
As you can imagine, these students, most of whom are women and children, require significant supports to establish a successful life here. Program Manager Beth Kocsis explains that partnerships are the cornerstone of the Family Literacy program and create a rich learning environment for both parent and child.
The Family Literacy program has four distinct components: adult education, parenting education, early childhood education and interactive literacy activities that engage both parent and child.
Adult education encompasses English language skills, as well as reading, writing and math. Students work on skills specific to their learning goals. Initially, instruction centers around practical tasks such as grocery shopping, taking a bus and talking to a child's teacher. As students advance in their skills, they will tackle higher level math concepts, digital literacy and grammar.
Parenting education includes topics necessary for families to achieve success. Lessons on nutrition, staying healthy, budgeting, school communication and the importance of early literacy emphasize a student's role as a confident family leader. For example, 412 Food Rescue is currently implementing its Cooking Matters curriculum for our students. This six-week healthy cooking course allows students to make healthy meals together as a class. Each student then takes home ingredients to replicate the meal for their family. Students also go on a class field trip to Aldi to learn more about healthy foods for families.
Early childhood education for three- and four-year old children is provided by South Hills Interfaith Movement (SHIM). They also have a parenting class for those with young children, with an individual adult component as well as parent and child time. SHIM also offers a variety of other services that families can take advantage of such as their food pantry, utility assistance and an afterschool program.
Interactive literacy activities are a highlight of the program and are designed around the idea that a parent is a child's first and best teacher. These activities take on many forms and the Whitehall Public Library is one of our richest partners for this component. The new Library Learners program is one example. Parents with young children attend library programming together as a family. Representatives from early childhood programs provide sessions for parents to learn about resources and ask questions in a safe, supportive environment. In the meantime, children engage in early learning and story time. This program is replicated each year with new programming to meet the needs of families.
Our partnership with Whitehall Library stretches back many years and the LEARN Bus (Library Easy Access for Residents in Need) is a signature program. Launched in 2002, the LEARN bus was created to introduce refugees to services the library could offer to impact their quality of life. Library staff create programming such as crafts, guest speakers, story time and informational sessions. This gives families the chance to both access community information and take advantage of the many resources available at the library.
Students engage with the community in multiple ways. The Mission Continues, an organization of returned servicemen and servicewomen who participate in community service, was instrumental in helping us beautify our learning space. Together with our students, they engaged in two Saturdays of community service. We painted our classrooms and assembled new bookcases, children's furniture and benches.
Giving back is also an important component of Family Literacy. Students have collected toiletries to be donated to Light of Life Rescue Mission, Bethlehem Haven, and JF&CS Refugee Resettlement Program. They were shocked to learn that people in the U.S. face homelessness and were inspired to act. Students have also cooked meals for the Baldwin Fire department, Women's Center and Shelter of Pittsburgh and Paynter Elementary School, where most of their children attend.
These deep and diverse partnerships allow these new Pittsburghers to become part of the fabric of their community.
Literacy Pittsburgh (formerly Greater Pittsburgh Literacy Council) helps create better lives through learning. Recognized as a national leader in adult and family literacy, Literacy Pittsburgh is the largest provider of adult basic education in Allegheny and Beaver Counties. Last year, Literacy Pittsburgh helped some 3.700 individuals acquire the skills needed to reach their fullest potential in life and participate productively in their communities. Literacy Pittsburgh provides free, personalized instruction in workforce readiness, high school diploma test preparation, digital literacy, English language learning, math, reading, and family literacy through one-to-one and small class instruction. Founded in 1982, it serves local adults through numerous neighborhood locations and its Downtown Pittsburgh Learning Center.