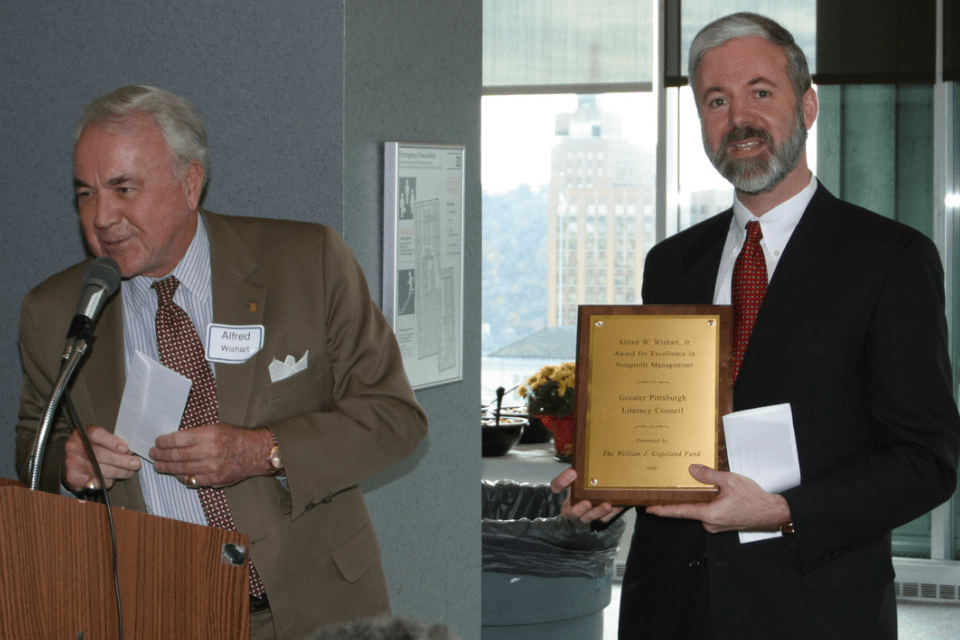 As Literacy Pittsburgh celebrates 40 years of better lives through learning, it's hard to believe how far we've come! 
 
From our humble start as a volunteer group run out of our founder's home to our current status as the region's largest literacy organization, our focus has always been to create better lives for our students. 
 
Former Executive Director Don Block has been involved in nearly all of it. 
 
In 1984, just two years after Greater Pittsburgh Literacy Council (now Literacy Pittsburgh) was incorporated as a nonprofit corporation, Don Block was hired by our founder, Mary Yardumian. After several years of running the organization as an all-volunteer effort, she recognized expansion was needed to meet the demand for instruction. 
 
"I chuckle a lot about those early days, " Don said. "My first workspace was a storage closet, a space where they kept periodicals. It was full of dusty cardboard boxes. There was no desk or chair. 
 
"We gradually made the transition to a professional organization. There were very few resources." 
 
In the early 1980s, Pittsburgh was experiencing the downsizing of its once-thriving steel industry. Don said thousands of mill workers with little education lost their jobs and needed new skills. 
 
Initially, the Council served 50-100 students per year through one-on-one tutoring in reading. 
 
"So many things were needed at the start," Don said. First, he looked for ways to evaluate and measure success in order to attract funding.  
 
"There was a stigma attached to adult education. Many people believe that we pay so much for K-12 education, and all funding should go there. But there are many reasons why people can't learn during those years," Don said. "You really have to try to understand the context in which people live." 
 
Initially, the organization relied largely on funding from private foundations, corporations, and individuals.   
 
"Government sources provided no more than 5 percent of our budget," Don wrote in a Spring 1986 newsletter article. "This has limited the number of students we could reach." 
 
Don and the board of directors rallied the support of tutors and students to encourage elected officials to support the passage of a trio of bills that would provide funding for literacy programs across the state.  In October 1986, Don was the only individual from Pittsburgh present for the signing of the Adult Literacy Act, which for the first time provided state funding for adult literacy programs. 
 
Don proactively sought ways to build an efficient and effective organization. He explains that one step that was a key to our longevity was the creation of an endowment. Former board member Louise Herrle helped start the process in the early 1990s. 
 
"The Literacy Council had state contracts to provide services and often, payments would be caught up in the budget process. Don would literally take a contract to a bank and borrow money to tide us over until the state payment arrived," Louise explained. "I thought with an endowment, we could just loan the money to ourselves and also self-fund new programs." 
 
Louise was able to raise money for our endowment through several Pittsburgh foundations. Don said everything fell into place very quickly with her expertise. 
 
Computer labs were one of the first projects to be funded by the endowment. 
 
"In the mid-1990s, there were not computers in every home," Louise said. "People needed a place to go where they could work on a computer and build those skills." 
 
One event that fueled the organization's growth was the Pittsburgh Board of Education's 2004 decision to close its Adult Literacy Program. About 1,000 students were displaced, and Don led the effort to provide services for these students by opening Literacy Pittsburgh's Downtown Center, hiring more full-time professional instructors, and delivering classes in more formats and schedules. 
 
Literacy Pittsburgh has always kept the needs of its students at the forefront of its programs. 
 
"As our students succeeded, they wanted more and we added more," Don said.  
 
"Don was always willing to make any necessary changes to help that student, and who that student was has constantly changed," adds Louise. 
 
Don says Literacy Pittsburgh's greatest impact is creating self-sufficiency and helping people solve their own problems.  
 
"Many issues tied to poverty are interconnected and could be solved with literacy," he said. "Education is the key to solving a lot of problems." 
 
"Our strength is never giving up on our students," Don says. "We offer constant encouragement for people." 
 
Board member Gary Singery said Literacy Pittsburgh's reach also goes beyond students themselves. 
 
"What people miss sometimes is the generational impact on families. When we help somebody improve their reading skills, then they can sit down with their children and read or help them with their homework," Gary said. "We can lift up generations after an individual goes through a program." 
 
Today, we are poised for more growth and are working to reach even more students. Literacy Pittsburgh has grown from an all-volunteer organization run out of the East Liberty branch of the Carnegie Library to one that now maintains nine sites in two counties and reaches between 4,500 and 5,000 individuals each year. 
 
"Don's leadership was beyond valuable," Louise said. "I'm not sure Literacy Pittsburgh would be where it is today without his continuity and stewardship. His willingness to change is unique and remarkable." 
 
Don, who retired in 2018, says he's grateful to have been a part of our growth. 
 
"It was never the same organization two days in a row," Don said. "It kept evolving and challenging me, so I stayed. I was blessed to be a part of it." 
Literacy Pittsburgh (formerly Greater Pittsburgh Literacy Council) helps create better lives through learning. Recognized as a national leader in adult and family literacy, Literacy Pittsburgh is the largest provider of adult basic education in Allegheny and Beaver Counties. Last year, Literacy Pittsburgh helped some 3.700 individuals acquire the skills needed to reach their fullest potential in life and participate productively in their communities. Literacy Pittsburgh provides free, personalized instruction in workforce readiness, high school diploma test preparation, digital literacy, English language learning, math, reading, and family literacy through one-to-one and small class instruction. Founded in 1982, it serves local adults through numerous neighborhood locations and its Downtown Pittsburgh Learning Center.