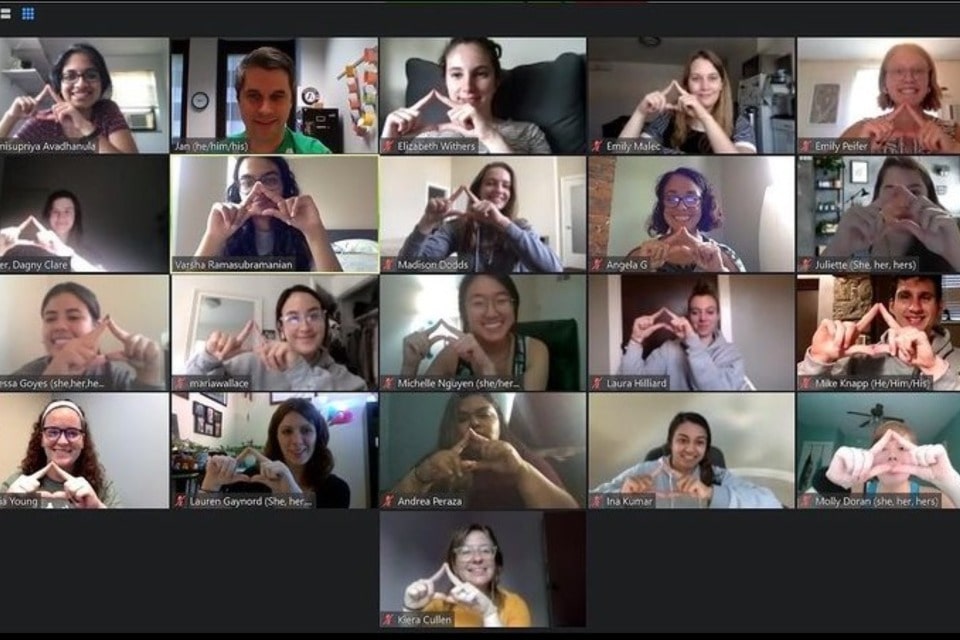 In the fall, Compass AmeriCorps welcomed a brand new cohort of service members. This year, the eleventh in the program's history, looks quite a bit different due to the pandemic. We kicked off the year with our first-ever virtual orientation, and AmeriCorps-branded face masks now come as standard issue for incoming members. Despite the limitations of virtual meetings, members started building bonds as they learned the ins and outs of their coming service year. (At the very least, a week of team-building activities over Zoom was a great exercise in active listening and developing whiteboard skills!)
Compass AmeriCorps members are placed with several nonprofit partner agencies in Allegheny County: Latino Community Center, Jewish Family and Community Services, South Hills Interfaith Movement, Squirrel Hill Health Center, Goodwill of Southwestern Pennsylvania, and of course, Literacy Pittsburgh. This year we welcomed 20 members into the program—an increase from previous years—coming from as far away as Texas, Utah, and California.
Members have different reasons for joining AmeriCorps. "I thought this would be an amazing way to use some of my education background in order to work with a refugee and immigrant population," explains Angela Gallegos. "I was so excited from this moment forward!"
Angela moved to Pittsburgh from California to join Compass AmeriCorps. She teaches English language learners at Literacy Pittsburgh's Downtown Center. 
Over the course of their eleven-month term, members like Angela engage in service to immigrants and refugees in Allegheny County. That service comes in many forms—from teaching English to helping to build employment skills to connecting clients to needed safety net programs to youth mentoring. To keep everyone safe, the bulk of service tasks are happening remotely, either through Zoom classrooms or by assisting clients over the phone. Whatever their day-to-day looks like, the common thread among all Compass members is that they are helping immigrants become self-sufficient, flourishing members of the Pittsburgh community.
"I fall in love with my students every class," Angela says. "I am so impressed by their hard work and their dedication to learning English." While Angela is comfortable with remote teaching and enjoys learning about her students, she admits that making connections to them and her Compass colleagues would be stronger and easier if they could meet in person.
Members have a lot to look forward to in their year of service. In addition to building valuable experience and professional skills, members are most interested in building connections with the communities they serve, as well as friendships with their fellow corps members. Twice a month members have an opportunity to reconnect during full-Corps virtual training and the occasional socially-distanced outdoor service project. A basic living stipend affords members the opportunity to do this experience full-time. After successfully completing the goal of giving 1700 hours of service, members are also eligible for the Segal Education Award (equivalent to a Pell Grant) to pay student loans or future educational costs.
For those interested in joining Compass AmeriCorps, we will begin recruiting for the 2021-2022 service year starting in February. Check www.compassamericorps.org for more information.
We thank our 2020-21 members for helping immigrants and refugees create a better life for themselves and their families!
Andrea Mendez Peraza, Latino Community Center
Angela Gallegos, Literacy Pittsburgh – Downtown
Olivia Young, Literacy Pittsburgh – Squirrel Hill
Elizabeth Withers, Literacy Pittsburgh – Downtown
Emily Malec, Literacy Pittsburgh – Downtown
Emily Peifer, Jewish Family and Community Services
Ina Kumar, Literacy Pittsburgh – Jefferson–Mon Valley
Juliette Green, Jewish Family and Community Services
Kiera Cullen, Literacy Pittsburgh – South Hills
Laura Hilliard, South Hills Interfaith Movement – Youth Mentoring
Lauren Gaynord, Literacy Pittsburgh – Pittsburgh West
Maria Wallace, South Hills Interfaith Movement
Michael Knapp, Jewish Family and Community Services
Michelle Nguyen, Literacy Pittsburgh – Pittsburgh East
Molly Doran, Squirrel Hill Health Center
Supriya Avadhanula, Squirrel Hill Health Center
Vanessa Goyes, Latino Community Center
Varsha Ramasubramanian, Goodwill of Southwestern Pennsylvania
Madison Dodds, Latino Community Center
Dagny Felker, Literacy Pittsburgh – Downtown
Literacy Pittsburgh (formerly Greater Pittsburgh Literacy Council) helps create better lives through learning. Recognized as a national leader in adult and family literacy, Literacy Pittsburgh is the largest provider of adult basic education in Allegheny and Beaver Counties. Last year, Literacy Pittsburgh helped some 3.700 individuals acquire the skills needed to reach their fullest potential in life and participate productively in their communities. Literacy Pittsburgh provides free, personalized instruction in workforce readiness, high school diploma test preparation, digital literacy, English language learning, math, reading, and family literacy through one-to-one and small class instruction. Founded in 1982, it serves local adults through numerous neighborhood locations and its Downtown Pittsburgh Learning Center.