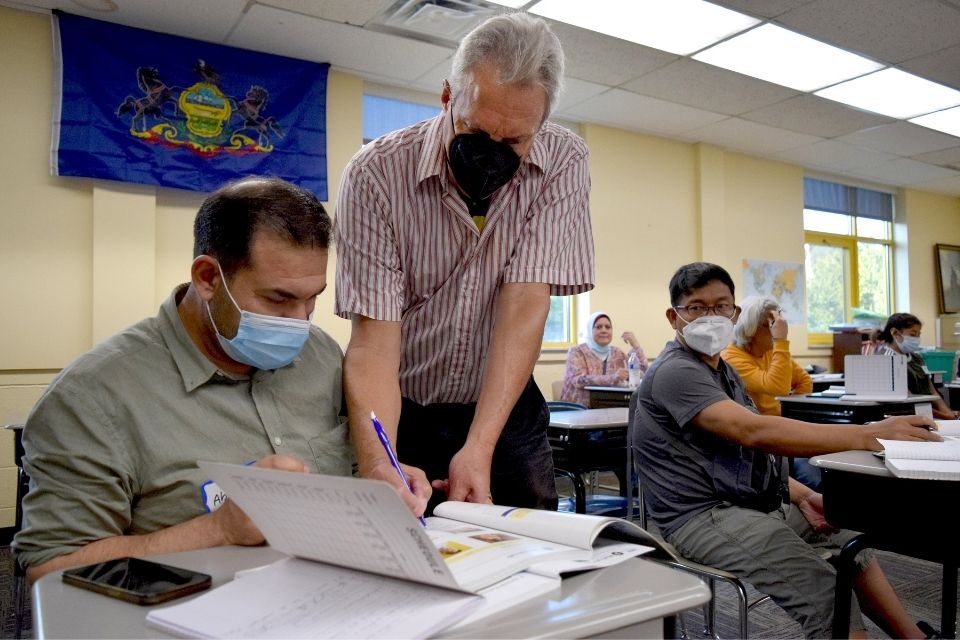 The Carlynton School District has partnered with Literacy Pittsburgh to provide free adult English classes to the parents/guardians of immigrant and refugee children of the District.
Classes are held at Carnegie Elementary School with four 90-minute sessions per week on Tuesday and Thursday evenings. Instruction is designed for beginning learners to the more advanced learner. Child care is provided by high school student volunteers who are members of the National Honor Society.
In its first week, nearly two dozen adults participated in the free classes by carefully taking notes, asking questions, and competing in mini-challenges by writing sentences on the chalkboard. The adult students are a true melting pot, immigrating from Columbia, Ecuador, Egypt, Iraq, Libya, Myanmar, Syria, Turkey, Uzbekistan, and Venezuela. 
Ahmad Alahamad, a Syrian refugee, moved to Carnegie in 2016. He and his wife have three children; two are enrolled in Carnegie Elementary. "I've picked up the language in the last five years but still have trouble writing out words and sentences," he shared. Ahmad said he hopes the class will teach him to spell the English words he has learned, along with proper verb tenses and punctuation. 
Literacy Pittsburgh provides the adults in the class with a free textbook and workbook. The colorful pages offer illustrations, allowing individuals to analyze the visuals, infer meaning, and create written language structures within the workbook pages to support what they see in the images.
 "Writing, speaking, and repetition is key to learning and retaining," said David Temple, a 25-year veteran English as a Second Language teacher and volunteer with Literacy Pittsburgh.
 Ahmad made sure he would remember the correct spelling of the words he learned at a session by typing them into his cell phone. "This way, I can review the words and practice putting them into sentences," he said.
Second-grade teacher Donald Alexander was instrumental in bringing the Literacy Pittsburgh program to Carnegie Elementary School. Noticing a desire among colleagues to create a more welcoming environment for the school's growing population of non-English-speaking parents, he reached out to Gisele Fetterman, Pennsylvania's Second Lady, and she connected him to Literacy Pittsburgh. Gisele, who has partnered with Carnegie Elementary to provide support to immigrants, refugees, low-income families, and the school's Chill Room, visits the school often to collaborate with teachers and administration. She has also collaborated with Literacy Pittsburgh by lending her name to our recent #InYourNeighborhood fundraising initiative and by appearing as a guest speaker.
Literacy Pittsburgh (formerly Greater Pittsburgh Literacy Council) helps create better lives through learning. Recognized as a national leader in adult and family literacy, Literacy Pittsburgh is the largest provider of adult basic education in Allegheny and Beaver Counties. Last year, Literacy Pittsburgh helped some 3.700 individuals acquire the skills needed to reach their fullest potential in life and participate productively in their communities. Literacy Pittsburgh provides free, personalized instruction in workforce readiness, high school diploma test preparation, digital literacy, English language learning, math, reading, and family literacy through one-to-one and small class instruction. Founded in 1982, it serves local adults through numerous neighborhood locations and its Downtown Pittsburgh Learning Center.