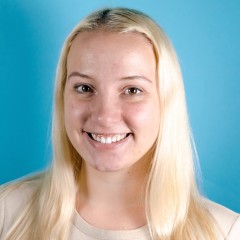 Last month, we welcomed Cailynne (Callie) Angelo to our Student Support Services team as Career Advisor. Callie will help learners prepare for successful employment. Students can receive help with goal setting and career planning, such as determining how many years of schooling are needed for a particular job and exploring the educational path they can take. Assistance could include identifying different programs, understanding if a foreign degree can help, completing the FAFSA application, seeking scholarships, finding affordable textbook rentals, and more. 
For students ready to enter employment now, Callie or our career services mentor can support students through the job search and application process through language-assisted resume review (limited languages), hands-on application assistance, writing cover letters, mock interviews, and more. Students can receive referrals to services for credit evaluation, record expungement, and more to help reduce barriers.
Callie will oversee several partnerships, including our successful collaboration with PA Women Work. The New Choices class focuses on resume review, interview skills, effective communication tactics, setting effective career goals, and building confidence in the job application process. Following the class, participants receive a one-on-one resume review with the instructor and access to PA Women Work's alumni services (including some transportation services, mentorship programs, and more.) New Choices classes are open to Literacy Pittsburgh students of any gender.
She is also working with organizations like Year Up (a paid internship service), Manpower staffing, Trying Together, and more to provide opportunities to qualifying applicants.
A pilot program explores ways to embed career services into our regular classes by combining resume writing with GED reading skills, using job exploration to introduce vocabulary in ELL classes, and teaching job search faux pas through stories.
Callie has a background in transition education and on-site job coaching. "I love to see clients go from 'I want to__' to setting a smart goal, building a plan, and taking those first steps," Callie explains. "I enjoy being able to give the missing information someone needs or make that connection that opens a door they did not expect."
Literacy Pittsburgh (formerly Greater Pittsburgh Literacy Council) helps create better lives through learning. Recognized as a national leader in adult and family literacy, Literacy Pittsburgh is the largest provider of adult basic education in Allegheny and Beaver Counties. Last year, Literacy Pittsburgh helped some 3.700 individuals acquire the skills needed to reach their fullest potential in life and participate productively in their communities. Literacy Pittsburgh provides free, personalized instruction in workforce readiness, high school diploma test preparation, digital literacy, English language learning, math, reading, and family literacy through one-to-one and small class instruction. Founded in 1982, it serves local adults through numerous neighborhood locations and its Downtown Pittsburgh Learning Center.