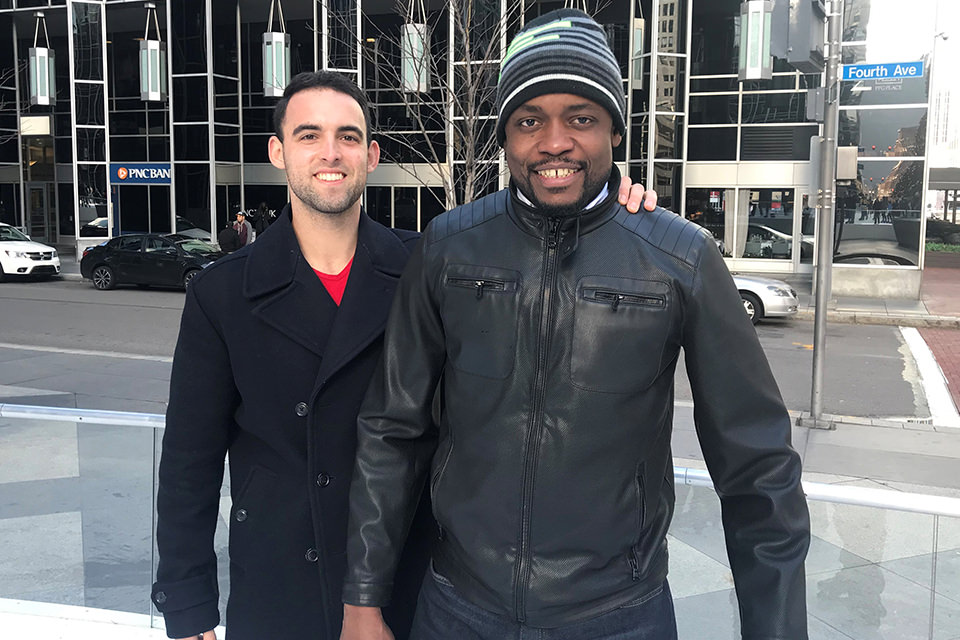 Literacy Pittsburgh offers a career mentoring program for students that helps them make a smooth transition into the workforce. We sat down with Christel and his mentor Josh, who have been working together for the past year. Christel, originally from Cameroon, has been living and working in the U.S. for almost three years.
Christel initially came to Literacy Pittsburgh to improve his English, as he is a native French speaker. He then began working with our Transitions Manager who helped him get a job at BNY Mellon. As an experienced financial professional, Christel looks forward to advancing his career here in the states and creating a bright future for him and his new wife.
Literacy Pittsburgh's mentoring program helps students like Christel work on resume writing, interviewing and networking. It also helps them learn nuances of American workplace culture. Currently, Josh is helping Christel find a career that allows him to leverage his previous experience, while also providing him with fulfillment.  Josh has connected Christel with some of his banking friends so that he can learn about their roles and determine which specific path to pursue. Christel has noted that "Literacy Pittsburgh has helped me to overcome the challenge of finding a banking job by giving me the English skill set that I need and by giving me additional help with job research." 
Josh has learned from the experience of working with Christel as well. "I'm finding that the overall process of advancing the career of someone new to the US is much more challenging than originally anticipated. There are many learning curves to consider from the culture shock to the language barrier, to understanding what makes a competitive job applicant in the U.S. market," Josh explains.
Throughout the process, Christel has relied heavily on his courage and faith. Josh is very proud of Christel's resilience, determination and optimism. Despite facing many challenges in trying to advance his career in a new country, Christel never lets these obstacles deter him.  Josh shares, "Christel is a consistently positive, happy, curious, and appreciative person, with a clear vision of what he wishes to accomplish."
The respect is definitely mutual. "My mentor it is great man. Everyone at Literacy Pittsburgh is a devoted professional who helps you to feel at home and treats you with love and respect," Christel explains.
Josh is very proud of Christel. "He has made tremendous progress over the past year and I am confident that all his hard work will pay off soon."
For Josh, his volunteer experience with Literacy Pittsburgh has been incredibly rewarding. "As much as I mentor Christel, he mentors me in the importance of maintaining a positive mentality when faced with adversity."
Literacy Pittsburgh (formerly Greater Pittsburgh Literacy Council) helps create better lives through learning. Recognized as a national leader in adult and family literacy, Literacy Pittsburgh is the largest provider of adult basic education in Allegheny and Beaver Counties. Last year, Literacy Pittsburgh helped some 3.700 individuals acquire the skills needed to reach their fullest potential in life and participate productively in their communities. Literacy Pittsburgh provides free, personalized instruction in workforce readiness, high school diploma test preparation, digital literacy, English language learning, math, reading, and family literacy through one-to-one and small class instruction. Founded in 1982, it serves local adults through numerous neighborhood locations and its Downtown Pittsburgh Learning Center.