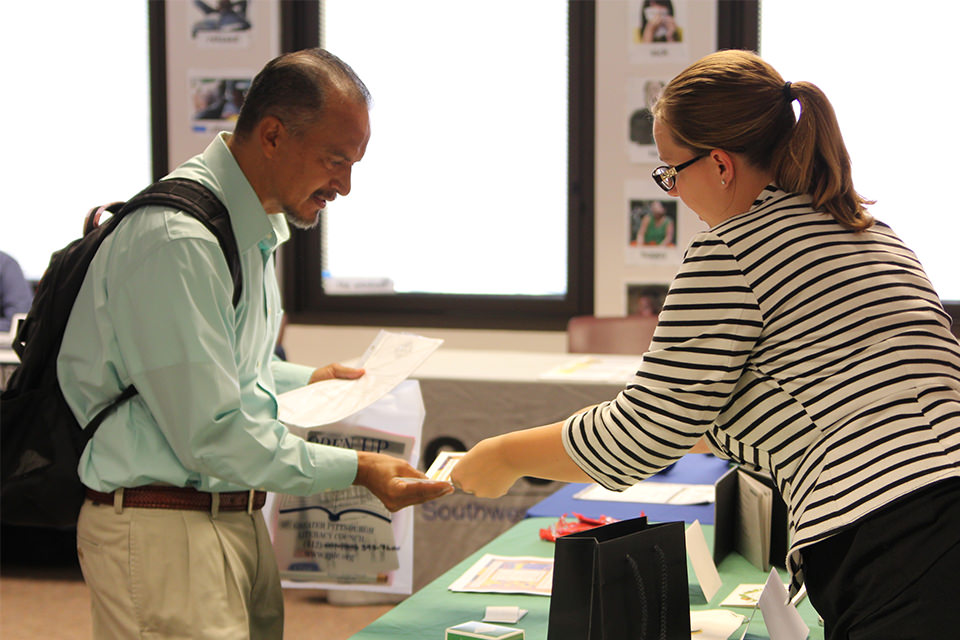 Moving students into jobs and postsecondary education is a significant focus of Literacy Pittsburgh's work. While we do an exemplary job teaching adults the skills needed to be successful in the workforce, it can be challenging to help them find employment.
In 2015, we launched a twice yearly Career & Education Fair to help students reach their employment goals. This event is an opportunity for students to:
meet employers
discover possible career fields
learn how to navigate career fairs
practice professional communication skills
explore postsecondary learning opportunities
Literacy Pittsburgh's Fall 2018 Career and Education Fair is scheduled for Wednesday, September 26, 2018 from 10:00 AM to 12:00 PM at the Westin Convention Center in the Pennsylvania Room. Pre-fair workshops are scheduled at our downtown learning center during the next month to help students prepare their resumes and hone their interviewing skills. (The workshop schedule is available here.) Students should come prepared to network with employers. An updated, professional resume is a must.
We generally welcome more than 100 students and 30 employers and postsecondary schools. This year, we are excited to partner with JFCS Career Development Center and Goodwill of Southwestern Pennsylvania. The fair will be open to clients of these organizations as well as our own students, tutors and alumni. 
A list of employers and schools confirmed to date is below.
If you are a student or graduate of Literacy Pittsburgh and have questions about the event, please contact Andrea Horton-Mericli at ahorton@literacypittsburgh.org or (412) 393-7644. We also welcome additional employers and postsecondary learning institutions.
Why should I attend the Career & Education Fair?
Literacy Pittsburgh (formerly Greater Pittsburgh Literacy Council) helps create better lives through learning. Recognized as a national leader in adult and family literacy, Literacy Pittsburgh is the largest provider of adult basic education in Allegheny and Beaver Counties. Last year, Literacy Pittsburgh helped some 3.700 individuals acquire the skills needed to reach their fullest potential in life and participate productively in their communities. Literacy Pittsburgh provides free, personalized instruction in workforce readiness, high school diploma test preparation, digital literacy, English language learning, math, reading, and family literacy through one-to-one and small class instruction. Founded in 1982, it serves local adults through numerous neighborhood locations and its Downtown Pittsburgh Learning Center.