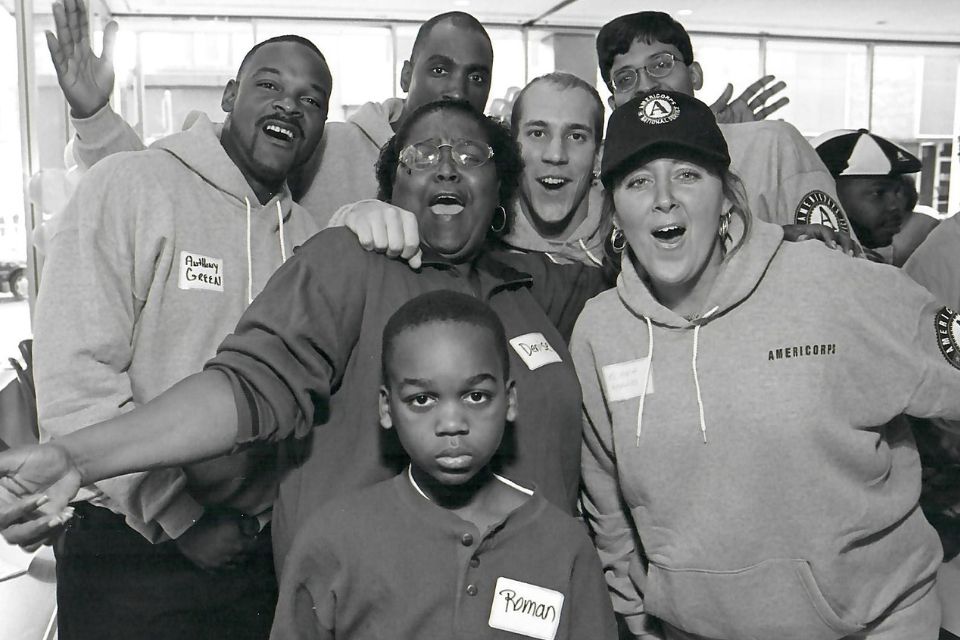 In the fall of 1993, President Bill Clinton signed the National and Community Service Trust Act of 1993, creating the AmeriCorps program and expanding opportunities for Americans to serve their communities. Similar to the Peace Corps, the AmeriCorps program now engages more than 80,000 people across the U.S. in intensive service each year. 
 "In the spring of 1994, I got a phone call from the National Institute for Literacy indicating Literacy Pittsburgh was under consideration as a site for AmeriCorps," former Executive Director Don Block recalls. "My response was gratitude that we were well enough regarded outside Pittsburgh to be considered a site for a brand-new federal program."
What followed was multiple meetings in Washington, DC, to plan how the program would be implemented, explained Denise Caldwell, who implemented this new program at Literacy Pittsburgh. Literacy AmeriCorps started in several cities in the fall of 1994, including Houston, Seattle, New Orleans, and West Palm Beach, Florida, with national leadership from the National Institute for Literacy.
"From April 1994 to September of that year, AmeriCorps went from zero to 20,000 members serving in many ways across the entire country," Don explains.  "It was a heady time, very exciting for those of us who believe strongly in national service."
Members, as those who participate in this national service project are called, commit to 1700 hours of service over the course of eleven months. Literacy Pittsburgh recruited, trained, and placed members at nonprofit organizations throughout the city to provide educational programs for adults, children, and families. Members helped expand the capacity of organizations to fulfill their mission in the community while participating in service projects and personal and professional development programs.
"As a member, you helped out organizations," said Denise. "You also helped yourself with the leadership and professional skills you gained."
 From 2006 to 2012, Literacy Pittsburgh provided national oversight of Literacy AmeriCorps, which operated in six cities around the country. Our role was to ensure programs complied with federal guidelines for both fiscal and program management. Literacy AmeriCorps had several national conferences in Pittsburgh, where we convened the 125 members and their staff supervisors from all the cities for training and networking. One of the speakers at a couple of those conferences was John Fetterman, a previous Literacy AmeriCorps member and then mayor of Braddock. Unfortunately, in 2012, Literacy AmeriCorps ceased due to funding priority changes at the federal level.
Literacy Pittsburgh's commitment to service remained strong, and we soon implemented a state program called Compass AmeriCorps, which was created to help immigrants and refugees establish successful lives in the United States. Learn more about Compass AmeriCorps and the federal AmeriCorps program at the links.
Literacy Pittsburgh (formerly Greater Pittsburgh Literacy Council) helps create better lives through learning. Recognized as a national leader in adult and family literacy, Literacy Pittsburgh is the largest provider of adult basic education in Allegheny and Beaver Counties. Last year, Literacy Pittsburgh helped some 3.700 individuals acquire the skills needed to reach their fullest potential in life and participate productively in their communities. Literacy Pittsburgh provides free, personalized instruction in workforce readiness, high school diploma test preparation, digital literacy, English language learning, math, reading, and family literacy through one-to-one and small class instruction. Founded in 1982, it serves local adults through numerous neighborhood locations and its Downtown Pittsburgh Learning Center.