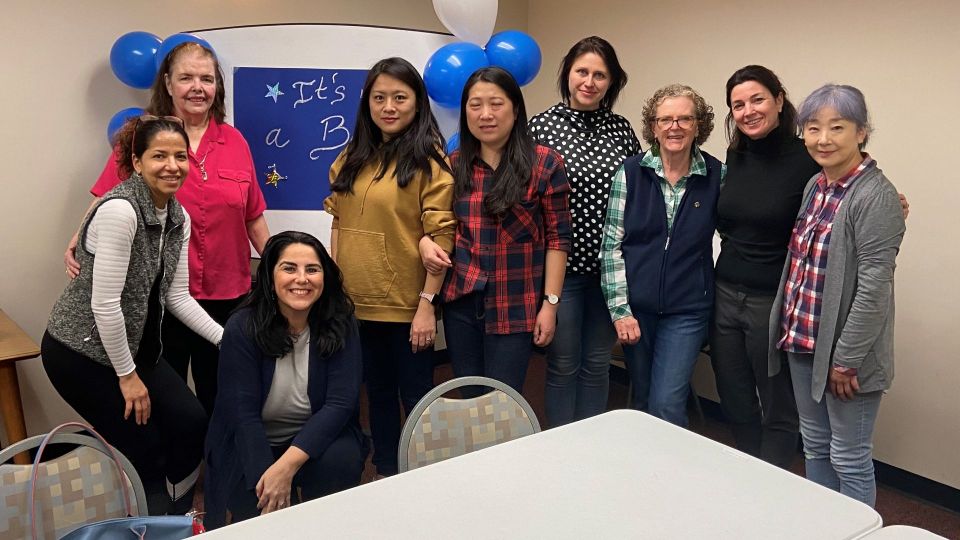 Karen McGrath has been a volunteer tutor with Literacy Pittsburgh for about five years. She meets with a group of six to eight women for two hours each week to practice English conversation skills. Karen explains that her students can read and write in English but "talking and understanding other people can be difficult." For her, the best reward comes when her students realize they can speak, understand, and think in English. Karen traveled to other countries in her job and says, "I know exactly how they feel."
"Each woman talks about her life and family during each session," Karen explains. "We talk about anything and everything. The women want to learn culture as well as the language." 
The women not only learn about American culture, but also learn from each other and experience Japanese, Chinese, Colombian, and Spanish culture. Karen explains, "They have gained self-confidence and are happy to 'belong here'." She invited her students to write about their experiences and Enriquela and Ana shared their thoughts.
Enriquela writes, "It has not been easy to live in different countries. For work reasons, I have had to move many times. The most difficult [part] is to start all over again in different countries with different cultures. One of the things that have helped us is being part of a club or group where we can learn to socialize more gently in other cultures. Two years ago, through Literacy Pittsburgh, I found a wonderful group of people, a team of volunteers who have not only to teach us ESL but make us feel part of a community".
Ana writes, "Once upon a time, a group of women...each from different countries with an American teacher…[met each other]. Everyone enjoys each Tuesday and Thursday speaking about different topics or sharing different events like a potluck or baby shower. We used to meet at the Mt. Lebanon Library", but now we are online. Nothing has changed between them. One woman returned back to her country and she connects with us [online]. So this is the end of the story but never the end; this group seems to last in time forever.
Literacy Pittsburgh (formerly Greater Pittsburgh Literacy Council) helps create better lives through learning. Recognized as a national leader in adult and family literacy, Literacy Pittsburgh is the largest provider of adult basic education in Allegheny and Beaver Counties. Last year, Literacy Pittsburgh helped some 3.700 individuals acquire the skills needed to reach their fullest potential in life and participate productively in their communities. Literacy Pittsburgh provides free, personalized instruction in workforce readiness, high school diploma test preparation, digital literacy, English language learning, math, reading, and family literacy through one-to-one and small class instruction. Founded in 1982, it serves local adults through numerous neighborhood locations and its Downtown Pittsburgh Learning Center.