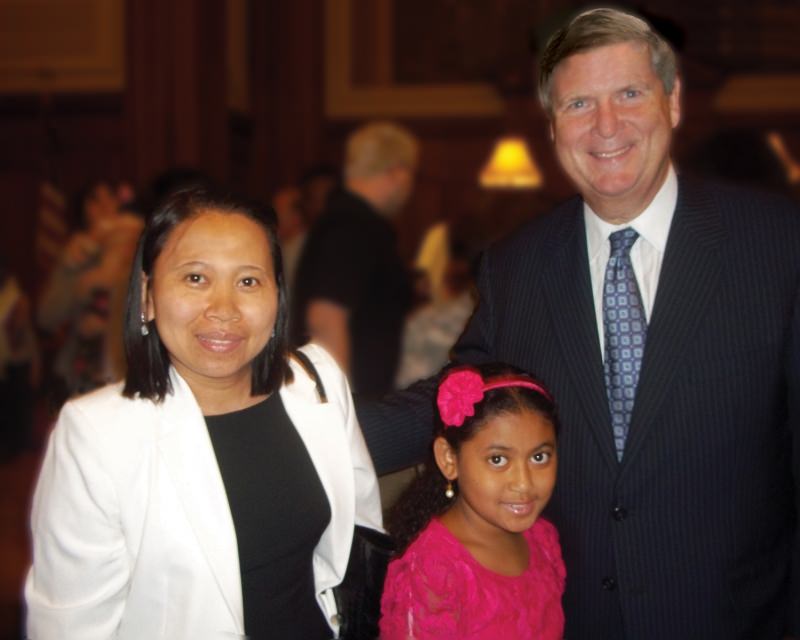 A little more than half of the students at Greater Pittsburgh Literacy Council are newcomers to this country. They are at GPLC to learn English and American culture. All are permanent residents and look forward to earning U.S. citizenship. This year, record numbers of students are eligible.
Why are so many students eligible for U.S. citizenship?
Many of our refugee students, especially those from Bhutan, started to resettle in Pittsburgh around five years ago, so they are now eligible to apply. Others who have been here longer now feel confident enough with their English skills to take the test. 
What countries do students come from?
Students come from many different countries—Bhutan, Iraq, Burma, South Sudan to name just a few.
Why do students want to become U.S. citizens?
With U.S. citizenship they gain many rights, such as voting. If parents gain citizenship, children under 18 will have an easier path to citizenship. Like most refugees and immigrants, they feel grateful for the freedoms, security and job opportunities in the U.S. They are very serious about studying English at GPLC in order to participate more fully in the country they now call home.
What is the citizenship test like?
Earning U.S. citizenship is tough! First, students must reside in the U.S. for at least five years. They must apply, pay a $680 fee and be fingerprinted. Then, an interview date is set. Students respond orally to questions from a U.S. Citizenship and Immigration Services officer to determine eligibility. This interview doubles as a test of English speaking skills. Applicants must read one sentence in English and write one sentence in English. Finally, applicants answer questions about government and civics. There are 100 possible questions, and 10 are asked during the test. Some of the questions are hard and would stump many Americans!
How long do students study?
Some advanced English students only need to study the content of the test itself and may only prepare for a few months. Other lower-level students need to increase their English language skills before tackling the specifics of the test. These students, who often enroll in both English and citizenship classes, may attend GPLC for a few years.
Literacy Pittsburgh (formerly Greater Pittsburgh Literacy Council) helps create better lives through learning. Recognized as a national leader in adult and family literacy, Literacy Pittsburgh is the largest provider of adult basic education in Allegheny and Beaver Counties. Last year, Literacy Pittsburgh helped some 3.700 individuals acquire the skills needed to reach their fullest potential in life and participate productively in their communities. Literacy Pittsburgh provides free, personalized instruction in workforce readiness, high school diploma test preparation, digital literacy, English language learning, math, reading, and family literacy through one-to-one and small class instruction. Founded in 1982, it serves local adults through numerous neighborhood locations and its Downtown Pittsburgh Learning Center.