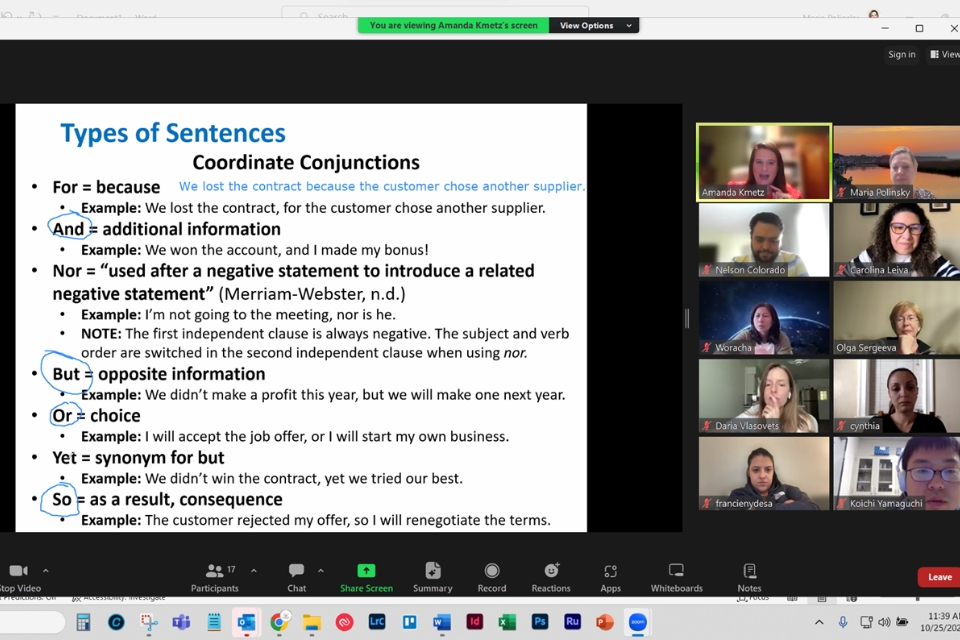 Prior to February 2022, Literacy Pittsburgh had limited class options for higher-level English Language Learners. These are students who have proficiency in English but desire to become better at communicating with native speakers and understanding the nuances of the language. 
 
Business English was one of two classes created to meet the more advanced needs of these higher-level learners. This class is designed to help students with professional goals. 
 
The class is divided into four "mini-classes" that consist of twelve-week long sessions on different professional communication and business-related topics. Currently, students are learning about Job Search Skills. Teacher Amanda Kmetz is covering topics such as resumes, cover letters, and elevator pitches.  
 
"This class is very useful for me to understand how to communicate correctly, how to look for a job, how to write a resume and pass an interview," explains Olga, a current student in the class. "The knowledge I gain makes it easier for me to find a job." 
 
A recent class session focused on grammar that can be applied to business writing. Native speakers often take for granted the idiosyncrasies of our language. For example, the word "yet" is both a conjunction and an adverb, with a slightly different meaning for each. Students spent time at the end practicing their skills with Amanda providing feedback. 
 
"How do we complete this sentence?" Amanda asked referencing a prompt on the screen: Many people also shop on the internet, for it _____.  
 
"Saving time" said one student. 
 
Amanda provided feedback that the correct structure would be "saves time" to make a grammatically correct sentence. 
 
The current class meets on Zoom on Mondays and Wednesday from 10:00 am to 12:00 pm. There are 22 students from all over the world. Countries represented include Algeria, Brazil, Chile, Congo, Cuba, China, El Salvador, India, Israel, Japan, Kyrgyzstan, Mexico, Thailand, Turkey, and Ukraine. 
  
 "There are currently several IT professionals in the class who would like to work as software engineers or program developers," Amanda explains. "Additionally, there are a few doctors in the class who are licensed in their home countries and would like to work in the medical field here in the United States. We also have a few entrepreneurs in the class who owned their own businesses." 
  
Other sessions of the Business English class include Pronunciation & Listening, Business Structure & Vocabulary, and Interpersonal Communication & Presentation Skills. Pronunciation & Listening helps non-native speakers have more confidence in communicating with and understanding their American coworkers. In Business Structure & Vocabulary, students learn English vocabulary for different areas of business, such as marketing, finance, and logistics through class activities and readings. Lastly, in Interpersonal Communication & Presentations Skills, students learn about intercultural communication as well as verbal and non-verbal communication practices in the United States. Additionally, they learn and practice professional presentations for the workplace. 
 
"I've received a lot of positive feedback from the students about how much the class has helped them," explains Amanda. "Some students have stated that they have more confidence in their English abilities. Furthermore, we've had students leave the class because they've found full-time jobs; these students have indicated that they better understand the American job search process and feel more confident about the quality of their resumes." 
"This class is more than just learning a new language," explains current student Carolina. "It has given me very important tools to get along in this city. Amanda has been a great coach, motivating and encouraging us to have confidence in ourselves."
Literacy Pittsburgh (formerly Greater Pittsburgh Literacy Council) helps create better lives through learning. Recognized as a national leader in adult and family literacy, Literacy Pittsburgh is the largest provider of adult basic education in Allegheny and Beaver Counties. Last year, Literacy Pittsburgh helped some 3.700 individuals acquire the skills needed to reach their fullest potential in life and participate productively in their communities. Literacy Pittsburgh provides free, personalized instruction in workforce readiness, high school diploma test preparation, digital literacy, English language learning, math, reading, and family literacy through one-to-one and small class instruction. Founded in 1982, it serves local adults through numerous neighborhood locations and its Downtown Pittsburgh Learning Center.