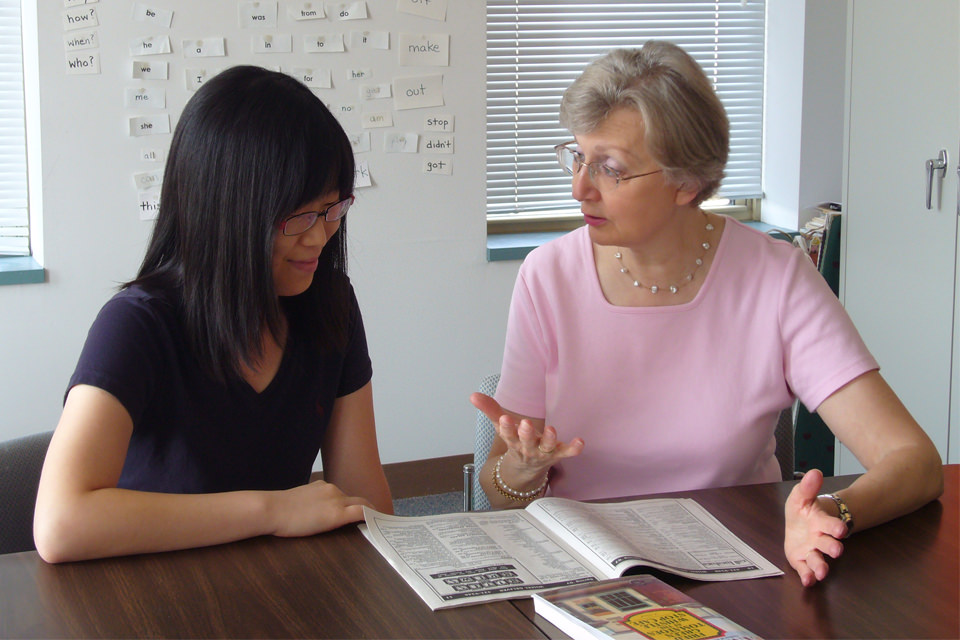 Literacy Pittsburgh tutors are the core of our program. They bring optimism and enthusiasm, create positive energy, and provide the opportunity for our students to make profound changes in their lives. If you have ever wondered about the process for becoming a tutor, read on.
We ask that tutors make a commitment to meet with their student for at least six months. It takes time for students and tutors to build trust and continuity is important for goal achievement. Many tutors find it so rewarding that they stay for one to two years or even much longer!
Tutors meet with their students twice a week in a public location for two hours each time. Sessions are held on a day, time and location that is convenient to both tutor and student.
No teaching experience is necessary, although tutors must possess or be working toward a four-year degree per PA Department of Education requirements. Patience, understanding and a positive attitude are keys to success!
The first step in becoming a tutor is to contact Roberta Hatcher, Training Coordinator, for a volunteer application form at 412-393-7645 or via email at rhatcher@literacypittsburgh.org You can also fill out our online form. 
You will first attend a six-hour Initial Tutor Training, held over two evenings or one Saturday. (The current schedule is available here.) Trainings are held twice monthly in different parts of our service area. This initial workshop provides an introduction to Literacy Pittsburgh's tutoring program. You'll receive background on what makes adult learners unique and how tutors can build upon the wealth of life experience our students already possess. The training also covers the student enrollment process, goal-setting and elements of lesson planning.
Upon completion, you will decide what neighborhoods you wish to tutor in and if you want to focus on English as a Second Language or Adult Basic Education (reading/writing/math). You will then attend a three-hour specialized training that focuses on specific skills you will need to teach the student population you select. This follow-up training can be completed in-person or online.
You will be assigned to a program coordinator in your area who will become your primary contact with Literacy Pittsburgh, providing ongoing support. They will match you with a waiting student and provide you with information about your student's background, skill level and goals. They will also provide you with textbooks and an individualized learning plan written by one of our education specialists.
You will be asked to submit monthly reports outlining the hours you met, what you worked on, goals achieved, and any additional resources you may need. This information is important to our funders and allows your program coordinator to better support you and your student.
After about 60 hours of instruction, your program coordinator will test and interview your student again. This allows them to evaluate their progress. Your coordinator may make adjustments to the student's learning plan and recommend new resources or teaching techniques to you.
There are so many opportunities to hone your tutoring skills at Literacy Pittsburgh. We hold a half-day Tutor Conference twice a year. Tutor Talks on a variety of topics are held monthly throughout the city. We also have an online Tutor Hub that offers a wealth of information and supplemental teaching materials. Finally, our monthly Spark Success! tutor newsletter offers tips, techniques and inspiration.
Most Literacy Pittsburgh tutors find their experience to be very rewarding. One of our longtime tutors has said, "I was told Literacy Pittsburgh would open up a life. I didn't expect it to be mine."
For more information about tutoring and other volunteer opportunities, please visit the Volunteer section of our website.
Literacy Pittsburgh (formerly Greater Pittsburgh Literacy Council) helps create better lives through learning. Recognized as a national leader in adult and family literacy, Literacy Pittsburgh is the largest provider of adult basic education in Allegheny and Beaver Counties. Last year, Literacy Pittsburgh helped some 3.700 individuals acquire the skills needed to reach their fullest potential in life and participate productively in their communities. Literacy Pittsburgh provides free, personalized instruction in workforce readiness, high school diploma test preparation, digital literacy, English language learning, math, reading, and family literacy through one-to-one and small class instruction. Founded in 1982, it serves local adults through numerous neighborhood locations and its Downtown Pittsburgh Learning Center.