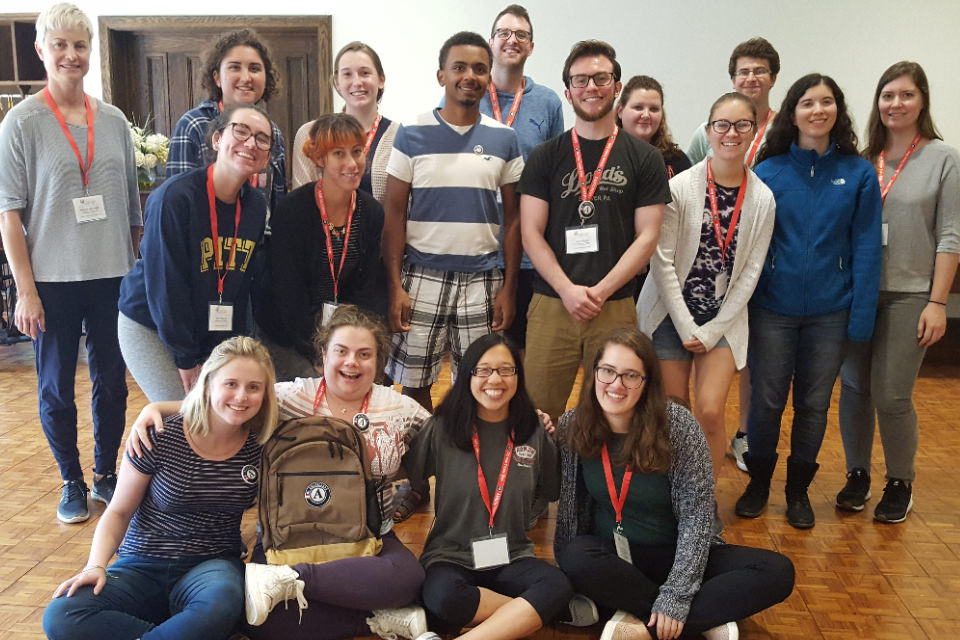 AmeriCorps is a national service organization, sometimes referred to as a domestic version of the Peace Corps. Literacy Pittsburgh has proudly managed service year programming since the inception of AmeriCorps in 1994.
AmeriCorps increases the capacity of local organizations by providing members who commit to a year of service. These members serve in a variety of capacities throughout the country, striving to eliminate poverty, benefit economically disadvantaged populations, provide important social services, and more.
In 2009, the Immigrants and Internationals Advisory Council approached Literacy Pittsburgh with an idea aimed at changing the way the city helps immigrants and refugees. From this seed grew Compass AmeriCorps, an annual 11-month service experience that provides English as a Second Language instruction and social services support for immigrants, refugees and internationals in the City of Pittsburgh.
Nationwide 75,000 AmeriCorps members serve annually at over 15,000 locations. Literacy Pittsburgh's Compass AmeriCorps program manages up to 25 members placed at eight agencies in the Greater Pittsburgh area. Members receive a monthly living stipend, an education award that can be used to pay off student loans or go back to school, health insurance, and other modest benefits. However, the intangible rewards are what draw people to AmeriCorps. Through regular monthly trainings and community service projects, members are given the opportunity to serve the community, gain professional skills, and develop personally through a year of service and sacrifice.
While Compass AmeriCorps can be a great experience for members, the program benefits the community exponentially. When a refugee or immigrant arrives in our city, they have a lot to do. Not only do many of them work closely with a resettlement agency or receive important medical care, they also go on to attend English classes or gain employment skills. Through placing Compass AmeriCorps members at a variety of service sites, including Literacy Pittsburgh, the Squirrel Hill Health Center, Jewish Family and Community Services, Goodwill of Southwestern Pennsylvania and more, we form a web that better serves the international population of Pittsburgh.
When members are placed in these organizations, they also increase the capacity of the sites to serve the community, providing more intense and individualized attention to the clients. Finally, the members support one another as part of the team-based program, collaborating often to share resources, reflect on their experience, and perform community service projects. Pittsburgh is a large city with an ever-growing international population. Literacy Pittsburgh's Compass AmeriCorps program turns this big city of services into an interconnected family of support.
Our ninth class of members started on September 4, 2018, but we are still happily accepting applications for the 2018-2019 term! Our members are passionate about community service, motivated by intangible benefits, and enthusiastic about being part of a close-knit team. If you or someone you know would be interested in serving a year with Compass AmeriCorps, please visit our website or contact Julie Walker today!
Literacy Pittsburgh (formerly Greater Pittsburgh Literacy Council) helps create better lives through learning. Recognized as a national leader in adult and family literacy, Literacy Pittsburgh is the largest provider of adult basic education in Allegheny and Beaver Counties. Last year, Literacy Pittsburgh helped some 3.700 individuals acquire the skills needed to reach their fullest potential in life and participate productively in their communities. Literacy Pittsburgh provides free, personalized instruction in workforce readiness, high school diploma test preparation, digital literacy, English language learning, math, reading, and family literacy through one-to-one and small class instruction. Founded in 1982, it serves local adults through numerous neighborhood locations and its Downtown Pittsburgh Learning Center.