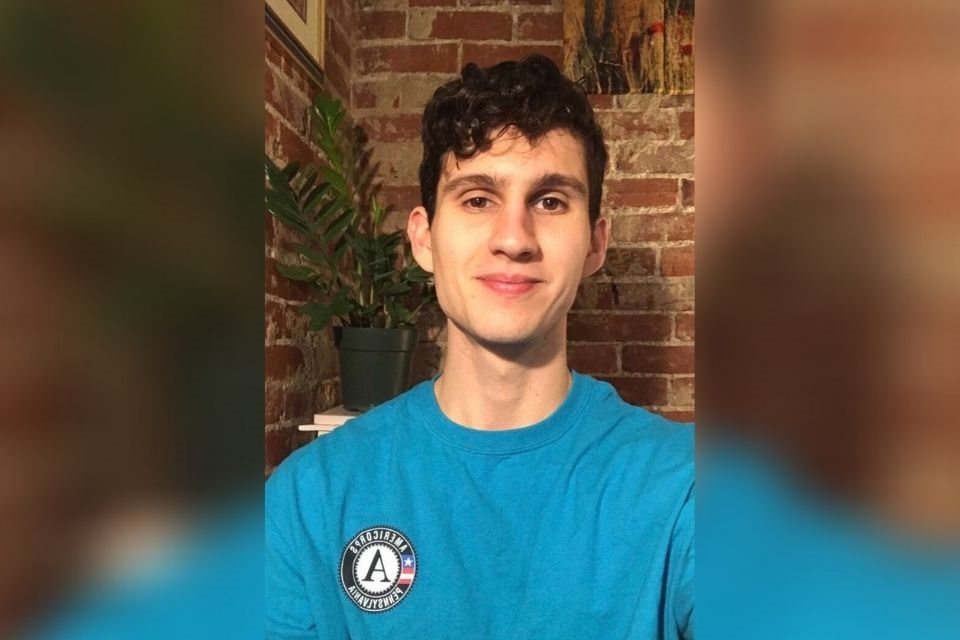 Compass AmeriCorps engages community-minded individuals in a year of intensive service at local nonprofit organizations dedicated to helping immigrants and refugees thrive. Members spend 1700 hours over 11 months helping their clients with English language instruction and immigration support. They also participate in regular meetings for professional development and community service projects. Literacy Pittsburgh has managed this program since its inception, and recruitment is currently underway for the 2021-22 service year. We asked one of our current Compass AmeriCorps members about his experiences and why someone should consider a year of service.
 
It is an understatement to say that Compass AmeriCorps members possess a generous amount of compassion and dedication to helping those in need. This is exactly the type of person Mike Knapp is.  
 
Originally from Lancaster, Mike is a recent graduate of the University of Pittsburgh. His passion for service began during his junior year of college when he started volunteering at Jewish Family and Community Services (JFCS). Mike thoroughly enjoyed this experience and was able to secure an internship with JFCS for the following semester. Mike's passion for helping others through JFCS inspired him to apply to Compass AmeriCorps the year after he graduated from college. 
 
Mike continued his service at Jewish Family and Community Services. As part of the Refugee and Immigrant Services Department, he helps people access health care services. His position allows him to create close bonds with his clients in order for him to understand their entire situation and help them the best he can.  
 
These strong relationships have resulted in several memorable moments during his time so far with Compass AmeriCorps. Mike explained that one of his primary goals is to get his clients to become independent so they eventually do not need his assistance. This can seem daunting for some clients who are facing so many challenges. Mike remembers one client in particular who was reluctant to complete tasks independently and always leaned on Mike to do them for her. "She recently called me to tell me how much she can do on her own now and how much I have helped her and her kids." It was wonderful for Mike to hear this exciting news, and he shared how good it felt to help someone new to the United States gain confidence. "One of the essential parts of being a Compass AmeriCorps member is understanding the importance of empowering clients instead of only offering them your services," he adds. 
 
As a young adult, Mike is grateful for his Compass AmeriCorps experience because of how much he has learned along the way. His AmeriCorps service year has taught him how to have a lasting impact on someone's life while ensuring clients can gain independence. Giving people agency and truly helping them is one of Mike's favorite parts of being a member, and he feels it is beneficial to him personally as well as professionally. Mike's role in Compass AmeriCorps is his first hands-on, professional experience with helping people. He enjoys that his role is not behind the scenes, and instead, very engaged in people's lives. His service with Compass AmeriCorps also allowed him to learn how to adapt and work within complicated technology systems, which is something that every young professional should know. Although he initially felt like he was in over his head, Mike was able to get valuable experience that he might not have otherwise received. Mike has a lot of respect and gratitude for Compass AmeriCorps, and it has proven to be an incredibly rewarding chapter of his life overall.  
 
Mike's advice to those who are thinking about becoming a member is to make sure they are truly committed to it. Members become close to their clients who come to rely on them. "Clients can be left in the dark if a member cannot be there for them," Mike explains. For those who have as much passion for helping others as he does, he would say to apply today! Mike believes that serving at Compass AmeriCorps will be one of the most transformative times of anyone's life.  
 
Mike's service year will finish this July. From there, he is planning on attending medical school at the University of Pittsburgh or the University of Rochester. Mike knows he will carry with him what he has gained from Compass AmeriCorps as he continues to help others throughout his career.  
 
Are you interested in becoming a Compass AmeriCorps member? Learn more and sign up today at https://www.literacypittsburgh.org/compass-americorps/.  
Literacy Pittsburgh (formerly Greater Pittsburgh Literacy Council) helps create better lives through learning. Recognized as a national leader in adult and family literacy, Literacy Pittsburgh is the largest provider of adult basic education in Allegheny and Beaver Counties. Last year, Literacy Pittsburgh helped some 3.700 individuals acquire the skills needed to reach their fullest potential in life and participate productively in their communities. Literacy Pittsburgh provides free, personalized instruction in workforce readiness, high school diploma test preparation, digital literacy, English language learning, math, reading, and family literacy through one-to-one and small class instruction. Founded in 1982, it serves local adults through numerous neighborhood locations and its Downtown Pittsburgh Learning Center.