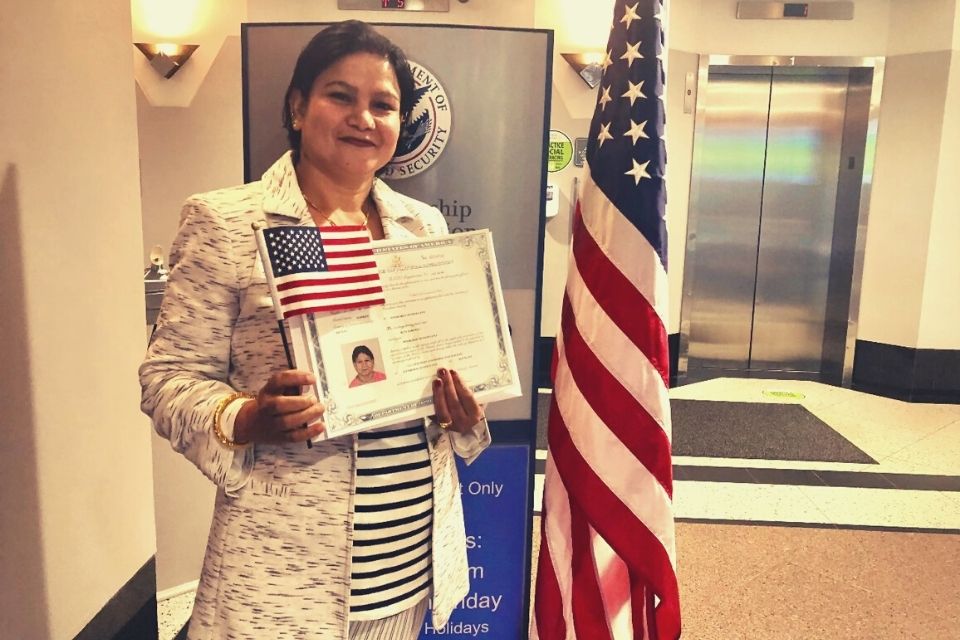 During our last program year, 26 students achieved their dream of United States Citizenship. These students come from 15 different countries—Afghanistan, Bhutan, Colombia, China, Mexico, Iraq, Myanmar, Kyrgyzstan, Nepal, Ukraine, Venezuela, Syria, India, Jordan, and Rwanda. All shared a common goal to obtain the privileges that come with citizenship. This past year brought many challenges, including changes to testing requirements and significant processing delays due to the COVID-19 pandemic.
What does one have to do to become a U.S. Citizen?  First, the applicant must determine if they are eligible.  For most applicants, this means being a U.S. Legal Permanent Resident (i.e. green card holder) for at least 5 years and being over the age of 18. An application called the N400, a 20-page legal document, is submitted to the United States Immigration and Citizenship Services (USCIS).  Students at Literacy Pittsburgh are referred to our partner organization Jewish Family and Community Services for legal assistance in completing this form. Supporting documentation and a fee of $725 must accompany the application. 
The candidate then waits for a notice of receipt, a biometrics appointment, and a citizenship interview date. During the past year, the processing time for applications grew significantly because of COVID-19 mitigation restrictions. Students who have applied more recently have seen faster processing times. We are hopeful that the USCIS backlog will be reduced soon.
At the citizenship interview, the applicant is tested in four areas: Speaking and Listening, Civics Knowledge, Reading, and Writing. The Speaking and Listening test is a verbal interview during which the applicant answers questions from the N400 application, including basic personal information, information about marital status, children, parents, employment, and schooling. A series of questions that evaluate the moral character of the applicant is also asked. This portion is often the most stressful aspect of the interview. 
The Reading test involves correctly reading aloud a question. The applicant must read one question correctly and may be asked up to three.  The Writing test consists of transcribing a sentence dictated by the officer.  The applicant must write one sentence correctly but may be asked up to three. Some applicants struggle with this portion because they have a background of interrupted schooling. Many may be learning to read and write for the first time in English. An added challenge is that some students read and write in languages with a non-Roman alphabet, like Arabic, Russian, Nepali, Chinese, or Burmese. 
The Civics test has 100 possible questions. At the interview, the applicant will be asked ten questions and must verbally answer six correctly. Questions cover U.S. history, U.S. government, Symbols and Holidays, and Rights and Responsibilities of Americans. In 2020, the USCIS instituted a new version of the Civics test that had 120 questions. This new test required the applicant to respond correctly to 12 out of 20 questions. The 2020 test was controversial because of the increased difficulty and short amount of time for implementation. This test was given between December 1, 2020 and April 19, 2021. The Biden Administration reverted back to the 2008 version of the test, and no applicant should be preparing for the 2020 version any longer.
 At Literacy Pittsburgh, we are currently preparing students for the citizenship test through online classes, one-on-one, and small group tutoring. We offer classes at multiple levels of English language proficiency, allowing learners to access education appropriate for their needs and abilities.  We also offer a series of YouTube videos, which have proven to be quite popular with more than 2700 subscribers and 53,000 hours of watch time. Our most popular video about the N400 test has more than 52,000 views! These videos have benefitted both Literacy Pittsburgh students and learners throughout the United States.
The USCIS recently unveiled an Interagency Strategy for Promoting Naturalization. This plan aims to promote naturalization through citizenship education and awareness, build capacity, and expand partnerships. We applaud this effort to reduce barriers to U.S. citizenship and to raise awareness at the community level.
Literacy Pittsburgh (formerly Greater Pittsburgh Literacy Council) helps create better lives through learning. Recognized as a national leader in adult and family literacy, Literacy Pittsburgh is the largest provider of adult basic education in Allegheny and Beaver Counties. Last year, Literacy Pittsburgh helped some 3.700 individuals acquire the skills needed to reach their fullest potential in life and participate productively in their communities. Literacy Pittsburgh provides free, personalized instruction in workforce readiness, high school diploma test preparation, digital literacy, English language learning, math, reading, and family literacy through one-to-one and small class instruction. Founded in 1982, it serves local adults through numerous neighborhood locations and its Downtown Pittsburgh Learning Center.