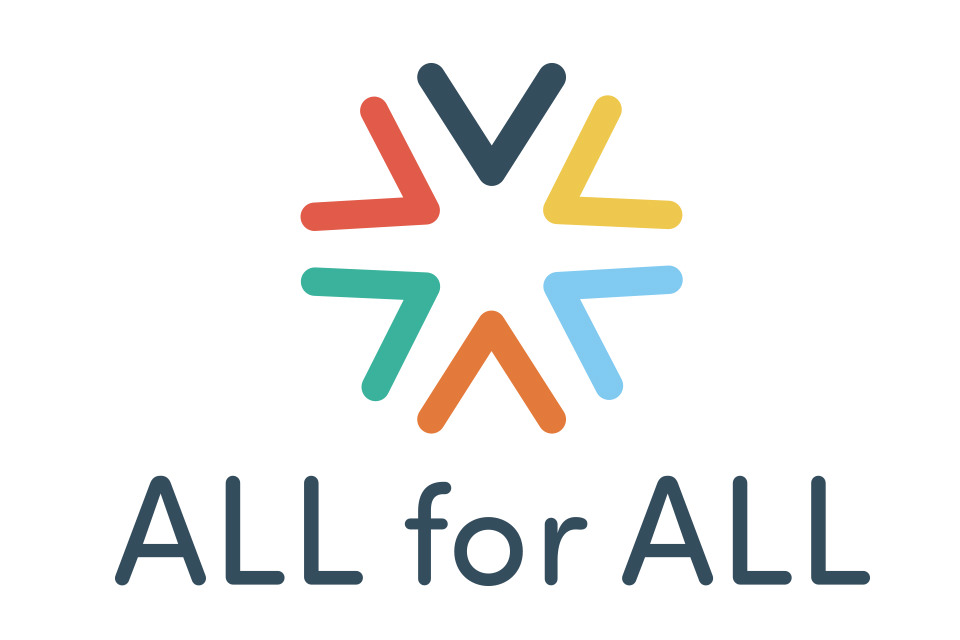 All for All and Literacy Pittsburgh share a goal of making Pittsburgh more welcoming to immigrants and refugees, and have been close collaborators for several years. All for All was born from the Community Blueprint, an immigrant inclusion initiative, spearheaded by the Allegheny County Department of Human Services.
The Community Blueprint, unveiled in 2016, is a comprehensive, county-wide and community-led strategic plan to address the needs of immigrants. All for All is a project of Change Agency, and was founded to put this plan into action. All for All connects people, organizations, and communities to actions that build a welcoming and inclusive region for all. Driven by collaboration with community and cross-sector partners, All for All aims to advance economic opportunity, break down barriers, and further immigrant inclusion across the Pittsburgh region.
Literacy Pittsburgh partners with All for All on several projects. We have hosted and presented at their Professional Learning Community for teachers of English Language Learners in the K-12 school system. A cohort of teachers meets monthly during the school year to share ideas and learn about tools and resources to better serve ELL students and their families.
The Immigrant Workforce Program introduces immigrant and refugee job seekers to the American job market and provides them with the essential skills to succeed in both the job search and in the workplace. During a nine-week program, participants learn how to write resumes, develop their professional networks, improve their employment-related technology skills, and interview successfully. Literacy Pittsburgh offers students contextualized vocational English instruction. This program is offered as a collaboration between Jewish Family and Community Services Career Development Center, Literacy Pittsburgh, and All for All.
All for All is the local host for the Welcoming Interactive + Welcoming Economies Convening, presented by Welcoming America. The conference, slated for May 15-17, 2019, at the Omni William Penn hotel, attracts hundreds of leaders from across the country. The conference merges cutting-edge policies and innovative ideas from the field of immigrant economic development with successful practices and inspiring stories of welcoming communities.
Often, Literacy Pittsburgh donors and volunteers ask about additional ways they can make Pittsburgh more inclusive and welcoming to immigrants, and All for All shared several ideas:
Literacy Pittsburgh (formerly Greater Pittsburgh Literacy Council) helps create better lives through learning. Recognized as a national leader in adult and family literacy, Literacy Pittsburgh is the largest provider of adult basic education in Allegheny and Beaver Counties. Last year, Literacy Pittsburgh helped some 3.700 individuals acquire the skills needed to reach their fullest potential in life and participate productively in their communities. Literacy Pittsburgh provides free, personalized instruction in workforce readiness, high school diploma test preparation, digital literacy, English language learning, math, reading, and family literacy through one-to-one and small class instruction. Founded in 1982, it serves local adults through numerous neighborhood locations and its Downtown Pittsburgh Learning Center.