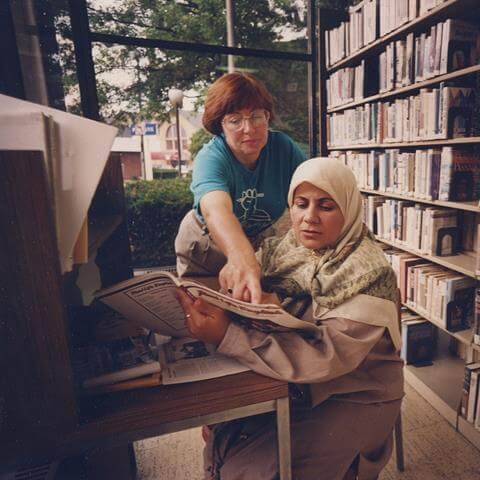 Literacy Pittsburgh began at the kitchen table of our founder, Mary Yardumian. Over the past 40 years, we have grown and changed to meet the demands of the community. Our first office was established at the East Liberty Library and VISTA AmeriCorps members helped with day-to-operations. We served 100 students that first year with the help of a small group of volunteer tutors. Our primary focus was to teach reading.
Over the years, we added English language learning, GED preparation, U.S. citizenship classes, and family literacy. We also boosted our capacity to address barriers to learning by connecting students with community resources. As employer demands changed, we infused our curriculum with skills needed to succeed in the workforce. Today, we have career-focused offerings such as Math for the Trades, Immigrant Workforce Program, digital literacy, Trade Up, and job preparation mentoring.
Today, our main office and classroom teaching site are in Downtown Pittsburgh, with eight satellite offices throughout Allegheny and Beaver counties. Our staff has grown to 55 positions and some 500 volunteer tutors share their time with us each year. Last year, we touched the lives of 4,389 adults and families through College and Career Readiness, English Language Learning, Children and Families, and Building Community Capacity. Explore our website to learn more about our programs and check out a timeline of milestones from the last 40 years.
Literacy Pittsburgh (formerly Greater Pittsburgh Literacy Council) helps create better lives through learning. Recognized as a national leader in adult and family literacy, Literacy Pittsburgh is the largest provider of adult basic education in Allegheny and Beaver Counties. Last year, Literacy Pittsburgh helped some 3.700 individuals acquire the skills needed to reach their fullest potential in life and participate productively in their communities. Literacy Pittsburgh provides free, personalized instruction in workforce readiness, high school diploma test preparation, digital literacy, English language learning, math, reading, and family literacy through one-to-one and small class instruction. Founded in 1982, it serves local adults through numerous neighborhood locations and its Downtown Pittsburgh Learning Center.