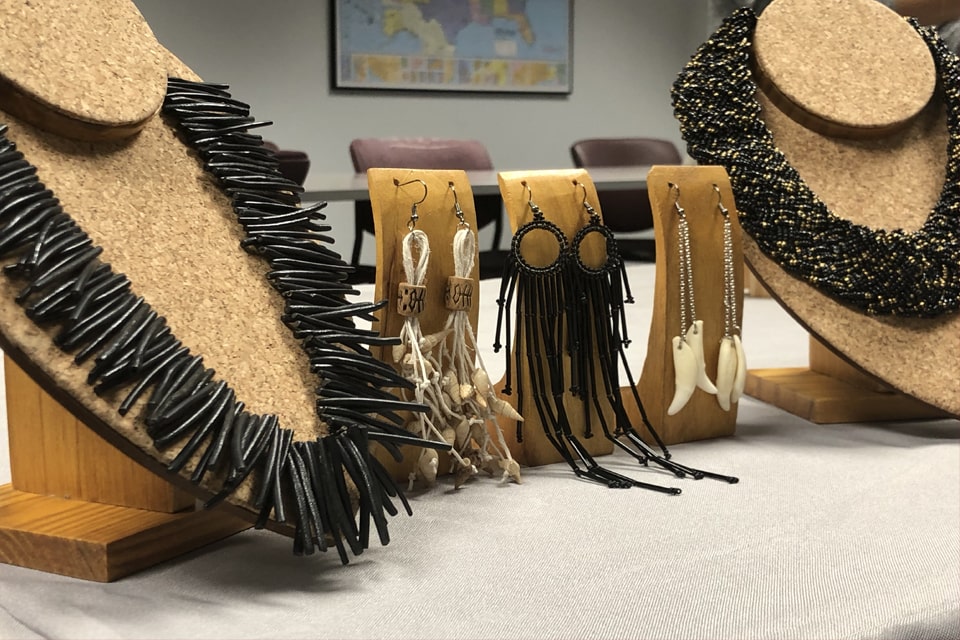 One Big Table: An International Tasting, set for March 23, 2020, will once again feature an Artisan Market. We're so excited to feature handmade items from around the world. Check out the bios of the vendors who will be joining us and then get your tickets.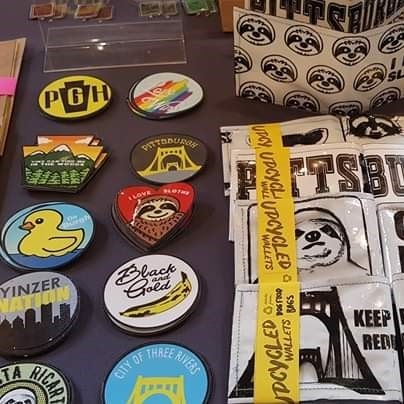 CostaRicArt
up-cycled products such as wallets, keychains, earrings, notebooks, greeting cards
Ricardo Solis makes upcycled art from reused materials. He is a mixed media artist and graphic designer from Costa Rica, who has been living in Pittsburgh for 5 years. Part of his inspiration for reusing and upcycling comes from the efforts Costa Rica is making to be a green, carbon-neutral country. Ricardo was chosen as one of the Futuremakers fellows by the Kelly-Strayhorn Theater. This allowed him to share his ideas with a larger audience. Some of his projects during this program involved an upcycled art gallery show, homemade paper workshops, and the Upcycled Fest 2019, where other artists were invited to sell their upcycled goods.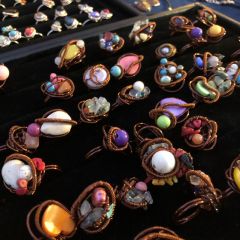 Hippie's Urban Art
jewelry
Marleni Gutierrez is a Venezuelan artist who has been living in Pittsburgh for several years now. She is also a Literacy Pittsburgh student in the East End. Improving her English has helped her to get a position with the Holy Family Institute, a position which she really loves. As an artist, she makes and sells jewelry made with copper wire, colorful thread, beads, shells, and more. She also makes wooden painted statues. Marleni says, "I am working to show American people that Venezuela has talented, good, and hardworking people, and they are looking for an opportunity to show that. Viva Venezuela, and all the immigrants that are in this country starting from scratch!"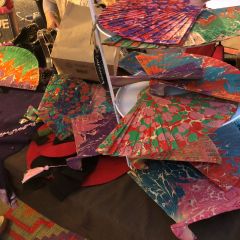 Kardelens Fiber Arts
dyed scarves, embroidered greeting cards, embroidered necklaces, slippers, and more
Kardelens Fiber Arts includes a group of Turkish women who work together to create beautiful handmade fiber arts items—everything from embroidered necklaces and greeting cards to water marbled scarves and decorative fans. The Turkish word "kardelens" is the name of a flower that symbolizes resilience. They chose this name because their group is trying to support the Turkish community with the sales they make at craft markets. Kardelens Fiber Arts was a vendor at Handmade Arcade, a Pittsburgh event that draws over 10,000 attendees each year. They also now have their own booth at the new Steel City Craft Emporium in the Strip District. "We became aware that we can have a place in the community and we gained our self-confidence again, like we had in our country. We hope to support other newcomers as was done for us," Serap explains.
Dary's Accessories
jewelry
Dariana Molina is from Venezuela and her first job in the artisan field was designing with a goldsmith. Her products are made from many materials—metal, cloth, beads, acrylic, leather, and more. Dary's Accessories is a family business and her family aims to display Venezuelan talent and culture here in the U.S.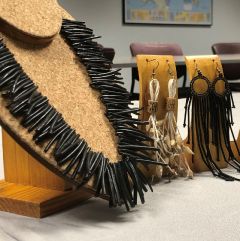 Phoza Handmade
handmade beaded jewelry
Htwe and Alex are originally from Myanmar and settled in Pittsburgh a couple of years ago. They have studied English at Literacy Pittsburgh, and secured new jobs in the food service industry. Htwe makes jewelry primarily with tiny colorful beads that are strung together on very fine nylon thread. Many pieces feature detailed designs on tiny pieces. Her husband Alex is a jewelry maker as well. His craft is called micro-macramé, and he also uses wooden beads in some pieces. They both started making and selling jewelry when they were living in Malaysia, before coming to the U.S.
Kimo Arts
Knitted goods and jewelry
Kamilia has an Egyptian background, and moved to the United States a couple years ago to join family. She enrolled at Literacy Pittsburgh to improve her English language proficiency and learn more about the local culture and people. "Being a part of that community helped me a lot to improve my language skills," she explains.
"I also wanted to have an active role in my community, and with the help of friends, I learned about All For All, another community group that encourages the sharing of international cultural skills, I got to share my craft-making skills."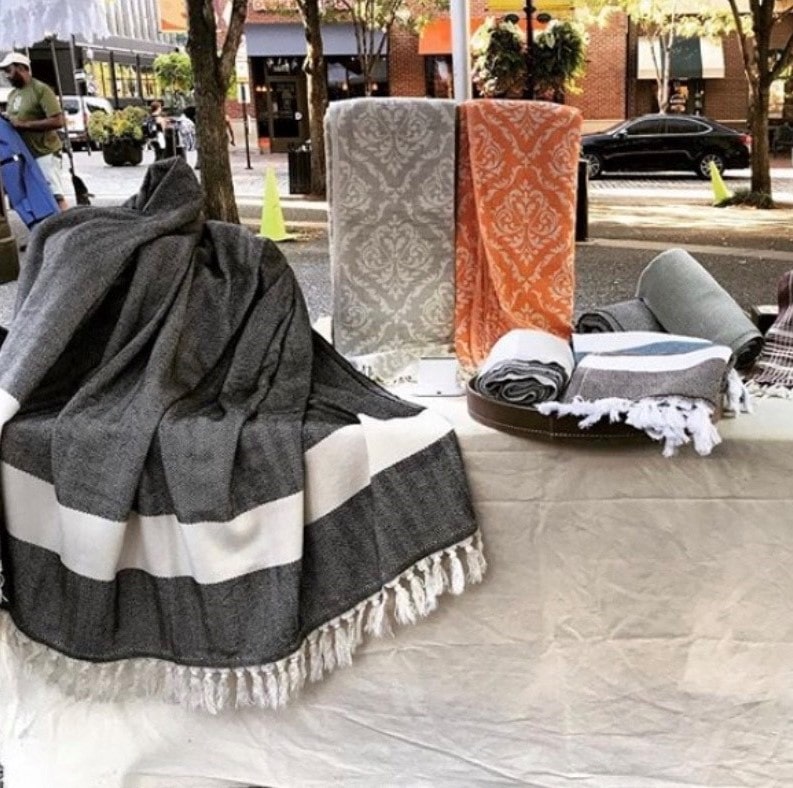 Focha Store
jewelry, scarves
Basak Kiran's adventure as a business owner began a year ago after she moved from Pittsburgh from Turkey. Basak explains, "Moving to Pittsburgh was a very challenging decision for me, but it's worth it! People are very friendly, and life is more enjoyable." Her products are mainly women's clothing, handmade ceramic jewelry (a family tradition), and handmade home accessories, such as Turkish towels, throws, and scarves. Her offerings bring a Mediterranean lifestyle to the home. "While I am very far away from my family, still doing something related to my family and introducing them to my new place makes me feel me so happy and excited," Basak says.
Carmen Llovera de Lopez
paintings
Carmen was born in Caracas, Venezuela. She is a self-taught artist and has long loved to paint. "A majority of my pieces are inspired on the emotions and feelings of being a woman, whether it is a portrait or a landscape, each of my paintings reflects a personal reflective manner of events, impressions or memories of my life," Carmen explains.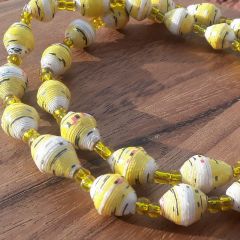 Lilian Handmade Beads
jewelry
Lillian Amisi is a jewelry maker from the Democratic Republic of Congo. She specializes in paper beads, which are complex to create. She uses pieces of paper with various color patterns, rolls them around a toothpick, and coats the roll of paper in a varnish to seal it. Once she has beads of many different colors, she creates her design and strings them on nylon thread. She learned this jewelry-making technique in Uganda before coming to the U.S. Lillian is a Literacy Pittsburgh student and learning more English has helped her to get better jobs over the past few years. Her son, Emmanuel, was also a student in our program and is now in college.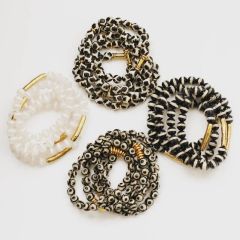 You Can Call Me Yoko
jewelry
After 18 years living apart, Yoko, Kaki, Dorita and Lola were reunited in Pittsburgh in 2017. The siblings and their mother say, "We have always liked to create through paints crochet, knit, sewing, macrame, weaving...you name it!" In March 2019 the family decided to create a business. "We wanted to create something we love to wear, something from nature, jewelry with a purpose, that looks pretty and improve our life through their meaning," says Yoko. "We hope you enjoy wearing our pieces handmade with love."
Literacy Pittsburgh (formerly Greater Pittsburgh Literacy Council) helps create better lives through learning. Recognized as a national leader in adult and family literacy, Literacy Pittsburgh is the largest provider of adult basic education in Allegheny and Beaver Counties. Last year, Literacy Pittsburgh helped some 3.700 individuals acquire the skills needed to reach their fullest potential in life and participate productively in their communities. Literacy Pittsburgh provides free, personalized instruction in workforce readiness, high school diploma test preparation, digital literacy, English language learning, math, reading, and family literacy through one-to-one and small class instruction. Founded in 1982, it serves local adults through numerous neighborhood locations and its Downtown Pittsburgh Learning Center.